French Dip
The French economy has drifted into recession for the second time in four years.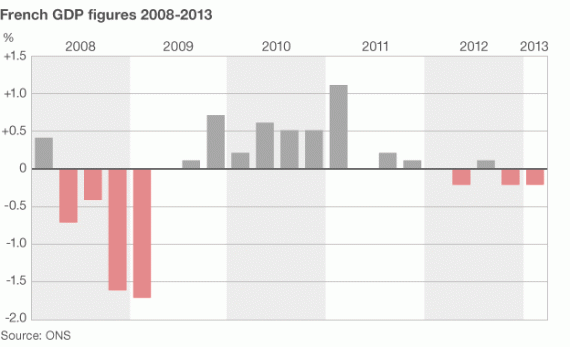 France's economy has entered a recession for the second time in four years, a "double-dip" recession:
France has entered its second recession in four years after the economy shrank by 0.2% in the first quarter of the year, official figures show.

Its economy shrank by the same amount in the last quarter of 2012.

President Francois Hollande has said he expects zero growth in 2013, lower than a 0.1% growth forecast by the French government.

Separate figures showed that the recession across the 17-nation eurozone has continued into a sixth quarter.

A recession is defined as two consecutive quarters of negative growth.

The economy of the 17-nation bloc shrank by 0.2% in the January to March period, according to the EU's statistics office Eurostat, with nine of its members now in recession.

Within the zone, France has record unemployment and low business and consumer confidence.
The euro is fundamental to France's economic problems. The common currency strips from the French government a major weapon in boosting its own economy in times of downturn.
Much has been made of Portugal, Ireland, Italy, Greece, and Spain and other weak economies of the eurozone "periphery", e.g. Cyprus (which has just received approval for a massive loan from the European Central Bank). The economic problems of the eurozone don't end with those countries they merely begin there.
The real problem in the eurozone is Germany and its export-driven prosperity. Either the Germans must buy more from their eurozone neighbors or those neighbors must buy less from Germany or Germans must be willing to finance the spending of all of those neighbors. There really is no way around it.