Fresno State English Professor Calls Barbara Bush 'Racist' and Wishes Rest of Family Would Die Soon
Randa Jarrar was classless and contemptible, which is protected by the First Amendment. As a tenured state employee so is her job.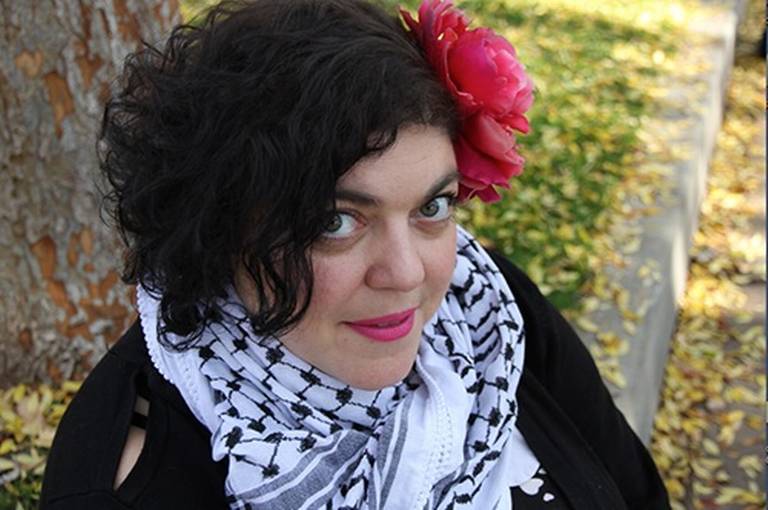 Fresno Bee ("Fresno State professor stirs outrage, calls Barbara Bush an 'amazing racist'"):
A Fresno State professor called former first lady Barbara Bush an "amazing racist" who raised a "war criminal," and expressed no concern that she could be fired or reprimanded for her outspokenness on social media.

Randa Jarrar, a professor in Fresno State's Department of English, expressed her displeasure with the Bush family within an hour after the official announcement that Mrs. Bush died Tuesday at the age of 92.

"Barbara Bush was a generous and smart and amazing racist who, along with her husband, raised a war criminal," Jarrar wrote on Twitter. "F— outta here with your nice words."

Jarrar's tweet generated more than 2,000 replies back to her, with many upset at her and tagging Fresno State and University President Joseph Castro in their comments.

Jarrar, who in her Twitter messages describes herself as an Arab-American and a Muslim-American woman, goes on to maintain that she is a tenured professor and makes $100,000 a year.

"I will never be fired," Jarrar tweeted.

In a separate tweet, she wrote: "If you'd like to know what it's like to be an Arab American Muslim American woman with some clout online expressing an opinion, look at the racists going crazy in my mentions right now."

Jarrar even encouraged those of Twitter to reach out to Fresno State and to Castro, offering up their Twitter handles.

"What I love about being an American professor is my right to free speech, and what I love about Fresno State is that I always feel protected and at home here," Jarrar wrote. "GO BULLDOGS!"

By around 10:21 p.m., Jarrar made her Twitter account private. The Fresno Bee took screen shots of her tweets when the account was public.

Jarrar also changed her Twitter bio, removing the titles of her books and instead writing, "Currently on leave from Fresno State. This is my private account and represents my opinions."

The university confirmed Jarrar has been on leave all semester.

[…]

Fresno State, roughly three hours after Jarrar's initial tweet about Bush, sent out a statement by Castro that addressed the outspoken professor.

"On behalf of Fresno State, I extend my deepest condolences to the Bush family on the loss of our former First Lady, Barbara Bush," Castro says in the statement. "We share the deep concerns expressed by others over the personal comments made today by professor Randa Jarrar, a professor in the English department at Fresno State.

"Her statements were made as a private citizen, not as a representative at Fresno State."

Castro also added: "Professor Jarrar's expressed personal views and commentary are obviously contrary to the core values of our University, which include respect and empathy for individuals with divergent points of view, and a sincere commitment to mutual understanding and progress.
Foundation for Individual Rights in Education (FIRE)'s Adam Steinbaugh explains why "Fresno State University won't — and cannot — punish professor for Barbara Bush tweets."
Fresno State correctly acknowledges that Jarrar's tweets were made as a private citizen. As such, and because they touched upon a matter of public concern, Jarrar's tweets are unquestionably protected speech under the First Amendment and Fresno State has no power to censor, punish, or terminate Jarrar for them.

It's often said that the First Amendment doesn't protect a speaker from the consequences of his words. That's true to a certain extent. One who says something that offends others will often face consequences of some sort, whether it's caustic criticism from people he offended, loss of private sector job opportunities, loss of membership in voluntary associations, and so on. But the First Amendment places limits on what consequences a government actor may impose in response to speech.

As we've explained in response to another professor terminated for her public commentary, public universities are government actors bound by the First Amendment:

The law is well-established that employees of government institutions like [a public university] retain a First Amendment right to speak as private citizens on matters of public concern and may not be disciplined or retaliated against for their constitutionally protected expression unless the government employer demonstrates that the expression hindered "the effective and efficient fulfillment of its responsibilities to the public." Connick v. Myers, 461 U.S. 138, 150 (1983); Pickering v. Bd. of Ed., 391 U.S. 563 (1968).

Jarrar spoke on her personal Twitter account about a matter of public interest. That her speech offended some or many is not a lawful basis to penalize its expression. Speech cannot be restricted because of its offensive nature. Nor does the expression of hope that another person dies rise to the level of unprotected speech. (See, e.g., Rankin v. McPherson (1987), wherein the Supreme Court observed that the First Amendment protected a police department employee who, upon hearing that President Reagan had been shot, criticized Reagan's welfare policies and said, "shoot, if they go for him again, I hope they get him.")

Similarly, a public university cannot punish such expression because it led to a deluge of complaints or angry correspondence directed at the school. Otherwise, the law of public employee speech would institutionalize the heckler's veto; all it would take to remove a professor's expression from constitutional protection is enough outrage. Clearly the First Amendment does not permit this result, and courts have so held. Rejecting a college's argument that intervention by a local civil rights activist after an adjunct instructor used gendered and racial slurs as part of a classroom discussion posed an actionable risk of disruption to the school's operations, the U.S. Court of Appeals for the Sixth Circuit wrote:

Only after Reverend Coleman voiced his opposition to the classroom discussion did Green and Besser become interested in the subject matter of Hardy's lecture. Just like the school officials in Tinker, Green and Besser were concerned with "avoiding the discomfort and unpleasantness that always accompany" a controversial subject. On balance, Hardy's rights to free speech and academic freedom outweigh the College's interest in limiting that speech.
Fresno State's Faculty Handbook, last updated for the 2004-2005 academic year, spells out its policies on Academic Freedom on page 4. It begins,
Students and faculty must be free to pursue truth as well as personal and intellectual development. A necessary condition for such pursuit is an acceptance of the spirit of inquiry and an appreciation for diverse ideas, viewpoints, cultures, and life-styles. This condition must exist in both the classroom and the overall campus environment.

While the university gives great weight to the responsibility of preserving academic freedom, it does so within the context of respect for law and the reasoned consideration of others. Academic freedom and freedom of speech are intended to protect expression and exploration of ideas; they do not protect conduct that is unlawful or in violation of Trustee or university policies, disruptive of the classroom environment, or disruptive of the university itself.
There's an argument to be made that Jarrar's tweets were not in the "spirit of inquiry," much less reflective of an "appreciation for diverse ideas," much less "reasoned consideration of others." It's also quite possible that they violate "Trustee or university policies" (I simply have no idea what those might be) and are "disruptive of the university itself." The university may well be within its rights to censure her for mean-spirited remarks that reflect poorly on the institution.
Furthermore, the 1940 "Statement of Principles on Academic Freedom and Tenure" from the American Association of University Professors, the gold standard on the subject—and quoted in Fresno State's handbook, declares:
College and university teachers are citizens, members of a learned profession, and officers of an educational institution. When they speak or write as citizens, they should be free from institutional censorship or discipline, but their special position in the community imposes special obligations. As scholars and educational officers, they should remember that the public may judge their utterances. Hence they should at all times be accurate, should exercise appropriate restraint, should show respect for opinions of others, and should make every effort to indicate that they are not speaking for the institution."
I would argue she failed in both "appropriate restraint" and "show[ing] respect for the opinions of others." More crucially, she failed in her duty to indicate she was speaking in a personal capacity until after the damage was done.
But Steinbaugh's arguments as to Jarrar's job security are persuasive. As loathsome as using a woman's death to rant about the policies her son pursued as President might be, they're surely protected speech. Further, while I find her tweets classless and contemptible, they're within her ambit as a novelist who comments on Arab affairs. (She is, as best I can determine, part of the practitioner faculty in the Master of Fine Arts program rather than a traditional academic; if she has a doctoral degree, she lists it on neither her faculty nor personal website.)
Further, hateful as her remarks were, they're in the spirit of the "pursuit of truth" at the heart of not only academic freedom but the academy itself. While the timing was disrespectful, that was her whole point. In the midst of a stream of "nice words" about a kindly matriarch, she wanted to present a counter-narrative. Haven hidden her tweeter feed from public view, I have only the handful of tweets that made the newspaper to go on. There was apparently some five hours of narrative. Hopefully, some of it was more reflective of an award-winning author.
UPDATE: I see this is Jarrar's second 15 minutes of infamy. Her first came four years ago with an essay arguing white women should not be allowed to belly dance because it's cultural appropriation.
UPDATE 2: The University president is keeping this going:
All options are on the table in dealing with the Fresno State professor who called Barbara Bush "an amazing racist" shortly after the former first lady died, university president Joseph Castro said Wednesday.

"A professor with tenure does not have blanket protection to say and do what they wish," he said. "We are all held accountable for our actions."

Castro declined to comment specifically on how the university may handle Randa Jarrar's case, citing personnel matters. But he did say the next steps for the university include reviewing all the facts, as well as the faculty's collective bargaining agreement.

[…]

Castro said he shares the shock and horror many people expressed after Jarrar, an associate professor in the English department, tweeted about Bush.

"This was beyond free speech. This was disrespectful," Castro said.
Those are not mutually exclusive.