'Full' Mueller Report Expected This Morning
The Justice Department will release a 'lightly redacted' version of the 400-page report at 11 Eastern.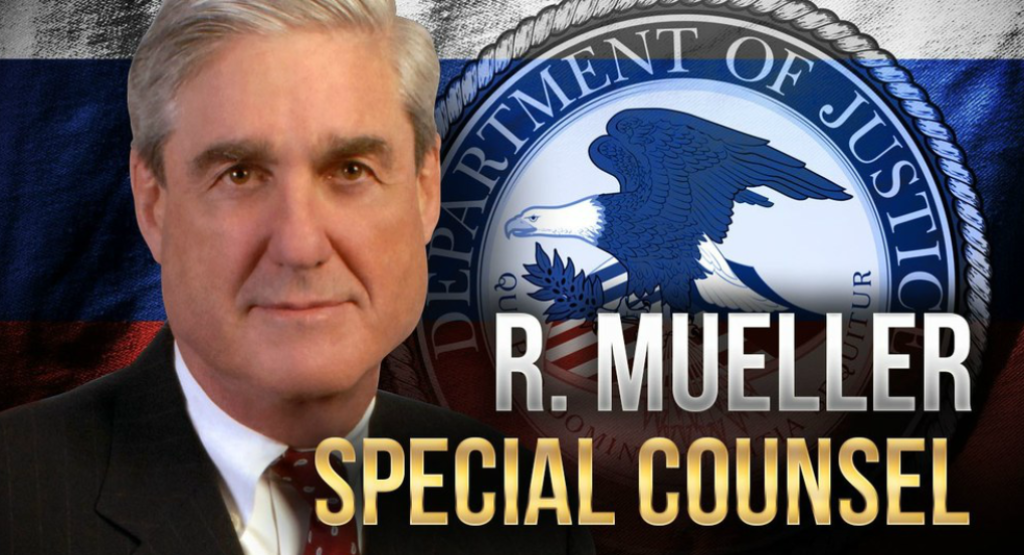 Almost a month after Special Counsel Robert Mueller delivered the results of his investigation into the Trump campaign's involvement with Russian government interference in the 2016 election to the Attorney General, the public will see what is purported to be a 'lightly redacted' version.
WaPo:
The report — the general outlines of which the Justice Department has briefed the White House on — will reveal that Mueller decided he could not come to a conclusion on the question of obstruction because it was difficult to determine Trump's intent and because some of his actions could be interpreted innocently, these people said. But it will offer a detailed blow-by-blow of the president's alleged conduct — analyzing tweets, private threats and other episodes at the center of Mueller's inquiry, they added.


Attorney General William P. Barr plans to hold a 9:30 a.m. news conference to address "process questions" and provide an "overview of the report," a senior Justice Department official said. The report will be delivered on discs to Capitol Hill between 11 a.m. and noon and posted on the special counsel's website thereafter, the official said.

[…]

Thursday's rollout plan — and news of the White House's advance briefing, which was first reported by ABC News and the New York Times — sparked a political firestorm Wednesday, with Democrats suggesting the attorney general was trying to improperly color Mueller's findings before the public could read them.

Rep. Jerrold Nadler (D-N.Y.), chairman of the House Judiciary Committee, said at a news conference that Barr "appears to be waging a media campaign on behalf of President Trump" and had "taken unprecedented steps to spin Mueller's nearly two-year investigation." He said after his committee had time to review the redacted report, he would ask Mueller and other members of his team to testify before Congress.

While the report's light redactions might allay some of their concerns, Democrats are likely to bristle at any material that is withheld. What the Justice Department and Trump's lawyers might view as modest, lawmakers might see as overly aggressive. The redacted version of the report is expected to reveal extensive details about Trump's actions in office that came under scrutiny, but it is unclear how much the public will learn about how the special counsel's team investigated the Kremlin's efforts to interfere in the 2016 election and Russian contacts with Trump associates.

Barr also is likely to face scrutiny over the Justice Department's talks with the White House — which could help Trump and his attorneys hone in advance their attacks on the report.
Rudolph W. Giuliani, one of Trump's lawyers, has said he is preparing a counter-report to Mueller's findings and in a recent interview said his document would explain from the president's viewpoint every episode that could be considered obstructive. Giuliani and others have long feared Mueller's findings on obstruction, viewing them as potentially more damaging than anything found on the Trump campaign's contacts with Russians.


Mueller did not find a conspiracy between Russians and Trump or his campaign, Barr said in a brief letter describing the special counsel's conclusions shared with Congress late last month.

Jay Sekulow, one of Trump's attorneys, told The Post, "We do not discuss conversations that we may or may not have had with the president." A Justice Department spokeswoman declined to address questions about its briefings to the White House, the report's redactions or Mueller's findings on obstruction.


Trump had also apparently been briefed in advance of the planned news conference, which he revealed Wednesday during a radio appearance only to have it confirmed later by a Justice Department spokeswoman. Barr will appear alongside Deputy Attorney General Rod J. Rosenstein, the spokeswoman said, and he planned to take questions.

WaPo, "Mueller report will be lightly redacted, revealing detailed look at obstruction of justice investigation"
I'll save commentary on the details of the report for when I have them. Right now, I don't know much more than I did when Barr released his four-page letter describing the report's findings.
That the Attorney General has briefed his boss, the President, on the findings of an investigation of the President is hardly surprising. It would be odd, indeed, to expect the President to receive the details of an investigation into his campaign at the same time as the general public.
Do I think Barr is helping Trump spin the results of the report to his political favor? Sure. Do I think Nadler and the Congressional Democrats screaming about it are trying to spin this to cast the worst possible light on Trump and his team? Sure.
As I've written previously, redacting the report to protect sensitive foreign intelligence and grand jury information is not only reasonable but correct. We now know that the reasons for redaction will be broader:
Mr. Barr has said that law enforcement officials are blacking out sensitive information and that the redactions will be color-coded so we will know the reason behind each one. They will fall into four categories:


Information that has been presented to a grand jury, which is subject to secrecy rules.


Material that intelligence officials fear could compromise sensitive sources and methods.


Information that could hamper other current investigations, including spinoffs of the Mueller inquiry. Federal prosecutors in Brooklyn and Manhattan are investigating the finances of the Trump inaugural committee and hush payments intended to cover up a sex scandal that threatened to upend Mr. Trump's campaign.


Material that the Justice Department believes would unfairly infringe on the privacy and damage the reputations of "peripheral third parties."

NYT, "The Mueller Report: What to Watch For Today"
These additional categories—and especially "could hamper other current investigations"—are likely to cause frustration for opponents of the President. Given the politically charged nature of the investigation, I think key Members of Congress—including at least the Democratic and Republican leaders and the Judiciary and Intelligence chairmen and ranking members of both the House and the Senate—should be afforded an opportunity to compare the full report with the DOJ's redacted version to satisfy themselves that the redactions weren't motivated primarily by politics.
I continue to expect, as I did when Barr's four-page letter was released, that the details of Mueller's investigation will be more politically embarrassing for Trump and his team than the top-line conclusions. But I also expect that Speaker Pelosi's assessment that impeachment is 'just not worth it' will stand and that few Republicans who now stand with Trump will shun him based on this new information.