Functional Apathy's Opposite
Steven Metz muses, "Scholars argue that too much political mobilization can make democracies dysfunction. Is that where the US is today?"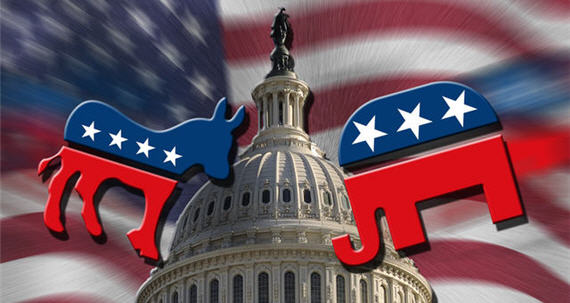 Steven Metz muses, "Scholars argue that too much political mobilization can make democracies dysfunction. Is that where the US is today?"
It's an interesting question and one I'm inclined to answer in the affirmative.
Social scientists have a term for the opposite condition: functional apathy. The notion is that, when things are going well, there's really not much reason for ordinary citizens to be all that active in politics. In a system with two catch-all parties, i.e., those that aim to capture majorities by tacking to the center, there's relatively little difference which one controls the levers of power from the perspective of the daily lives of ordinary Joes. So, it's really irrational for people to spend inordinate amounts of time and energy to be informed about politics, much less work on campaigns, go to rallies, and the like.
From time to time, though, there's an inflection point where one or both parties goes from being catch-all to being programmatic. Usually, it accompanies economic or social upheaval of some sort. During those times, politics really matters.
The Democrats went through a period from roughly 1968 to 1992 where they were out of step with the political culture at the central level. During that period, only one Democrat–Jimmy Carter, a Christian evangelical from Georgia–won the presidency. To be sure, the controlled the House of Representatives during that entire period, but only because the South was still voting lockstep for Democrats in state and local races.
Bill Clinton and his Democratic Leadership Council wing moved the party back to the center and it has remained quite competitive ever since, winning three of five presidential elections and getting more votes than the Republicans in four out of five.
Meanwhile, the Republicans slowly started becoming an ideological, programmatic party. It began with Ronald Reagan in 1980 in a process that quickly peeled the social conservatives out of the Democratic coalition but slowly led to them taking over the party from the ground up.
This led to three landslides in a row but then the wheels fell off. The Electoral College Lock that Republicans were said to have was picked in 1992. Mostly because of immigration policy but also a host of social issues, the GOP seems to have permanently lost California and with it nearly a fifth of the Electoral College.
To be sure, Republicans still won back-to-back terms in 2000 and 2004, albeit narrowly and controversially in the first of these. And they've done better than ever in Congress, seizing control of the House of Representatives  in 1994 for the first time in decades and having held it almost every cycle since.
But the Tea Party wave in 2010 has put into office leaders afraid to lead. They can't bring themselves to agree to a debt reduction deal that by any sane measure is a massive victory because it's not a complete victory.
Otto von Bismarck famously declared, "Laws are like sausages, it is better not to see them being made." Nowadays, though, massive numbers of people are not only seeing but Tweeting, blogging, and YouTubing the process. The impact, thus far, is not only a loss of appetite but an inability to produce sausage.