Further Evidence Limbaugh Should be Ignored on Immigration
Really, more evidence he should be ignored in general.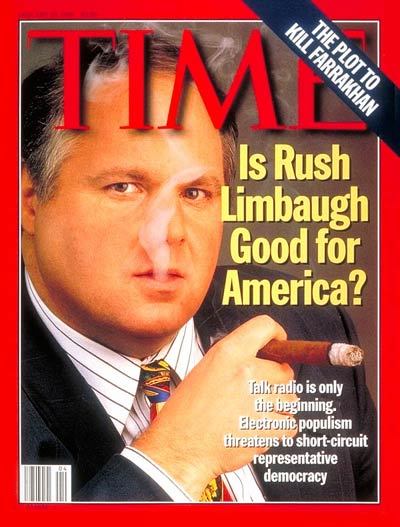 Via the Daily Beast:
[T]he way the Republicans are looking at it is that they think that Hispanic immigrants are made-to-order conservatives. For some reason, culturally, they think that they're invested in hard work. And using the Cuban exile model, they're exactly right. But the Hispanic demographic, if you will, or population, has shifted. And the Cuban exile model is no longer the dominant model. The Mexican immigrant model is. And that — they arrive with an entirely different view of America. And I'm sorry if this is offensive, but it's true.
This statement is wrong, problematic, and, yes, offensive on a variety of levels.
First, there is a major error here:  there was never a time in which the main source of Latin American immigrants into the US was Cuba over Mexico.  As such, there is no factual basis for some sort of shift from a "Cuban exile model" to a "Mexican immigration model."
First, if we consult the Pew Research Center, we find that the two populations are not comparable in terms of scope.  In terms of persons in the US of Cuban origins:  "An estimated 1.9 million Hispanics of Cuban origin resided in the United States in 2010," while in terms of persons of Mexican origin:  "An estimated 32.9 million Hispanics of Mexican origin resided in the United States in 2010."  This is not a recent phenomenon, by the way.  Indeed, the growth of immigration from both Cuba and Mexico have grown substantially since the 1960s, but the number of Mexican immigrants has been by orders of magnitude higher.  This might have something to do with the difference between a land and sea border and the pesky fact that Mexico's population is many times larger than Cuba's (by roughly a factor of 10, in fact).
Second, Limbaugh is clearly looking at this, as many of his listeners and co-partisans do, as a partisan calculation rather than a question of dealing with a real and serious issue.  In other word, the calculus is about votes and partisan support, not about doing the right thing both morally and from a policy efficacy point of view.  This is, of course, no surprise, but it is worth noting nonetheless. There is also the problem that this view assumes that partisan preferences are frozen, both in the individuals and their progeny, which leads us to the next point.
Third, and perhaps the most offensive part, is this assertions that Cubans are "invested in hard work" but those Mexicans?  Not so much!  The polite way of putting this is that Limbaugh either knows not of what he speaks or he is making it up as he goes for dramatic and partisan effect.* Of course, the amount of labor undertaken on a daily basis by Mexican immigrants to the US, both legal and undocumented, is a well known and well documented fact.**
Limbaugh apparently has a racial taxonomy of persons from Latin America, as he noted to a caller in November:  "They're [Cubans] just not quite dark — as dark, and they're oriented toward work."
There is also a rather insidious inferences about just exactly how alien the Mexicans really are because "they arrive with an entirely different view of America."
Really, the second and third issues work together in a toxic racist mixture:  the notion that one's political point of view, and one's predisposition to work, is linked to one's ethnicity (and, perhaps even the depth of said ethnicity, after all, Limbaugh notes that those Mexicans are a tad than those Cubans).
*In truth, what I want to say is "Limbaugh is talking out his ass here" but that is not a useful rhetorical device if one is attempting an analytical point of view with at least a quasi-academic tone, so I will refrain from the deployment of the phrase.
**For those who came to the footnote looking for some data, here's graph showing some basics:
First, note the comparative numbers of persons of Mexican origins versus those of Cuban:  there has been no shift in numbers to support Limbaugh's assertions.  Second, there are a lot of persons of Mexican origin in the workforces.  One suspects that they do their jobs like everyone else.