Gallup: No Significant Ryan Bounce For Romney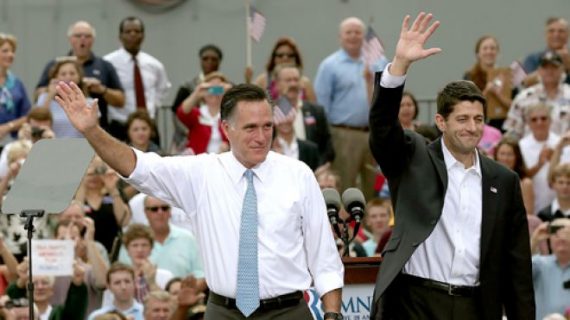 There doesn't appear to be any significant initial bounce in the polls for Mitt Romney from his selection of Paul Ryan, at least according to the Gallup Daily Tracking Poll:
PRINCETON, NJ — Mitt Romney's standing in the presidential election campaign has not changed materially in the immediate days after his announcement of Wisconsin Rep. Paul Ryan as his vice-presidential running mate. The first four days of Gallup Daily tracking after Romney's announcement show 47% of registered voters saying they would vote for Romney and 45% for Barack Obama if the election were held today. The four days prior showed Romney at 46% and Obama at 45%.

While the initial indication is no increase in Romney's support after naming Ryan, the data suggest the possibility that Romney may get a delayed bounce, as he fared slightly better in Aug. 13-14 Gallup tracking than in Aug. 11-12 tracking.

The lack of an immediate increase for Romney is consistent with Sunday's USA Today/Gallup poll that found a generally tepid reaction to the Ryan pick, especially in comparison to past vice-presidential choices.

Like this year, Gallup also did not find any significant change in voter preferences for the 2008 election after Obama and John McCain each named his running mate. However, in the 1996-2004 campaigns, the vice presidential choice seemed to have a more noticeable impact on voters.
Here's the chart showing the lack of an initial bounce: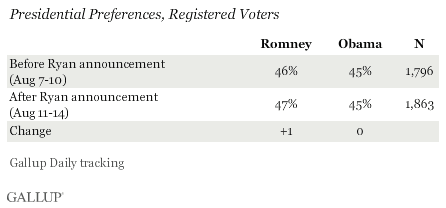 And here's one comparing this years numbers to past elections:
One reason the "bounce" effect may not be as pronounced as it was in the past may be the fact that the world of round-the-clock political coverage means that it's that much harder for a campaign to change the narrative of the race in a news cycle that never really ends. Additionally, the fact that our politics are much more polarized than they were 16 years ago means that people's minds are already going to be made up about a particular nominee's choice of a running mate relatively quickly, and in a highly partisan manner. Quite simply, the number of people who can be influenced by a VP pick is much smaller, so the movement in the polls is going to be much smaller. Perhaps we'll see more movement for Romney/Ryan in the coming weeks, along with a small bounce coming out of the convention, but it's not likely to be very long or last very long.