Gallup Shows Romney With A Seven Point Lead
Some interesting movement in early post-debate polling.

It's going to be several days before we get a complete idea of what impact Tuesday's debate may have had on the Presidential race, but early indications seem to be good news for the Romney campaign. The Gallup Daily Tracking Poll has him up seven points on the President. It's a result that the Obama campaign is disputing, and it's likely the case that Romney's national lead is actually somewhere below seven points, and it's also worth noting that the post-debate polls from Rasmussen and IBD/TIPP show a much closer race. Aaron Blake also noted something important about the Gallup poll yesterday:
The latest seven-day tracking poll of likely voters shows Romney at 51 percent and Obama at 45 percent, up from 50-46 on Tuesday and 49-47 on Monday.
Romney has steadily gained in the Gallup poll in recent weeks, turning what had been a growing deficit in September into a growing lead since his strong first debate performance. And when Gallup shifted its voter model from registered voters to likely voters last week, Romney's numbers improved even more (among registered voters, the race is at Romney 48, Obama 46).
The new numbers, of course, don't include much or any data collected after Tuesday night's debate. It will take days to determine what effect that might have had.
Today's numbers actually include two days of "post-debate" polling, last night and the night of the debate itself, the rest of them are five days prior to the debate. What this number would suggest at the very least, though, is that Romney was in a fairly strong position going into Tuesday's debate and that the Vice-Presidential Debate didn't have much of an impact on the race, which is consistent with previous history. I'd be interested to see the three Daily Trackers — Gallup, Rasmussen, and IBD/TIPP — release their pre-debate v. post-debate numbers in the coming days to see if Tuesday's "Town Hall" debate had any impact on the race at all.
Looking at the average, RealClearPolitics has the average at +0.7 in the President's favor, and take a look at this chart of how the race has proceeded since October 1st: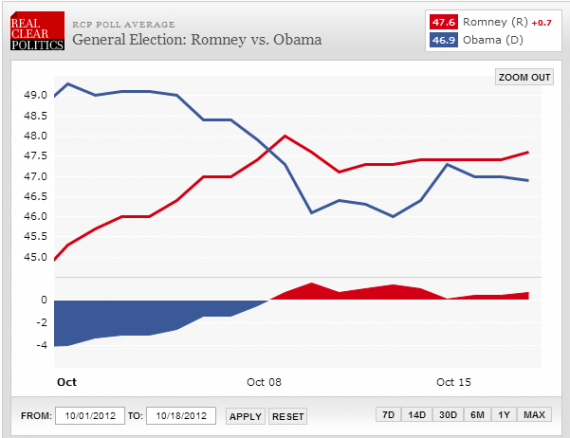 In other news, for the first time I can remember in this race, the RCP Electoral College Map has Romney leading with 206 projected Electoral Votes, Obama at 201 Electoral Votes, and 131 Electoral Votes in the "Toss-Up" category, although it's worth noting that 36 of those toss-up votes are states that I expect will end up going for Obama in the end, Michigan and Pennsylvania.
Where does the race go from here? I still feel that Obama is in the better position here in the end, but Romney has a better path to victory than he's ever had before and anything is possibly over the next 19 days.
Update: Public Policy Polling has released the first results from the Daily Tracking Poll it will be running for the rest of the campaign. It shows the race tied. Like Rasmussen, the PPP Daily Tracking Poll is a three-day rolling average whereas Gallup's is a seven-day rolling average.