Game of Chicken Kiev
The United States and its NATO allies are in a dangerous standoff.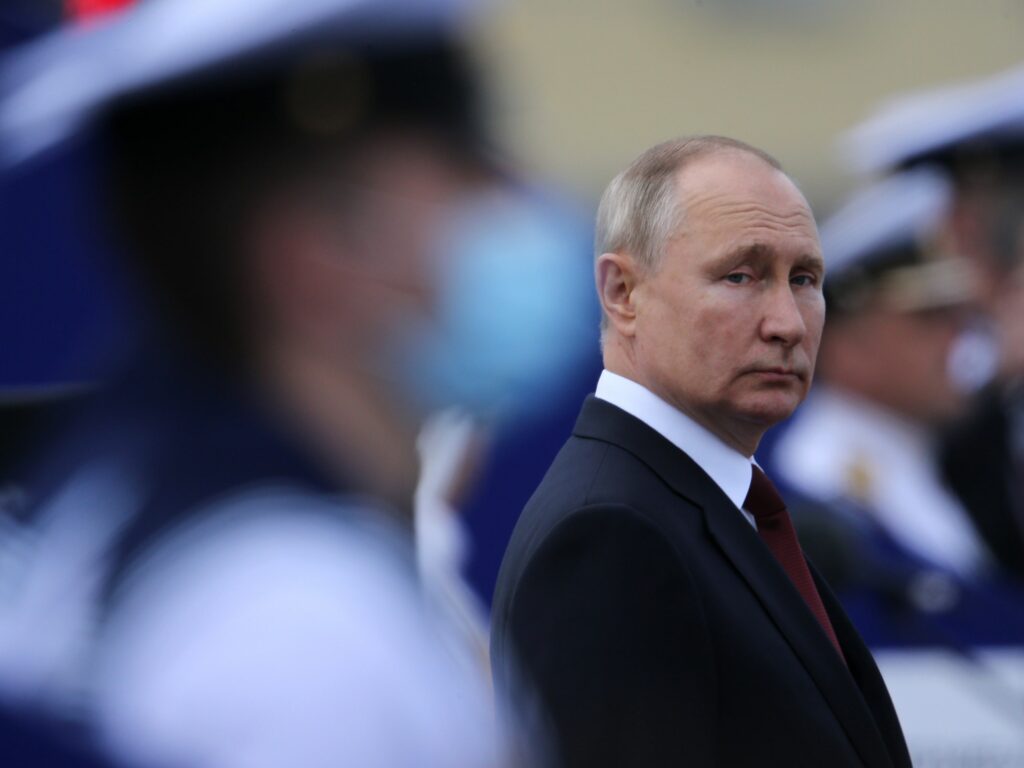 A Financial Times op-ed signed by former CIA director and defense secretary Bob Gates over the weekend declares "Putin has overplayed his hand on Ukraine."
As to what motivates the Russian strongman:
I believe his actions, however deplorable, are understandable. Almost everything Putin does at home and abroad is rooted in the collapse of the Soviet Union in 1991, which for him marked the collapse of the four-century-old Russian empire and Russia's position as a great power.

[…]

He has no desire to recreate the Soviet Union — he does not want to be responsible for the problems of former Soviet republics. What Putin wants is subservience, and for those now-independent states to bend the knee to Moscow — and to be a bulwark against the west and democracy.

Former US national security adviser Zbigniew Brzezinski observed that without Ukraine, there can be no Russian empire. Putin fears a Ukraine that is economically and politically orientated towards the west with an ever-closer security relationship with the US and other members of Nato — even if it is not a member of the alliance. He regards that as a critical security risk and, just as bad, an alternative economic and political model likely to be increasingly attractive to Russians — a dagger pointed at the heart of Russia.

Putin seems determined, therefore, to take whatever measures he deems necessary either to destabilise and bring down the current western-orientated government of Ukraine or to try to seize the country by military force.
I think that's exactly right.
Ditto his assessment of the standoff:
Because of Russia's stunted economy, demographic challenges and other weaknesses at home, Putin has dealt himself a poor hand — but until now he has played it rather skilfully. He has received a great deal of unintended help from the US. Our domestic divisions and near-paralysis in Congress, our perceived withdrawal from the Middle East and, more broadly, from our six-decade-long global leadership role, and ignominious scuttling out of Afghanistan — together these have led many countries to hedge their bets and develop closer economic, political and security ties with both Russia and China.

Putin's problem is that, as dictators are wont to do, he has overplayed his hand. His aggressive threats against Ukraine have galvanised Nato and reaffirmed its clarity of purpose. His menacing policies have made Ukrainians even more anti-Russian and driven the country further into the arms of the west. Any Russian military action will result in Ukrainian resistance as well as larger Nato military deployments on Russia's western border, potential suspension of the Nord Stream 2 gas pipeline and painful economic sanctions.

Moscow has deployed some 100,000 troops to the borders of Ukraine. What now? Putin finds himself in a situation where Russian success is defined as either a change of government in Kyiv (with the successor aligned with Moscow) or conquest of the country. The 18th-century French diplomat Talleyrand is meant to have said: "You can do anything you like with bayonets except sit on them." Putin must use those troops soon or face the humiliation of withdrawing them without achieving anything except pushing Ukraine closer to the west. In either case, he has placed himself in a difficult position at home and abroad. The US and its allies must do what they can to exacerbate his difficulties.
Alas, what we're actually doing is a mixed bag.
On the one hand, as WaPo ("U.S. threatens use of novel export control to damage Russia's strategic industries if Moscow invades Ukraine") reports, we're playing our economic instruments like a veritable symphony:
The Biden administration is threatening to use a novel export control to damage strategic Russian industries, from artificial intelligence and quantum computing to civilian aerospace, if Moscow invades Ukraine, administration officials say.

The administration may also decide to apply the control more broadly in a way that would potentially deprive Russian citizens of some smartphones, tablets and video game consoles, said the officials.

Such moves would expand the reach of U.S. sanctions beyond financial targets to the deployment of a weapon used only once before — to nearly cripple the Chinese tech giant Huawei.

The weapon, known as the foreign direct product rule, contributed to Huawei suffering its first-ever annual revenue drop, a stunning collapse of nearly 30 percent last year.

The attraction of using the foreign direct product rule derives from the fact that virtually anything electronic these days includes semiconductors, the tiny components on which all modern technology depends, from smartphones to jets to quantum computers — and that there is hardly a semiconductor on the planet that is not made with U.S. tools or designed with U.S. software. And the administration could try to force companies in other countries to stop exporting these types of goods to Russia through this rule.

"This is a slow strangulation by the U.S. government," Dan Wang, a Shanghai-based technology analyst with research firm Gavekal Dragonomics, said of Huawei. The rule cut the firm's supply of needed microchips, which were made outside the United States but with U.S. software or tools.

Now officials in Washington say they are working with European and Asian allies to craft a version of the rule that would aim to stop flows of crucial components to industries for which Russian President Vladimir Putin has high ambitions, such as civil aviation, maritime and high technology.

"The power of these export controls is we can degrade and atrophy the capacity of these sectors to become a key source of growth for the Russian economy," said a senior Biden administration official, who, like others in this report, spoke on the condition of anonymity to discuss internal deliberations.
This hits Putin where it hurts. Not only does it degrade his power but it cripples the oligarchs on whose forbearance he depends to stay in power. Alas, we're also rattling our sabres in a way that strikes me as playing into Putin's hands.
Another WaPo report ("NATO sends more ships, fighter jets to Eastern Europe as Russia masses troops on Ukraine border"):
NATO said Monday it would send additional ships and fighter jets to Eastern Europe as Britain ordered some diplomats and their families to leave Ukraine, amid growing alarm that Russia may invade as it masses tens of thousands of troops near the border.

The moves came after the United States on Sunday ordered families of diplomats to leave Kyiv and authorized nonessential diplomatic staff to leave. The State Department also cautioned American citizens to consider leaving Ukraine, with U.S. officials warning that an attack could happen "at any time."

NATO said Monday its members are "putting forces on standby and sending additional ships and fighter jets to NATO deployments in eastern Europe, reinforcing Allied deterrence and defence as Russia continues its military build-up in and around Ukraine."
NYT ("Biden Weighs Deploying Thousands of Troops to Eastern Europe and Baltics") adds:
President Biden is considering deploying several thousand U.S. troops, as well as warships and aircraft, to NATO allies in the Baltics and Eastern Europe, an expansion of American military involvement amid mounting fears of a Russian incursion into Ukraine, according to administration officials.

The move would signal a major pivot for the Biden administration, which up until recently was taking a restrained stance on Ukraine, out of fear of provoking Russia into invading. But as President Vladimir V. Putin has ramped up his threatening actions toward Ukraine, and talks between American and Russian officials have failed to discourage him, the administration is now moving away from its do-not-provoke strategy.

In a meeting on Saturday at Camp David, the presidential retreat in Maryland, senior Pentagon officials presented Mr. Biden with several options that would shift American military assets much closer to Mr. Putin's doorstep, the administration officials said. The options include sending 1,000 to 5,000 troops to Eastern European countries, with the potential to increase that number tenfold if things deteriorate.

The officials spoke on the condition of anonymity because they were not authorized to talk publicly about internal deliberations.

Mr. Biden is expected to make a decision as early as this week, they said. He is weighing the buildup as Russia has escalated its menacing posture against Ukraine, including massing more than 100,000 troops and weaponry on the border and stationing Russian forces in Belarus. On Saturday, Britain accused Moscow of developing plans to install a pro-Russian leader in Ukraine.

"Even as we're engaged in diplomacy, we are very much focused on building up defense, building up deterrence," Secretary of State Antony J. Blinken said in an interview that aired Sunday on CBS's "Face the Nation." "NATO itself will continue to be reinforced in a significant way if Russia commits renewed acts of aggression. All of that is on the table."

So far, none of the military options being considered include deploying additional American troops to Ukraine itself, and Mr. Biden has made clear that he is loath to enter another conflict following America's painful exit from Afghanistan last summer after 20 years.
So here's the thing. A massive buildup of US and NATO forces around Ukraine certainly reassures allies most concerned with Russian aggression. But it's also a provocative move that potentially plays into Russian propaganda. Further, as with President Obama's infamous "red line" on Syrian chemical weapons, this is a bluff that could well get called.
The bottom line is that Ukraine is infinitely more important to Putin and Russia than it is to the United States and Putin damn well knows it. Are we really going to war if a non-ally gets invaded? We didn't take military action when Putin invaded Ukraine and seized Crimea in 2014. Or when Putin* invaded Georgian territory and seized South Ossetia and Abkhazia.
A Western show of force might well make Putin feel he has no choice but to be aggressive, lest he be seen as weak. And then what?
____________
*As a technical matter, the invasion happened three months after Putin stepped down as President and became Prime Minister and ostensibly subordinate to Dmitry Medvedev. Nobody serious actually believes the latter was calling the shots.