Gang Of Six Resurrecting The "Grand Bargain"?
The Gang of Six is back together. And they have a plan.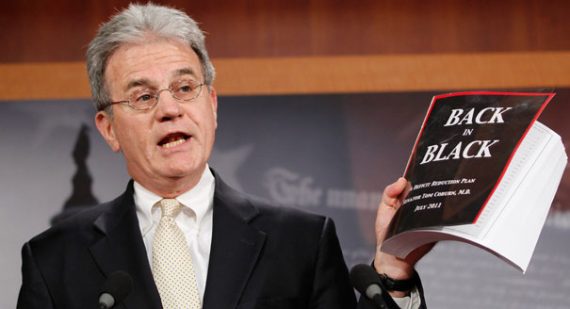 The so-called Gang of Six, a group of Senators who have spent months trying to come up with a bipartisan budget and debt ceiling increase plan, are out with a plan that some are suggesting may be a turning point in the budget negotiations:
The once moribund Senate "Gang of Six" gained new life Tuesday after Oklahoma Sen. Tom Coburn unexpectedly rejoined the group and President Barack Obama praised a new effort to cut the debt by as much as $3.7 trillion over the next decade.

Speaking at the White House Tuesday afternoon, Obama gave the Gang of Six a big boost, saying its proposals were "roughly" in line with his negotiations during the stalled debt-ceiling talks. But he said there would need to be broader buy-in to the proposal and he said Congress needed to have "fail-safe" plan, being drafted by Senate Majority Leader Harry Reid and Senate Minority Leader Mitch McConnell, to avert a default.

"I think we're now seeing a potential for a bipartisan consensus," Obama told reporters.

Other top senators are also getting behind the plan, including Sen. Lamar Alexander (R-Tenn.), the No. 3 Senate Republican, who told a group of senators Tuesday he would back the Gang of Six's proposal, sources say. The fast-moving developments mean that elements of the proposal could influence the stalled talks to raise the debt-limit before the Aug. 2 deadline.

The Republican led House, which is on the verge of voting on the conservative "Cut, Cap and Balance" plan that has little chance of passing the Senate, remains a tough sell on the Gang of Six.

The House Republican leadership staff is reviewing the Gang of Six proposal, but has several concerns, according to aides.
The devil, as always, is in the details:
According to a copy of a summary of the Gang of Six plan, obtained by POLITICO, the group would impose a two-step legislative process that would make $500 billion worth of cuts immediately followed by a second bill to create a "fast-track process" that would propose a comprehensive bill aimed at dramatically restructuring tax and spending programs. The plan calls for changes to Social Security to move on a separate track, and establishes an elaborate procedure for considering the measures on the floor.

The $500 billion in cuts would come from a range of sources, including shifting to a new consumer price index to make cost-of-living adjustments to Social Security. The plan would impose statutory spending caps through 2015, freeze congressional pay and sell unused federal property.

To enact a comprehensive deficit plan, the group calls for congressional committees to report legislation within six months that would "deliver real deficit savings in entitlement programs over 10 years," the plan says.

It calls on the Finance Committee to permanently reform or replace Medicare's Sustainable Growth Rate – an outdated formula aimed at determining the amount to reimburse doctors for treating Medicare patients – by $298 billion.

The Finance Committee would be instructed to deliver "real deficit savings" through simplifying the tax code and raise as much as $1 trillion. It would do this by establishing three tax brackets with rates of 8-12 percent, 14-22 percent and 23-29 percent. It would permanently repeal the $1.7 trillion Alternative Minimum Tax. And it calls for establishing a single corporate tax rate, between 23 percent and 29 percent, and to move to a competitive territorial tax system.

Overall, the group claims it would result in a $1.5 trillion net tax decrease.

The group punts many of the specifics to other committees, which would be asked to find savings in discretionary and mandatory spending. This includes: $80 billion out of Armed Services; $70 billion out of Health, Education, Labor and Pensions; $65 billion out of Homeland Security and Government Affairs; $11 billion out of Agriculture; $11 billion out of Commerce; $6 billion out of Energy and Natural Resources. The Judiciary Committee would be asked to find savings through medical malpractice reform.
Perhaps the most interesting part of the proposal, is the fact that it brought Tom Coburn back into the group. Several months ago, Coburn had left the Gang of Six, saying that he didn't belive the group was getting anywhere. Just yesterday, Coburn came out with his own budget plan which would cut some $9 trillion over ten years, and would also raise revenues by some $1 trillion. His return to the group and endorsement of the plan is a major boost. Of course, the biggest boost for the plan came this afternoon when President Obama praised it:
President Barack Obama said Tuesday that a proposal offered by Republican and Democratic senators is "a very significant step" that represents "the potential for bipartisan consensus" on resolving the impasse over cutting the deficit and raising the debt ceiling.

In an appearance in the White House briefing room, Obama urged congressional leaders to embrace the "Gang of Six" proposal, which would slash the deficit by $3.7 trillion over 10 years, in part by raising about $1 trillion in new revenue.

"We have a Democratic president and administration that is prepared to sign a tough package that includes both spending cuts, modifications to Social Security, Medicaid and Medicare that would strengthen those systems and allow them to move forward, and would include a revenue component," Obama said. "We now have a bipartisan group of senators who agree with that balanced approach. And we've got the American people who agree with that balanced approach."

Obama's decision to align himself with the Senate package aims to further marginalize House Republicans, who have resisted any deficit reduction plan that includes new revenues.

But the Gang of Six proposal and the praise from the president come late in the process, with only 12 days remaining until Congress must raise the debt limit
Obama's semi-endorsement of the Gang of Six plan was calculated. First, it was meant to undercut the House vote today on "Cut, Cap, and Balance," which  has no chance of passing the Senate. Second, it was meant to signal that he's wiling to look for an alternative to the McConnell-Reid Plan, which seems to have little chance of passing the House. It also places the ball firmly in the House GOP's Court. After their plan passes and quickly goes nowhere, they'll be left with either McConnell-Reid, or this. Frankly, this is the far better deal but it's unclear whether they'll recognize a good deal when they see it.