Garry Marshall, Creator Of Classic Television Shows, Dies At 81
The creator of some of the most popular television programming of the 1970s has passed away at the age of 81.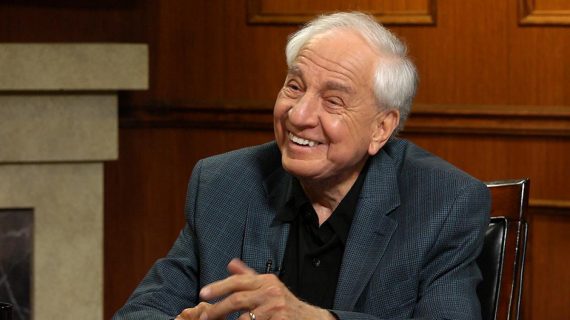 Garry  Marshall, the creative force behind some of the most successful and iconic television comedies of the 1970s as well as a series of highly successful movies, has died at the age of 81:
Garry Marshall, who created some of the 1970s' most iconic sitcoms including "Happy Days," "The Odd Couple," "Laverne and Shirley" and "Mork and Mindy" and went on to direct hit movies including "Pretty Woman" and "The Princess Diaries," died Tuesday in Burbank, Calif. of complications from pneumonia following a stroke. He was 81.

Marshall went from being a TV writer to creating sitcoms that touched the funny bones of the 1970s generation and directing films that were watched over and over: "Happy Days" helped start a nostalgia craze that has arguably never abated, while "Mork and Mindy" had a psychedelically goofy quality that catapulted Robin Williams to fame and made rainbow suspenders an icon of their era. "Pretty Woman" likewise cemented Julia Roberts' stardom, while "The Princess Diaries" made Anne Hathaway a teen favorite.

"Happy Days" star Henry Winkler credited him for launching his career, tweeting "Thank you for my professional life."

Richard Gere, who starred in "Pretty Woman," issued a statement about Marshall late on Tuesday: "Garry of course was one of those truly important people one is blessed to meet in one's lifetime. Besides being the pulse and life force of 'Pretty Woman'… a steady helmsman on a ship that could have easily capsized… he was a super fine and decent man, husband and father who brought real joy and love and infectious good spirits to every thing and everyone he crossed paths with. Everyone loved Garry. He was a mentor and a cheerleader and one of the funniest men who ever lived. He had a heart of the purest gold and a soul full of mischief. He was Garry."

Marshall had one of his first substantial hits when he developed and exec produced an adaptation of Neil Simon's play "The Odd Couple" in 1970 for ABC. The show drew several Emmy nominations for outstanding comedy series and wins for stars Jack Klugman and Tony Randall over the course of its five-season run. (In 2015 Marshall served as a consultant on a CBS remake of the series that starred Matthew Perry and Thomas Lennon.)

Marshall penned the 1971 pilot for "Happy Days," which was recycled in 1972 as a segment of ABC's comedy anthology series "Love, American Style" called "Love and the Happy Days." George Lucas asked to view the pilot before deciding to cast Ron Howard, who starred in it, in "American Graffiti," released in 1973. "Happy Days" debuted as a series on the network in 1974, riding high on the wave of 1950s nostalgia generated in part by the success of "American Graffiti."

During its peak, "Happy Days" was the No. 1 show on television during the 1976-77 season, No. 2 in 1977-78 and No. 4 the following year, and Winkler's the Fonz became a cultural touchstone, with his leather jacket eventually landing in the Smithsonian. Years later Marshall acknowledged being the one behind the idea, for a 1977 episode, of putting Fonzie on water skis — an idea so outlandish that it spawned the phrase "jumped the shark," said in reference to a show that is clearly past its prime.

Nevertheless, "Happy Days" spawned "Laverne and Shirley," which Marshall created with Lowell Ganz and Mark Rothman, and "Mork and Mindy," which Marshall created with Dale McRaven and Joe Glauberg. Both were as successful in the ratings as "Happy Days," with "Laverne and Shirley" No. 1 for two seasons and "Mork and Mindy" peaking at No. 3. "Laverne and Shirley" starred Cindy Williams and Penny Marshall, Garry's sister, who would go on to her own successful career as a director of feature films, while "Mork and Mindy" began the career of star Williams. Garry Marshall shared an Emmy nomination, his fifth, in 1979 as "Mork and Mindy" drew a mention for comedy series.

His first bigscreen blockbuster was 1990's "Pretty Woman," starring Julia Roberts as an idealized prostitute and Gere as her client-cum-Prince Charming. The romantic comedy grossed $463 million worldwide. Roberts was Oscar nominated for best actress, the film was nominated for a Golden Globe for best comedy/musical — and Marshall scored a Cesar nomination as "Pretty Woman" drew a mention in the French awards' foreign-film category.

Marshall told the New York Times that he wanted to make Roberts' character somewhat less experienced.  "I knew if we lowered the age and made her a new girl in the business, then people would say, 'Oh, please don't do that, honey.'"

Marshall also created the ABC sitcom "Angie" and exec produced other shows including "Happy Days" spinoff "Joanie Loves Chachi," "The New Odd Couple," "Blansky's Beauties" and "Who's Watching the Kids."

He made his directorial debut in 1967 on his series "Hey, Landlord" and also helmed some episodes of "The Odd Couple," "Happy Days," "Mork and Mindy" and "Laverne and Shirley." The first feature Marshall directed was the 1982 comedy "Young Doctors in Love," essentially a spoof of "General Hospital," starring Sean Young and Michael McKean.

His second feature effort, "The Flamingo Kid," which Marshall scripted from a story by Neal Marshall, drew critical raves. Matt Dillon starred in the social comedy as a working-class kid who learns life lessons during a summer spent as a cabana boy.

"Nothing in Common" (1986) offered good moments from stars Jackie Gleason and Tom Hanks, playing father and son. Another modest success for Marshall came in the form of screwball comedy "Overboard," starring Goldie Hawn and Kurt Russell.

Tear-jerking chick flick "Beaches" (1988), starring Bette Midler and Barbara Hershey, scored with audiences, if not with critics, racking up a domestic gross of $57 million and a healthy afterlife on video.

Marshall reunited with his "Pretty Woman" stars Roberts and Gere for the 1999 box office success "Runaway Bride," about a woman who keeps leaving her fiances at the altar. The New York Times said, "Garry Marshall smoothly turns Maggie's little kink into bigscreen sitcom fodder." The worldwide gross was $309 million.

(…)

Garry Kent Maschiarelli was born in the Bronx, the son of a dance and a director of industrial films who would later become a producer on some of his son's TV programs. He graduated from Northwestern U.'s Medill School of Journalism and began his career as a joke writer for comedians including Joey Bishop, then worked on the writing staff of "The Tonight Show With Jack Paar."

Marshall also had a long acting career that began in the early 1960s. He played a hoodlum in the James Bond film "Goldfinger" and made appearances, most uncredited, in many of his film and TV projects. He had a recurring role on "Murphy Brown" as the head of the network and guested on shows ranging form "Monk" and "The Sarah Silverman Show" to "ER." His many small film roles included a part in sister Penny's "A League of Their Own" as a cheapskate baseball team owner, which he reprised in the brief TV series based on the movie. In his son Scott Marshall's 2006 comedy "Keeping Up With the Steins," Marshall had a small but notable role as the grandfather of the bar mitzvah boy who has adopted Native American customs.

Marshall also found the time for stage efforts. "Wrong Turn at Lungfish," co-written with Lowell Ganz, played L.A., Chicago and Off Broadway, and "The Roast," co-penned with Jerry Belson, played Broadway in a production helmed by Carl Reiner in 1980. Marshall also wrote the play "Shelves," and in 1997, he and his daughter Kathleen founded the Falcon Theater in Burbank. Marshall also occasionally directed opera, including stagings of Jacques Offenbach's "The Grand Duchess," which opened the Los Angeles Opera's 2005-06 season, and Donizetti's "The Elixir of Love" for the San Antonio Opera in January 2008.

Marshall received the American Comedy Awards' Creative Achievement Award in 1990, the Writers Guild of America's Valentine Davies Award in 1995, the PGA's Honorary Lifetime Membership Award and Lifetime Achievement Award in Television in 1998 and the American Cinema Editors' Golden Eddie Filmmaker of the Year Award in 2004. In 1997 he was inducted into the Academy of Television, Arts and Sciences' Hall of Fame.

(…)

"The loss today of Garry Marshall is deeply sad – for our industry, and for our Guild," Directors Guild of America president Paris Barclay said in a statement late on Tuesday. "Garry's gift for storytelling brought joy, laughter and an enormous, beating heart to every screen, large and small. When describing the type of stories he chose to tell, Garry once said: 'I try to find scripts of stories that kinda celebrate the human condition… let's talk about the tough world out there and the human spirit overcoming adversity.' And that indefatigable optimism came through in everything he touched. As the architect of some of the longest-running situation comedies in television history – from The Lucy Show and The Dick Van Dyke Show, to Happy Days and Laverne & Shirley, to Mork & Mindy and The Odd Couple – he's left an unforgettable mark on the medium, a blueprint that many have tried to replicate throughout the decades. That mark continued at the movies with Pretty Woman, Beaches, The Princess Diaries and New Year's Day to name just a few of his many, many hits. The winner of too many industry awards to count, his legacy lingers in the echoing laughter in so many living rooms and theaters."

"But the vision, joy and camaraderie Garry brought to life didn't stop behind the camera," the statement goes on. "He channeled his love for the craft of directing into serving our Guild – dedicating himself to protecting the creative rights of directors, as well as teaching newer generations of directors how hard-fought the DGA's journey has been, and the importance of carrying it forward. All the while, he kept us all smiling – no mean feat. It was an honor, and a delight, for all of us who had the pleasure of serving alongside of him."
Both Ron Howard and Henry Winkler paid tribute to Marshall on Twitter:
GARRY MARSHALL Rest In Peace .. Thank you for my professional life. Thank you for your loyalty , friendship and generosity .

— Henry Winkler (@hwinkler4real) July 20, 2016
RIP #GarryMarshall whose humor & humanity inspired. He was a world class boss & mentor whose creativity and leadership meant a ton to me.

— Ron Howard (@RealRonHoward) July 20, 2016
For much of the 1970s, American television was dominated by two names that were responsible for the most popular television shows of their era for the better part of a decade. With programs that appeared principally on CBS, Norman Lear gave us shows such as All In The Family, which co-starred Marhall's then brother-in-law Rob Reiner, The Jeffersons, Maude, Good Times, and other shows that addressed serious social issues with a comedic twist. Meanwhile, over on ABC Garry Marhsall was tossing out hits of his own with Happy Days, Laverne & Shirley, and Mork & Mindy. Through their shows were often very different, they dominated the top ten list for the better part of ten years and became what in the 1980s yet another network would brand "Must See TV" in an era before DVRs or even VHS/Betamax recorders made watching a show later even a possibility. Typically, if you missed a first-run episode you were out of luck until the summer when most networks would rerun their programming in an era before the idea of short-run series, web streaming, or any of the other methods of catching up on a TV program that have become second nature to contemporary Americans. Given those limitations, it's extraordinary that these shows were able to achieve the ratings that they did.
Marshall's brand of comedy may not have been as 'serious' as Lear's, but it was successful, and he helped to launch the careers of others who have contributed significantly to the television and movie careers, including Henry Winkler, Ron Howard, who became the rare early child star to become a bigger star as an adult, Marshall"s sister Penny who became a successful director in her own right, and perhaps most significantly Robin Williams, who went on to become a comedic and drama tornado that swept through Hollywood for some two decades. Marshall also gave us the great comedic duo of Tony Randall and Jack  Klugman, who starred in Marshall's television adaptation of "The Odd Couple," a show that lasted for five seasons in first-run production and has lived on decades later in syndication. Indeed, even as Hollywood mourns his passing, all four of Marshall's iconic series can be found somewhere running in syndication even though its been decades since they were on the air. That alone is testimony to his talent.