Gary Johnson Running
Former New Mexico governor Gary Johnson is running for president.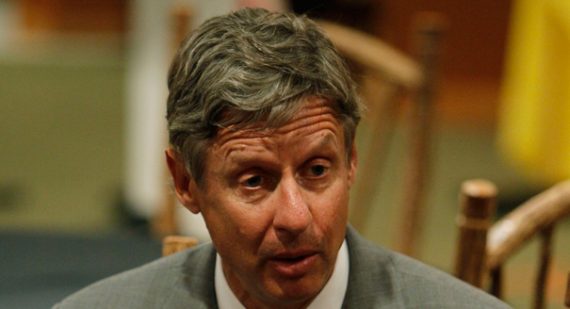 Former New Mexico governor Gary Johnson will run for the Republican nomination for president.
Politico ("Gary Johnson to launch 2012 presidential bid in April"):
Gary Johnson will formally announce his candidacy for president in April while stumping in New Hampshire, an adviser told POLITICO.

The former New Mexico governor will skip the step of creating an exploratory committee, opting for an immediate start to his bid for the GOP nomination.
A libertarian-leaning Republican who supports gay marriage and the legalization of marijuana, Johnson occupies much of the same political space as Ron Paul, the Texas congressman who ran in 2008 and is considering another bid. Starting a campaign in April could provide such backdrops as the April 15 Tax Day and the annual April 20 push for legalizing marijuana.

[…]

To date, he has mostly been coy about his presidential aspirations. He's one of the few presidential hopefuls with no political action committee and has raised money instead through his nonprofit group, Our America Initiative. That organization can accept unlimited contributions but cannot fund a presidential campaign.

Since launching Our America Initiative last year, Johnson has traveled the country — with a focus on the early voting states — speaking about the economy, civil liberties and the need to reduce entitlement spending.

Though frequently compared with Paul, the libertarian movement's closest thing to a standard-bearer, Johnson has been distancing himself from the comparison. While they're both libertarians, Johnson said, his reputation as "Gov. No" is different from Paul's moniker "Dr. No." He has emphasized his record as a governor who was prolific in using his veto pen.

"There was a big difference between Ron Paul and me when it came to the 'no,'" Johnson recently told POLITICO. "His 'no' was philosophical. It was reasoned. It was right. My 'no' actually put a stop to legislation. It cut spending. Mine carried further than just 'no.' I had to follow through with the debate, discussion and dialogue on why my 'no' wouldn't result in people starving, schools being shut down and the delivery of services to the poor wasn't going to be curtailed."
I would love to see Gary Johnson or someone like him make a serious run at the nomination, but I'm skeptical that there are enough of us libertarian-leaning Republicans to make it happen. Yes, the Tea Party movement is enthusiastic about cutting federal spending (in the abstract, anyway) and keeping taxes low. But most of the polling I've seen shows them to be just as committed to the hot button social issues as Republicans have been the last three decades.