Gates Hints U.S. Could Stay In Iraq, But It Looks Like The Iraqis Don't Want Us
Defense Secretary Gates hinted this week that the U.S. would stay in Iraq if the Iraqis wanted. It doesn't seem like they do.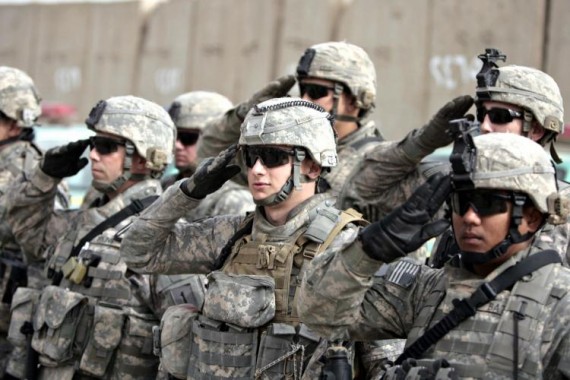 During his visit to Iraq on Friday, Defense Secretary Gates hinted that U.S. forces could stay in Iraq past the expiration of the current Status Of Forces Agreement at the end of the year if the Iraqis wanted:
MOSUL, Iraq—U.S. Defense Secretary Robert Gates pressed senior Iraqi officials Friday to decide whether they want U.S. troops to remain in the country beyond their scheduled departure at year's end.

In a meeting with U.S. troops on Friday, Mr. Gates said his three-day visit to Iraq had been "all about" whether American boots will remain on the ground in Iraq beyond the current Dec. 31 withdrawal deadline.

"If there is to be a presence, to help with some of the areas where [the Iraqis] still need help, we're open to that possibility," he told soldiers. "But they have to ask."

During the course of his trip, Mr. Gates met with Iraq's top leaders—Prime Minister Nouri al-Maliki, Deputy Prime Minister Saleh al-Mutlaq, President Jalal Talabani and Kurdistan Regional Government President Masoud Barzani—to deliver a message: The U.S. is willing to stay beyond 2011, if invited.

But Mr. Gates emphasized that Iraq must act soon because the U.S. military is heavily engaged in Afghanistan and responding to crises in Japan and Libya. "Time's running out in Washington, because we've got a lot going on around the world," he said.
Of course the "we've got a lot going on around the world" thing is arguably a reason that we shouldn't be volunteering to keep up 50,000 troops in Iraq for no seemingly good reason, especially since Prime Minister al Maliki has previously said he doesn't want to renew the SOFA and at least one sizable group of Iraqis made it clear yesterday that they don't want us there:
BAGHDAD — A day after Defense Secretary Robert M. Gates suggested that American troops could remain here for years, tens of thousands of protesters allied with Moktada al-Sadr, the radical anti-American Shiite cleric, flooded the streets demanding an end to the American military presence.

The protests were scheduled before Mr. Gates's comments — made on Friday during a visit to troops in northern Iraq — although his statements may have fueled some of the day's fervor. The protesters were whipped up by comments drafted by Mr. Sadr, who is continuing his religious studies in Iran but who sent a message to the crowd threatening to reconstitute his militia, the Mahdi Army, if the American military did not leave this year.

"The first thing we will do is escalate the military resistance activity and reactivate the Mahdi Army in a new statement which will be published later," Mr. Sadr's representative, Salah al-Obaidi, told the crowd. "Second is to escalate the peaceful and public resistance through sit-ins."

A demonstration against the American invasion is held each April 9, the anniversary of the fall of Baghdad in 2003 and the date when Iraqis, with the help of American Marines, pulled down a statue of the dictator Saddam Hussein in Firdos Square in Baghdad.

Posters that proclaimed "Down with America" were distributed to the crowds, and some people burned American flags and chanted slogans like "Get out! Get out! America the great devil!" Others spoke of their "religious duty" to "expel the occupier."

But the event — an annual rite of the Shiite underclass loyal to Mr. Sadr — took on more political importance this year because it came amid the debate here and in Washington about whether American troops will leave on schedule by the end of the year or stay on in some capacity. The departure date was set by a security agreement that binds both countries.

"We want them to get out of the country," said Sheik Ahmed al-Hasnawi, one of the event's organizers. "It's the last year for them."

Ali Husain, a high school student, said: "We came from southern Iraq yesterday evening at the invitation of Moktada al-Sadr. We will expel the occupier."
This is, of course, consistent with al Sadr's own rhetoric. When he returned to Iraq in January from a four year self-imposed exile in Iran, Sadr called on Iraqis to resist the American "occupiers." Additionally, the largely Shiite south has resisted American intervention for many years now, and was the site of some of the worst sectarian violence in the years after the downfall of Saddam Hussein. More important for the future, though, is the fact that Sadr and Malakai are the central players in the Iraqi coalition government. Given Sadr's position, and Malakai's statements about the SOFA even before Sadr returned to Iraq, it seems highly unlikely that the Iraqi government is going to ask the United States to extend its occupation.
Nonetheless, one has to ask why Gates would bring this up now. We're eight months away from the final months of U.S. presence in Iraq, we're engaged in wars in Afghanistan and Libya, we're utilizing military assets to assist Japan in recovering from a devastating natural disaster, and we're dealing with a fiscal crisis at home. What purpose, exactly, is served by keeping troops in Iraq, where the government is either going to succeed or the country is going to sink into civil war? None that I can see.
We're on track to remove the last American troops from Iraq by December 31, 2011. Rather than trying to extend the mission, we should do what we can to hasten its end.