Gay Marriage Politics State-By-State
That attitudes towards gay marriage varies by state won't surprise you. The degree to which it does just might.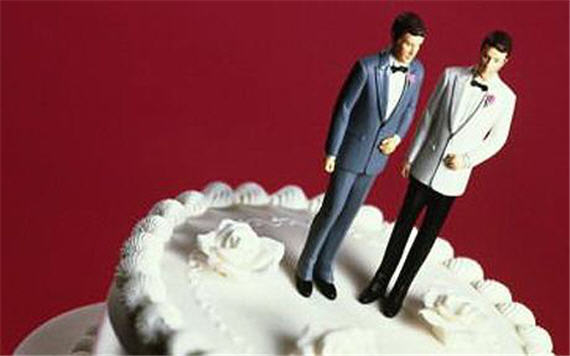 Responding to his 538 colleague Nate Silver's prediction that Democrats will downplay the Prop 8 ruling in the fall because "polls still show at least a plurality of Americans opposed to gay marriage,"  Andrew Gelman points to this chart of the changing attitudes towards gay marriage produced by Coumbia political scientists Jeff Lax and Justin Phillips to show how much variation there is on a state-by-state basis: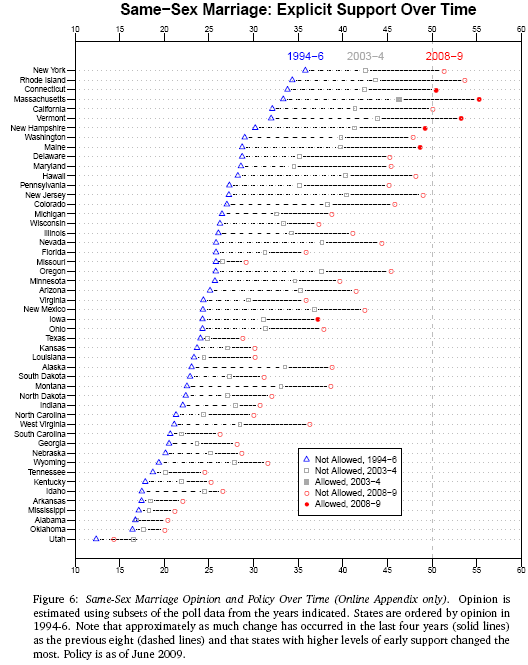 Gelman refers to his own analysis from last year to make an interesting point:
In the past fifteen years, gay marriage has increased in popularity in all fifty states. No news there, but what was a surprise to me is where the largest changes have occurred. The popularity of gay marriage has increased fastest in the states where gay rights were already relatively popular in the 1990s.

In 1995, support for gay marriage exceeded 30% in only six states: New York, Rhode Island, Connecticut, Massachusetts, California, and Vermont. In these states, support for gay marriage has increased by an average of almost 20 percentage points. In contrast, support has increased by less than 10 percentage points in the six states that in 1995 were most anti-gay-marriage–Utah, Oklahoma, Alabama, Mississippi, Arkansas, and Idaho.

[…]

I generally expect to see uniform swing, or maybe even some "regression to the mean," with the lowest values increasing the most and the highest values declining, relative to the average. But that's not what's happening at all. What's going on?
He speculates that people in gay friendly states are likely to know more gay people (or, more accurately, know that they know them) and become more accepting because of tipping point theory.   That seems plausible.
Presumably, then, the upshot is that Democrats will use gay rights as in issue in contests where they think it's helpful and Republicans will try to force them to talk about it in contests where it isn't.
This creates the irony that we noted on last night's OTB Radio:  If Judge Walker's ruling in Perry v. Schwarzenegger stands, the dodge that the states should decide will be removed.  But it remains perhaps the most contentious issue where the divide is along geographic lines.