Gay Pride and Bare Asses
San Francisco's gay pride parade celebrates its 40th anniversary with Nancy Pelosi, the Backstreet Boys, and some dudes riding bike's nekkid.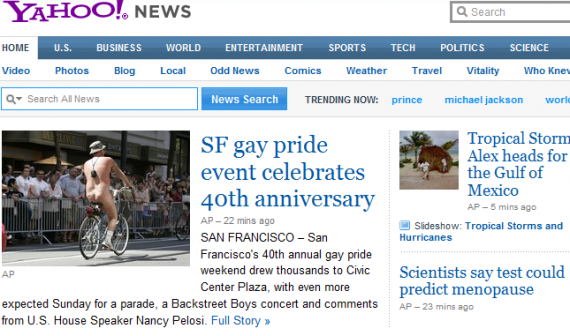 So, the top story on YahooNews this morning is "SF gay pride event celebrates 40th anniversary."    Again, slow news day.   But let's just say that it wasn't the headline that caught my eye, but rather the sight of some middle aged dude's bare ass used to illustrate the story.
Aside from the standards of propriety — it's not like YahooNews is an adult's only site — one wonders about the editorial judgment.  What does riding a bicycle bare-assed have to do with being gay?  (Although, one supposes a certain amount of pride is helpful.)   Here's the caption that accompanies the photo:
A member of the Mike's on Bike rides his bike nude down Market Street during the San Francisco's 39th annual gay pride parade on in this June 28, 2009 file photo. San Francisco's 40th annual gay pride weekend drew thousands to Civic Center Plaza, with even more expected Sunday June 27, 2010 for a parade, a Backstreet Boys concert, and a prerecorded address from U.S. House Speaker Nancy Pelosi. (AP Photo/Tony Avelar, File)
A veritable hootenanny.    But, still, not sure why this dude best illustrates the parade.   Now, this, I could see: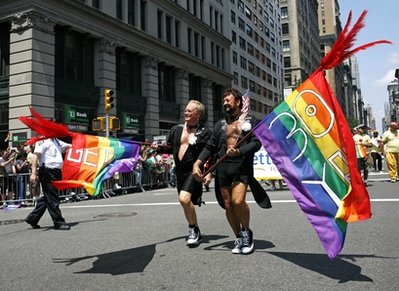 Rather stereotypical, to be sure, but surely more representative.
The story itself isn't very helpful:
San Francisco's 40th annual gay pride weekend drew thousands to Civic Center Plaza, with even more expected Sunday for a parade, a Backstreet Boys concert and comments from U.S. House Speaker Nancy Pelosi.

Organizers kicked off the event Saturday in front of City Hall where thousands converged as vendors sold barbecue and burritos and DJs spun tunes on a large stage.

Advocates for the lesbian, gay, bisexual and transgender community shared booths alongside corporate sponsors.

"It's part political, it's part a party," said Darryl Groom, 55, explaining the elements that brought him and his partner, Tobey Tam, 41, to San Francisco from Cape Coral, Fla.

[…]

Today, the march attracts tens of thousands of people, and a growing number of those are not in the LGBT community, Koskovich said.

"That homophobia that says, 'Eek, I'm not going to hang out with these people,' has turned into, 'Boy, these people throw a great party.'"

San Francisco Pride Executive Director Amy Andre said the fight for equal rights for lesbians, gays, bisexual and transgender people has also come a long way since the first pride celebration in 1970. At the time, gay sex was a crime in California.

This year, a prerecorded address will be delivered by Pelosi and The Backstreet Boys will perform.

Andre said this year's theme, "40 and Fabulous," is partly intended to celebrate the movement's progress. "But we're also reflecting on the fact that we still have a long way to come for equal rights," Andre added.
But, if equal rights is the goal, I'm not sure bare-assed bicycle riders are the way to go. If that was part of the civil rights marches of the 1960s, it's been underplayed by history.
This is also interesting: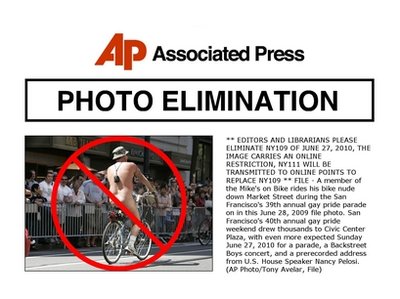 The explanatory note:
** EDITORS AND LIBRARIANS PLEASE ELIMINATE NY109 OF JUNE 27, 2010, THE IMAGE CARRIES AN ONLINE RESTRICTION, NY111 WILL BE TRANSMITTED TO ONLINE POINTS TO REPLACE NY109 **
So, it's apparently fit for the Internets but not so much the family newspaper.