George Jones, Country Music Legend, Dead at 81
Legendary country music singer George Jones has died, aged 81.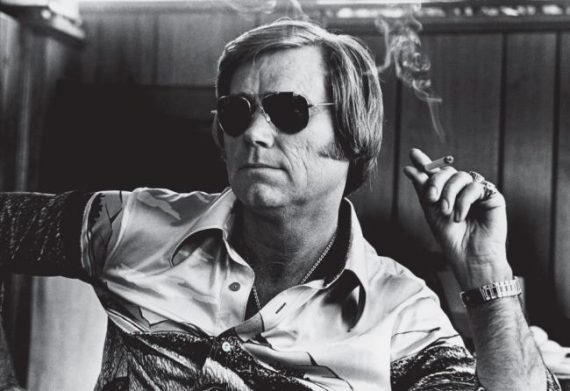 Legendary country music singer George Jones has died, aged 81.
USA Today ("George Jones, country superstar, has died at 81"):
George Jones, whose supple Texas voice conveyed heartbreak so profound that he became perhaps the most imitated singer in country music, died Friday at Vanderbilt University Medical Center in Nashville after being hospitalized with high fever and irregular blood pressure. He was 81.

Hank Williams may have set country music's mythology and Johnny Cash its attitude, but Jones gave the genre its ultimate voice. With recordings that spanned 50 years, including Number One singles White Lightning, She Thinks I Still Care and He Stopped Loving Her Today, Jones influenced generations of country singers and was considered by many to be the greatest of them all.

Jones' life also included legendary battles with substance abuse, mostly alcohol, and four marriages, including one to fellow singer Tammy Wynette and another, his last and longest, to Nancy Sepulvado.

Ultimately, though, it was that voice that won Jones two Grammys, got him into the Country Music Hall of Fame and made him an American musical icon. That plaintive voice that seemed to break down at will and wallow in sorrow. That voice of honky-tonk eloquence that held tortured echoes of heroes like Williams, Roy Acuff and Lefty Frizzell. That finely nuanced voice that offered thrill rides of emotions, with twists and turns, slippery, bending notes and sudden drops.

Jones' performances weren't just an emotional rollercoaster, they were the whole theme park.
Houston Chronicle ("Country legend George Jones dies"):
With a quicksilver warble that captured the devastation of bad love George Jones defined country music like no other singer in the 20th century. Jones' voice was instantly identifiable, a fluid and expressive thing that famously prompted Frank Sinatra to call him "the second best singer in America." Jones lived as hard as the songs he sang, a dedicated drinker and tempestuous partner who was married four times, finally finding redemption and lasting love in his final decades. The Saratoga native – who cut his teeth in Beaumont and cut his earliest singles in Houston – died Friday. He was 81. He had been hospitalized since April 18 recently with an illness.

For decades, Jones' history was country music's history. He was a honky-tonk pioneer with hits such as "Why Baby Why" and "White Lightning," but his wild and pugnacious streak didn't render him too rigid to change with the times. When country moved from hard-driving music driven by steel guitar and fiddle based music to lush, string-laden countrypolitan, Jones evolved with it, scoring hits after his early contemporaries had faded from relevance. In 1980, 25 years after his first charting hit, he released perhaps his most enduring song: "He Stopped Loving Her Today."

Only when the last remnants of old-style country were squeezed out of Nashville, did Jones find himself a man without a genre. Even then, he bristled at the notion that he was rocking chair bound, and continued to make strong hard country recordings.

Jones achieved almost instant myth, evident in his nicknames: "No Show" Jones, for the missed performances when he was on a drunk, and "the Possum," from a disc jockey who was referring to Jones' close-set eyes and upturned nose.

He was part of a legendary spousal with Tammy Wynette; they were storied duet partners, able to convey the sweetness and bitterness of love through the intermingling of their voices. He also seemed to have more lives than a cat, surviving alcoholism, drug addiction, divorce, relapses, car crashes, squandered fortunes and all the requisite bumps of a fabled ride through fame.

But Jones' legacy, colorful as the tangents were, was about his singing. His golden, honeyed voice was a perfect match for his singing style: bending and slurring notes, often to melancholy effect. He never had a pop hit, but he placed more than 100 singles on the country charts, many of which are radio and jukebox staples to this day.
His first number one hit, "White Lightning," was released in 1958, when he was 26. His signature song, "He Stopped Loving Her Today," came out in 1980. He had many more in between, but not many after. But, aside from Willie Nelson and Johnny Cash, I can't think of another country singer of that era in his class. Unlike Nelson and Cash, though, Jones' fame was largely confined to the country music audience. He was never the crossover sensation they were.