George Will at 70
George Will reflects on turning 70.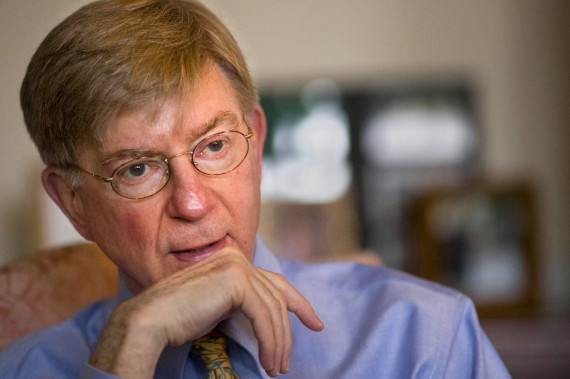 Dr. George Frederick Will turned 70 Wednesday and reflects on the occasion.
The Bible, with the thumping certitude for which it is famous and sometimes tiresome, asserts that "the days of our years are threescore years and ten." If so, after turning 70, one has, ever after, the pleasure of playing, as it were, with house money. For what, exactly, would one now give up red meat and dry martinis?

[…]

To be 70 is to appreciate Mark Twain's example of aging vigorously: "I am able to say that while I am not ruggedly well, I am not ill enough to excite an undertaker." True, Twain had memory cramps of the sort that now are called "senior moments." He worried, "I'll forget the Lord's middle name some time, right in the midst of a storm, when I need all the help I can get." Nevertheless, he strode into the sunset wearing a snow-white suit.

[…]

To be 70 is to experience a temptation generally worth resisting — the itch to natter on as Polonius did when belaboring Laertes with bromides. But to be 70 is to be running short on time for the pleasure of succumbing to temptations, so:

Happiness — herewith the distilled essence of 70 years of experience — is a talent, and one that, unlike hitting a curveball, anyone can develop. Considering that America exists to protect the individual's pursuit of it, this pursuit is a pleasant duty.

Finally, to be 70 is to have lived 30 percent of the life of this nation, which is almost enough time to begin to fully appreciate the inestimable privilege of being a legatee of those who first unfurled the republic's sails and steered it toward the present. That is why — with homage to F. Scott Fitzgerald — as we beat on, boats against the current, we should be borne back ceaselessly into the American past: It is impossible for the young to know, but never too late to learn, that America truly is something — perhaps the only thing — commensurate with our capacity for wonder.
My father didn't make it to 70. My mother will get another step closer later this month, turning 68. It no longer seems so old.