George Will Flip Flopped On Mitt Romney Flip-Flops
The venerable conservative columnist once endorsed Romney as a "good option for the Right" but now calls him "the pretzel candidate"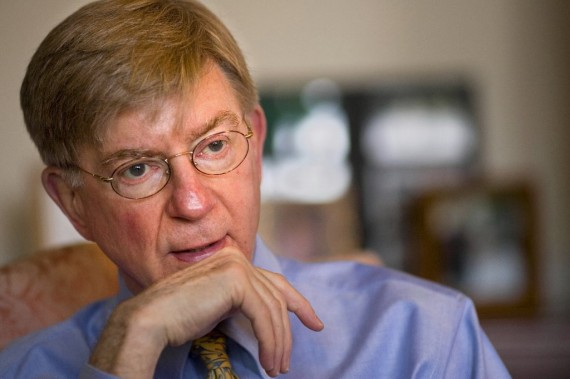 The venerable conservative columnist George Will has been brutal in his attacks on Mitt Romney, calling him the "pretzel candidate" and declaring "Republicans may have found their Michael Dukakis."
What's particularly odd about this, as Ramesh Ponnuru points out, is that Will sung a far different tune in March 2007. In a piece headlined "Three Good Options for the Right," he argued:
The perfect is the enemy of the good. In politics this means that insisting on perfection in a candidate interferes with selecting a satisfactory one.

[…]

At CPAC, Romney gave the most polished speech, touching all the conservative movement's erogenous zones, pointedly denouncing the "McCain-Kennedy" immigration bill and promising to seek repeal of the McCain-Feingold law regulating campaign speech. Romney, however, is criticized by many conservatives for what they consider multiple conversions of convenience — on abortion, stem cell research, gay rights, gun control. But if Romney is now locked into positions that these conservatives like, why do they care so much about whether political calculation or moral epiphany moved him there?
So, why, is Romney's flip-flopping on these very same issues problematic?
"J," blogging at Right Speak, thinks he knows the answer. Will's wife, Mari Maseng, recently signed on as an advisor to the Perry campaign. More interestingly, she interviewed in late June for a position with the Romney campaign and didn't get the job.
Now, "J" has a pretty good point that Will should have disclosed this conflict.* He apparently did not.
The optics are just awful. But I don't think it's the explanation for the change of attitude. The  "pretzel candidate" piece came out a couple weeks before Maseng took the job with the Perry campaign. More importantly, Will declared back in May–before his wife interviewed for the Romney gig–"with reasonable certainty" that only Obama, Tim Pawlenty, or Mitch Daniels were plausible candidates to be president in 2013. Surely, the timeline works against the notion that Will is couching his punditry based on his wife's career interests.  If anything, going against the ostensible Republican frontrunner in May harmed her.
So, what accounts for Will's flip flop on Romney's flip-flopping? I haven't the foggiest. But he's not alone.
As I've noted many times–and Ed Morrissey backs up my recollection–Romney was widely considered "the conservative alternative to John McCain" in 2008. But the definition of conservative has changed since then. And quite a few prominent conservatives and conservative organizations that championed Romney in 2008 are now desperately looking for Anybody But Romney in 2012.
__________________
*This is actually a tricky issue, as my own situation demonstrates. My wife is chief operating officer of a polling firm whose political clients include Mitt Romney. I've disclosed that fact numerous times in posts but don't bring it up every time I blog on the race for several reasons. First, argument should stand alone; motivations don't really matter. Second, my analysis simply isn't colored by my wife's work. Third, my opinions are often contrary to the interests of my wife's clients and linking them to her firm's work is unfair to all concerned. For a detailed explanation, see the Disclosures page linked at the top of the site.