George Will Slams Gingrich For "Sinister Radicalism" On Courts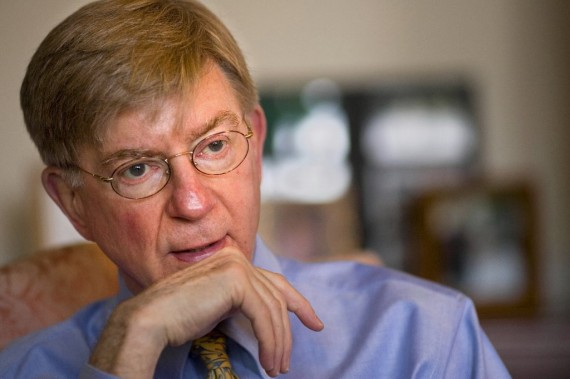 I've written twice myself on Newt Gingrich's absurd attacks on the judiciary, here and here, but it takes a wordsmith like George Will to really put Gingirch's insanity in its place:
Gingrich radiates impatience with impediments to allowing majorities to sweep aside judicial determinations displeasing to those majorities. He does not, however, trust democratic political processes to produce, over time, presidents who will nominate, and Senate majorities that will confirm, judges whose views he approves.

Although not a historian, Gingrich plays one on television, where he recently cited Franklin Roosevelt (and Jefferson, Jackson and Lincoln) as "just like" him in being "prepared to take on the judiciary." Roosevelt, infuriated by Supreme Court decisions declaring various progressive policies incompatible with the Constitution's architecture of limited government, tried to "pack" the court by enlarging it and attempted to purge from Congress some Democrats who opposed him. Voters, who generally respect the court much more than other government institutions, reelected those Democrats and so thoroughly rebuked FDR's overreaching that Congress lacked a liberal legislating majority for a generation.

To teach courts the virtue of modesty, President Gingrich would attempt to abolish some courts and impeach judges whose decisions annoy him — decisions he says he might ignore while urging Congress to do likewise. He favors compelling judges to appear before Congress to justify decisions "out of sync" with majorities, and he would sic police or marshals on judges who resist congressional coercion. Never mind that judges always explain themselves in written opinions, concurrences and dissents.

Gingrich's unsurprising descent into sinister radicalism — intimidation of courts — is redundant evidence that he is not merely the least conservative candidate, he is thoroughly anti-conservative. He disdains the central conservative virtue, prudence, and exemplifies progressivism's defining attribute — impatience with impediments to the political branches' wielding of untrammeled power. He exalts the will of the majority of the moment, at least as he, tribune of the vox populi, interprets it.

Atop the Republican ticket, Gingrich would guarantee Barack Obama's reelection, would probably doom Republicans' hopes of capturing the Senate and might cost them control of the House. If so, Gingrich would at last have achieved something — wreckage, but something — proportional to his swollen sense of himself.
There really isn't much more to say, is there?