German Art Museum Opens "Jew In A Box" Exhibit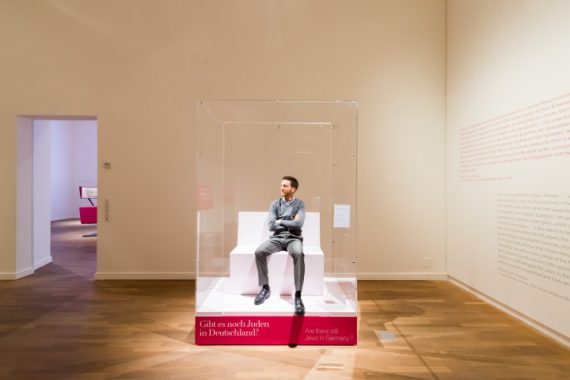 Yea, something about this just isn't right:
There are fewer than 200,000 Jews living in Germany today, out of a total population of 82 million — meaning that few Germans have any first-hand understanding of Jewish culture. But an exhibit at Berlin's Jewish Museum that attempts to combat that lack of knowledge is causing quite a stir regardless.

The show, entitled 'The Whole Truth,' consists of a Jewish man or woman, seated inside a glass box, answering visitors' questions for two hours about Jewish life and culture.

The exhibition was inspired by the many questions left in the museum's visitors book since 2001, which the curators stripped down to the thirty most commonly asked questions. These vary from politically incorrect questions about common Jewish stereotypes to a simple matter of wanting to know how to become a Jew.

For the Jewish Museum's curators the point of the exhibition is to "confront various questions about Judaism and being Jewish." Below the box a line of text reads, "Are there still Jews in Germany?"

But reactions to the exhibition, which also includes other installations and displays, have been decidedly mixed. Speaking with the Associated Press, Stephan Kramer, a prominent figure in the Berlin Jewish community, asked, "Why don't they give him a banana and a glass of water, turn up the heat and make the Jew feel really cozy in his glass box?" Kramer said he was approached to participate but turned the offer down. Others too have described the exhibition as "degrading" and not helpful to German-Jewish relations.
Apparently, it's all been given the name "Jew In A Box" over in Germany. This doesn't strike me as a way to spread understanding and tolerance.
Photo via Time