German Lingerie Company Tries To Cash In On Snowden Affair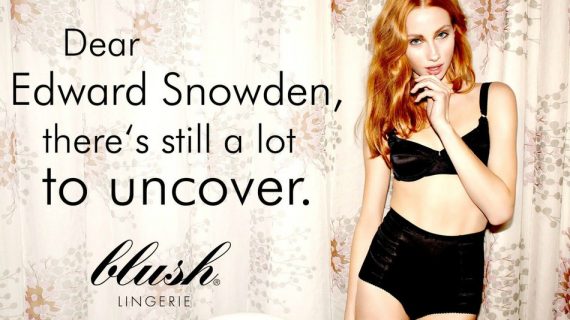 Well, Edward Snowden's fame is spreading, I guess:
U.S. informant Edward Snowden received a mention in an unlike place: a German lingerie ad.

The execution, above, is a pretty juvenile play on the word "uncover." If you're looking for clever commentary on PRISM or the NSA, you'll have to look elsewhere. (Blush Lingerie's Facebook Page goes a bit further, adding: "Dear Edward, take good care! We are with you!")

Give the lingerie line some credit, though. In an age in which brands often take part in the ongoing social media conversation, Blush is one of the few to comment one of the year's biggest stories. Denny's took a similarly sophomoric approach to the news.
Snowden, for some reason, didn't bring his girlfriend along on this adventure of his.