German Rabbi Faces Potential Criminal Charges For Performing Circumcision
Under German law, this ceremony, which Jews believe dates from the time of Abraham, is now illegal.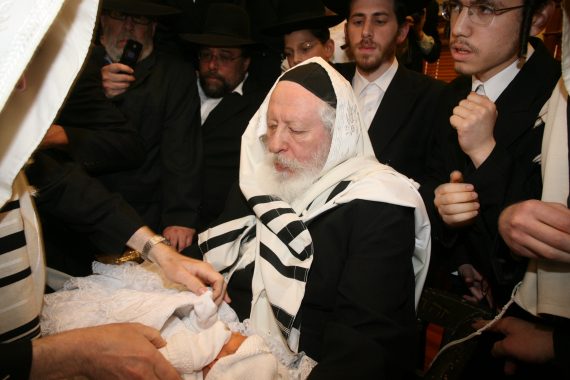 A rabbi in Germany is the first person to be prosecuted under that country's new ban on circumcision:
A German rabbi is facing charges for performing a circumcision, less than two months after a Cologne court outraged Jews and Muslims by outlawing the procedure.

Rabbi David Goldberg has become the first rabbi to face possible legal action for performing the ritual after an unidentified doctor filed a criminal complaint against the spiritual leader, alleging "bodily harm" to the child involved, the Times of Israel reported.

The charges against the 64-year-old, a rabbi of the Bavarian city of Hof for over 10 years, have sparked widespread anger among Jewish and Muslim communities, with many groups demanding that Germany pass legislation to protect the practice.

"The charges laid against a Jewish religious leader for performing a fully legal action is outrageous and a very troubling escalation, sending a deeply problematic message," Moshe Kantor, the president of the European Jewish Congress, told the Jerusalem Post.

"It has been many decades since a Jew was charged for practicing Judaism openly and is reminiscent of far darker times," he added. "We hope that in Germany, of all places, the authorities would remain far more sensitive to this issue."

The complaint comes nearly two months after judges in Cologne banned the ritual, claiming that the procedure resulted in criminal "bodily harm" to those unable to consent. The ruling was in response to the case of a Muslim boy who suffered medical complications after being circumcised.

(…)

The local chief public prosecutor, Gerhard Schmitt, told Reuters that it's too early to determine whether the case against Goldberg will merit a trial. His office is currently in the process of reviewing the doctor's charges.
The ban imposed by the Judges in Cologne has evoked much international criticism since it was first handed down last month. To many, it aroused memories of the manner in which Jews were treated in Germany under the Nazis. However, it's worth noting that circumcision after birth is also considered a necessary religious ritual by Muslims, who are becoming a more and more visible presence all over Europe thanks to immigration and birth rates that are much higher than native Europeans. Indeed, German is not the only country in Europe where circumcision has come under fire and, in France, there has been an ongoing battle between the government (regardless of who heads it) and the nation's Muslim community over the wearing of the hijab by girls in school and women in public. In both cases, there's an effort by Europeans to force the immigrant Muslim population to conform to the standards of the rest of society, even when it comes to something as trivial as dress.
There's also been a bizarre movement growing against circumcision itself here in the United States and in Europe. Just last year, for example, a referendum that would've banned circumcision in the City of San Francisco was scheduled to appear on the November 2011 ballot before being removed. The motivations for this version of the anti-circumcision movement seems to be something similar to what the Judges in Cologne stated, that it was some kind of assault about a party who is unable to grant consent. Andrew Sullivan, for example, contends that infant circumcision is an assault on infant boys. Left out of the argument, though, is the fact that parents have been long assumed to be able to competently make medical decisions for their minor children. Leaving that argument aside, I would think that any ban on circumcision in the United States would, because of the First Amendment, have to include an exemption for Jews and Muslims who consider the procedure a requirement  of their religion.
Writing about the ban shortly after was imposed, Charles Lane noted just how egregious the decision was:
The most astonishing link in the judge's chain of reasoning was his assertion that circumcision, because permanent and irreversible, would limit the child's own ability to decide what religion to join later on. I do not know of any faiths that bar circumcised converts; maybe in Germany there are some.

In any case, what this remarkable judge does not grasp — or does not care about — is the fact that a father cannot be a Jew in good standingunless he circumcises his son at eight days. Nor can the child himself unless he sees to his own circumcision once he comes of age. (A separate rule applies to converts.) Jewish law is crystal clear on this and has been literally since the dawn of recorded time.*

The Cologne court's sloppy legal balancing act — kid's physical integrity vs. parents' religious interests — completely ignores the nature of religious tradition, which is that it is transmitted from parents to children. To posit a world in which the parents have their religion, and kids choose theirs, when they're old enough, is to imply that even sending one's child to a religious school — or making him prepare for a bar mitzvah — might be a form of brainwashing. Certainly it pushes progressive notions of human rights past the point at which they would undermine the spiritual basis of ancient communities.
As Walter Russell Mead went on to point at the time, what the Court effectively did was to make the practice of Judaism illegal in Germany.  As much as I am loath to violate Godwin's Law, it is a historical fact that the last time that happened was when a guy named Adolf Hitler was in power.  I'm not sure, but would be interested to know if the circumcision ban has the same impact in Islam in that a Muslim man cannot be a Muslim in good standing unless he has followed the religious laws regarding circumcision of a male child. If that's the case, then the court in Cologne also outlawed the practice of Islam in the country. In either case, it's an entirely unacceptable assault on religious freedom and parental autonomy, all supposedly in the name of a weird movement that claims circumcision is some kind of "assault."
Jonathan Tobin doesn't buy the "assault" arguments of the Cologne court at all, and considers the entire affair an attack on Judaism:
Circumcision opponents may claim they are not anti-Semitic, especially since their campaign also targets Muslims. But there is little doubt that the driving force behind this movement is resentment toward Jews and a willingness to go public with sentiments that long simmered beneath the surface in Germany and elsewhere in Europe.

Just last week, French scholar Michel Gurfinkiel wrote on his blog that anti-Semitism has increased in France since the Toulouse massacre in March. Since then violence has grown, fed by what he calls a rejection of Jews and Judaism. In France, these sentiments are fed by the Jew hatred openly expressed by the expanding Muslim population. Throughout Europe, the demonization of Israel hasn't just increased hostility to the Jewish state; it has served as an excuse for anti-Semitism to go mainstream for the first time since World War Two. Just as some claim circumcision critics aren't intrinsically anti-Semitic, there are those who blame anti-Semitism on Israeli policies. But when you add all these factors together what you get is an undeniable upsurge in Jew-hatred.
If that's true, then it is a quite troublesome development. Even leaving this element out of it, though, there's something troublesome about this entire affair. Circumcision has been an accepted practice in Western societies for centuries and, in the case of two religions, it isn't just an elective medical procedure, it is a requirement of their faith. The arguments of the circumcision opponents strike me as being little more than ridiculous nonsense that, for some, has turned into some kind of weird cult of the foreskin. As far as I'm concerned, parents are perfectly capable of making this decision for their sons and the state really has no business getting involved in at all. When you bring the element of religion into it, state interference becomes even more problematic. One would hope that the government in Berlin will intervene and put an end to the nonsense that the judges in Cologne started.