Germany and the Lessons of Immigration Policy
German Chancellor Angela Merkel declare multiculturalism in Germany to be a "failure." Proof that anti-immigration activists in the United States are correct, right?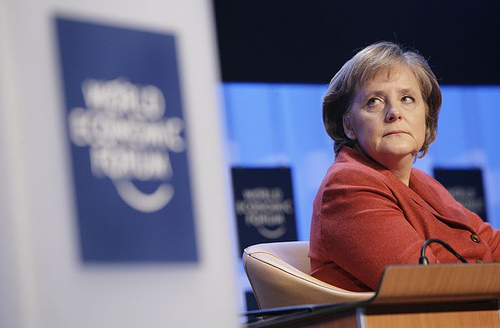 Via the BBC:  Merkel says German multicultural society has failed
Attempts to build a multicultural society in Germany have "utterly failed", Chancellor Angela Merkel says.

She said the so-called "multikulti" concept – where people would "live side-by-side" happily – did not work, and immigrants needed to do more to integrate – including learning German.
Merkel is primarily addressing the issue of foreign workers encouraged to come Germany starting back in the 1960s.
"We kidded ourselves a while, we said: 'They won't stay, sometime they will be gone', but this isn't reality."

"And of course, the approach [to build] a multicultural [society] and to live side-by-side and to enjoy each other… has failed, utterly failed."
The workers in question were primarily Turks and they were admitted as guest workers, although permanent ones for all practical purposes.  Indeed, there are currently 2.5 million Turks living in Germany, many of which were born in Germany.  I suspect that a lot of anti-immigrant commentators in the US will take this as evidence of the perils of immigration.  However, let's consider the root of the problem:  the workers were invited in but not given a path to citizenship nor were their children until a change in the citizenship law in 2000.
Under the German Nationality Law of 1913 (which was in place until the Germany Nationality Act of 2000) the principle for citizenship was one of jus sanguinis (i.e., right of blood) rather than jus soli (i.e., the right of the soil).   As such, the children of immigrants had a very difficult time becoming citizens of Germany.
So let's consider the following scenario:  you invite a large number of persons to come to your country to work, often doing menial labor.  You tell them, however, that they can never be truly part of you country.  And then you are surprised when they aren't integrated into your society?  Why act like a German if you are never going to be allowed to be one?
Proponents of amending the 14th Amendment take heed, as this is what you are asking for.
Germany's 2000 law does change this circumstance (source):
A child born in Germany (on or after 1 January 2000) can acquire German nationality, even if neither of the parents is German. The only precondition is that one of the parents has been legally and habitually resident in Germany for eight years and has a permanent right of residence. The child must however decide at some stage between the age of 18 and 23 whether to retain his/her German nationality or another nationality acquired by birth.
This is a significant change, to be sure, but let's consider two points.  First, while a substantial change from the 1913 law, it still treats such children as different than the children of German citizens given such children have to make a choice between 18-23.  Second, the oldest person currently being affected by this law is 10 years of age and so the law has hardly come to fruition as yet.
It should noted noted also that Merkel's message is not an anti-immigration one, but a pro-integration one:
In her speech in Potsdam, however, the chancellor made clear that immigrants were welcome in Germany.

She specifically referred to recent comments by German President Christian Wulff who said that Islam was "part of Germany", like Christianity and Judaism.

Mrs Merkel said: "We should not be a country either which gives the impression to the outside world that those who don't speak German immediately or who were not raised speaking German are not welcome here."
I will conclude with this:  the headlines and stories focus on Merkel's declaration of the failures of multiculturalism, but the stories don't actually state what the precise policy changes she will be proposing apart from promoting German language skills amongst immigrants.