Germany Lowers Retirement Age
How long should we expect people to work?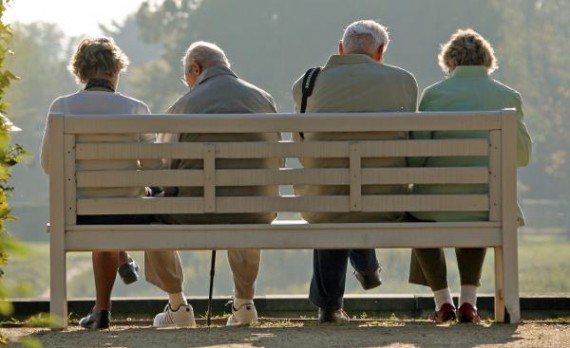 After raising the retirement age to 67 in 2007 to encourage EU partners to do likewise, Germany has reversed course. Their story points to the many complications of the question of how long we should expect people to work.
NYT ("After Tightening Pensions, Germany Eases Rules for Some"):
Back in 2007, Chancellor Angela Merkel's government voted to lift the retirement age gradually to 67 from 65, in line with policies being adopted by the United States and other countries concerned about the costs of supporting an aging population. Economists say that move not only stabilized Germany's public pension system, but also put Berlin in a position to insist during the subsequent financial crisis that other European governments follow suit.

But now, with the worst of the economic downturn apparently past and Ms. Merkel under pressure from her left-leaning coalition partners, Germany is reversing course, loosening the rules to allow some workers to retire early but still receive their full pension benefits.

The law allowing the lower retirement age, which was passed by Parliament in May, has touched off criticism within Germany from groups concerned about the costs, especially on future generations, and drawn accusations of hypocrisy from nations forced to swallow German-imposed austerity.

"We view the early retirement at 63 as sending the wrong signal," said Anne Zimmermann, an economist with the Association of German Chambers of Industry and Commerce.
As we'll see, the move is very expensive and will be borne disproportionately by younger workers who are much less well off financially than the retiring seniors. And yet.
But the change in policy has also proved popular with Germans like Frank Fischer. Mr. Fischer, 63, the superintendent of a nursing home on the outskirts of Berlin, took sick leave last year for the first time in more than four decades when he developed a knee problem, which he took as a sign he had worked long enough. Although leaving the work force before he reached full retirement age meant a smaller pension, he figured it was still worth it.

The new law, which allows anyone who has paid into the state pension system for at least 45 years to retire two years early but still receive full benefits, made his decision easier. In June, Mr. Fischer completed his application to retire in January, when he plans to devote his time to his family, his garden and his dream of traveling the world. Right now, early retirement begins at 63, but that will increase to 65 as the higher retirement age is phased in.

"I have seen what happens to people when they are old and infirm, when all the money in the world can't improve your quality of life," Mr. Fischer said after handing in his application. "I wanted to go while I can still enjoy it."
I'm 48 and, barring major health setbacks—or, you know, death—I fully expect to continue working until my full retirement age at 67. Quite possibly well past it. My boss, who's 20 years older, just signed up for another four years. But we're academics whose job requires nothing more physically strenuous than standing to give a lecture and tromping the terrain at Gettysburg once a year.
My dad didn't quite make it to 67. My mom's 71 and in poor health. I'm very sympathetic to Mr. Fisher and his desire to go out while he can enjoy his well-earned leisure years. Germany is in a position to give a damn.
While an estimated 6,000 Germans like Mr. Fischer have already applied to take advantage of the early retirement law, which takes effect on Tuesday, the move has been sharply criticized as Germany grapples with an aging population and a shrinking work force and promotes austerity among its hard-pressed European Union neighbors.

Greece and Italy have introduced changes to their pension systems within the past three years that foresee gradually increasing the retirement age of men and women to 67 over the next decade. Countries like Greece have been under pressure to take any steps possible to reduce costs.

"Greece won't be in a position to take this kind of action for at least 10 or 15 years," said Savas Robolis, a labor market expert at the Greek General Confederation of Labor, the country's main trade union.
Even for Germany, there's real question about the impact of the move:
Some analysts say that a higher retirement age contributes to youth unemployment, which is widespread in many parts of the European Union. In the case of Germany, which has the reverse problem of finding enough qualified young people to fill jobs, the greater worry is pushing the cost of early retirement for workers like Mr. Fischer onto the next generation.

"We see this move as inconsistent with the German position to stabilize the social system," Ms. Zimmermann said. "In dealing with our European partners, we pointed to our decision to raise the retirement age to 67, which projections have shown helped to improve the public retirement fund. Now we are going against that."

When older people leave the work force early, they take with them a wealth of skills that can be useful in shaping a company's future. Especially in the many smaller and midsized companies that have fewer employees, older workers can play an important role.

"If someone has worked at a company for 45 years, they are most likely highly qualified, and there should be incentives to keep them there until full retirement age," said Bert Rürup, president of the Handelsblatt Research Institute.

Andrea Nahles, Germany's labor minister and a member of the Social Democratic Party, which campaigned on the promise of early retirement for longtime workers, repeatedly called the new law a matter of justice for near-retirees who had been working since their late teens. Under Germany's apprentice system, many young people leave school after the 10th grade and receive training on the job, accompanied by classroom learning.

Most of the 200,000 people who the German government estimates could initially qualify for early retirement are likely to have physically demanding jobs. Mr. Fischer, for example, drove trucks for more than 20 years, more than half of that time for a plumbing company that required him to handle heavy pipes and equipment.

"We are creating more equality for those who have worked long and hard toward our quality of life," Ms. Nahles told lawmakers in May.
Which points to something obvious that I'm been arguing for years: a single retirement age for everyone seems fair on its face but is absurd upon even some real examination. If your job requires constant physical toil—or, frankly, is just mindnumbingly boring—every year beyond 50, certainly 60, is torture. And the notion that seniority means having a fount of wisdom that the company can't live without is true only for a relative handful of jobs.
But, again, there's a hell of a balancing act:
The government has estimated that the whole retirement package, which includes benefits for women who had children before 1992, will cost 4.4 billion euros, or $6 billion, this year, increasing annually to €11 billion, or $15 billion, by 2030. The costs of the early retirement, estimated to grow over the next decade to €3 billion from about €1 billion, or to $4.1 billion from $1.4 billion, are to be absorbed by the pension fund.

While the government's pension fund has enough reserves to cover the initial years, eventually those who are still employed will have to pay more into the system. This has angered younger Germans. Student groups and youth wings of the political parties were among those who protested against the law.

"We see a discrepancy between the investment in the older generation and the burden being placed upon the younger generation, which needs to be brought into balance," said Marcel Escher, 28, who heads the Bavarian branch of the conservative R.C.D.S. student organization. "At the end of the day, we are the ones that will have to pay for it."
Then again, as noted earlier in the piece, later retirement means fewer jobs for those young people—and fewer opportunities for promotion for those in mid-career. And Germany would seem in a relatively good position to absorb the costs:
The Federation's spending in 2014 will total €298.5 billion, with net borrowing amounting to €6.5 billion. This is the lowest level of new borrowing in 40 years.
Certainly, Fischer is on board:
Asked whether he worried about the future of his daughter, a young mother who is working and raising his grandchildren, ages 2 and 7, Mr. Fischer shook his head. "I tell her to start saving and planning for the future," Mr. Fischer said. "That's what I did."
Most of Germany's EU neighbors don't have this luxury. Their economies are much weaker, they have a larger percentage of young people, and fewer jobs to go around. Which means their 66-year-old truck drivers with bad knees will have to do the best they can.