Get Ready For An Expansion Of Trump's Economically Ignorant Trade War With China
President Trump appears to be ready to expand his ignorant, counterproductive trade war with China.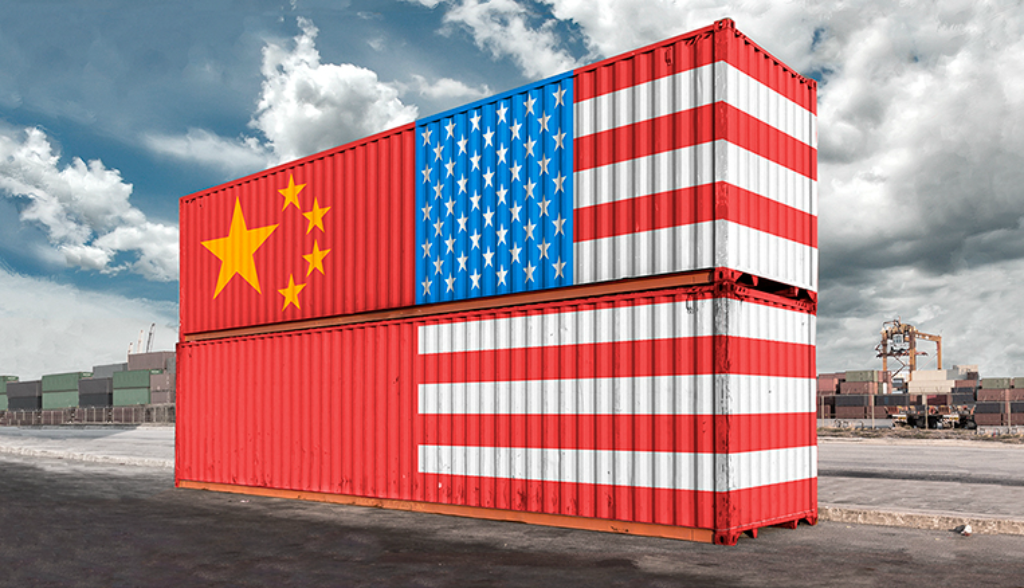 Last week it was reported that the Trump Administration is threatening increasing tariffs imposed against Chinese goods in the latest expansion of the President's trade war, and China is already threatening retaliation:
President Trump escalated his trade war with China on Wednesday, ordering his administration to consider more than doubling proposed tariffs on $200 billion worth of Chinese goods to 25 percent from 10 percent, as talks between Washington and Beijing remain at a standstill.

Mr. Trump instructed the United States trade representative to look into increasing tariffs on Chinese imports like fish, petroleum, chemicals, handbags and other goods to 25 percent, a significant step in a dispute that is beginning to take a toll on industries and consumers in both countries. A final decision on the size and scope of the tariffs is not expected before September.

The effort to further punish China is being led by hard-line advisers to Mr. Trump, who believe inflicting painful measures on Beijing is the best way to force it back to the negotiating table on trade. But that approach is once again creating fissures within Mr. Trump's own team, with his Treasury secretary, Steven Mnuchin, adamantly opposed to ratcheting up the tariffs and Peter Navarro, a key trade adviser, advocating the higher duties, people with knowledge of the discussions said. Stephen K. Bannon, who left the White House last August, has also been counseling the president to pursue tougher tariffs, according to people familiar with his thinking.

The potential for a 25 percent tax is being fueled by deep frustration within the Trump administration over its unsuccessful attempts to press China to change its trade practices, as well as by a sharp decline in the value of China's currency. Administration officials have also been concerned that China may be manipulating prices of commodities like soybeans to harm American farmers, and hurting American companies through regulatory practices — for example, detaining shipments of agricultural products in customs until they rot.

"We have been very clear about the specific changes China should undertake," Robert Lighthizer, the United States trade representative, said in a statement Wednesday. "Regrettably, instead of changing its harmful behavior, China has illegally retaliated against U.S. workers, farmers, ranchers and businesses."

Since formal talks between Beijing and Washington broke down in May, Mr. Trump has doubled down on his threats, saying he is prepared to impose tariffs on all Chinese imports. Beijing has promised to retaliate with its own measures, and both countries have already imposed tariffs on $34 billion worth of each other's products.

"China's position is firm and clear: Pressure and blackmail from the U.S. won't work," Geng Shuang, a spokesman for the Chinese Foreign Ministry, said at a briefing on Wednesday in Beijing in response to reports about the 25 percent tariffs. "If the U.S. takes a further and upgraded move, China would definitely retaliate to safeguard our legal rights."

Mr. Trump privately told advisers this week that he was intent on staying the course to punish China with additional tariffs. Mr. Mnuchin has been advising against such a move, preferring to try to engage with his Chinese counterparts to resolve their differences.

But his hand has been weakened by a recent and rapid depreciation in China's currency, which helps to make Chinese goods cheaper in foreign markets and buoys exports. That has given hard-liners inside and outside the administration an opening to advocate even higher penalties.

(…)

The 25 percent tariffs on $200 billion worth of imports would come on top of the existing penalties on $34 billion worth of products and an additional $16 billion that are scheduled to go into effect soon. China has vowed to respond to any trade measures in kind, and it has already imposed its own tariffs on $34 billion worth of American soybeans, pork, electric vehicles and other goods.

The administration's trade moves are aimed at forcing China to end what it calls unfair trade practices, including improperly obtaining American intellectual property. Mr. Trump's advisers argue that past administrations have failed to sway China with diplomacy and that the United States must be prepared to take a tough stance to change its course, even if it hurts American businesses and customers in the short term.
Shortly after the news about the apparently impending new tariffs became public, China announced the retaliatory tariffs it would impose if the Trump Administration goes forward with its plan:
BEIJING — China threatened on Friday to tax an additional $60 billion a year worth of imports from the United States if the Trump administration imposes its own new levies on Chinese goods.

The threat comes just two days after President Trump ordered his administration to consider increasing the rate of tariffs it has already proposed on $200 billion a year of Chinese goods — everything from chemicals to handbags — to 25 percent from 10 percent.

The United States and China, the world's two biggest economies, have for months been engaged in an escalating trade dispute. While they have targeted each others' products, the interconnected nature of the global economy has meant that other regions, like Europe, have also been caught up in the back-and-forth.

Beijing and Washington imposed matching tariffs last month on $34 billion apiece of each others' products, and have plans to add another $16 billion worth of goods to their lists. Previous rounds of tariffs cover a lengthy list of products from steel and aluminum to washing machines and even dried fruit.

The latest Chinese tariffs would, if implemented, be up to 25 percent, and cover 5,207 tariff categories, the country's commerce ministry said in a statement on its website.

"Because the U.S. side has repeatedly escalated the tension, disregarding the interests of enterprises and consumers of both sides, China has to take necessary countermeasures to defend the country's dignity and the interests of the Chinese people, defend free trade and the multilateral system, and defend the common interests of all countries in the world," the ministry said.

China's decision to threaten $60 billion of American goods is the first time this year that Beijing has not tried to match Washington's tariffs dollar for dollar. China instead is threatening roughly two-fifths of its purchases from the United States after President Trump threatened two-fifths of China's much larger exports to the United States, said Tu Xinquan, the executive dean of the China Institute for World Trade Organization Studies at the University of International Business and Economics in Beijing.

"It's more proportionate," Mr. Tu said.

China wants to find a negotiated solution to the two sides' trade policy differences, but also could not simply ignore President Trump's threat earlier this week, Mr. Tu added
This all began, of course, with the steel and aluminum tariffs that President Trump announced back in March, but the roots go back much further than that. Throughout the campaign for President, Trump attack President Obama and his predecessors for what he claimed were a number of "bad" trade deals that were allegedly hurting American businesses and consumers, and he singled out China as the primary focus of his ire on the trade front. This wasn't the first time that Trump had voiced objections about international trade. When he first became a public figure in the 1980s Trump was spouting much of the same nonsense. The only difference is that, back then, his target was Japan rather than China. This was, of course, during a time when Japan was proving to be an adept competitor on the world stage and, much to the annoyance of people like Trump, Japanese investors were buying up real estate in Manhattan and elsewhere that Trump was seeking to do business. In any case, there really isn't much difference between Trump's rhetoric today and what he was saying in the 80s beyond the fact that his ire is now focused on China rather than Japan.
In any case, it didn't take long for the Chinese to retaliate against Trump's steel and aluminum tariffs, and it didn't take long after that for the U.S. economy to start feeling the impact of the tariffs and the President's widening trade war.
Two months after the steel and aluminum tariffs were announced, for example, The Wall Street Journal reported that prices for both foreign and domestic steel and aluminum were increasing and this was having a negative impact on manufacturers that rely on these raw materials for their products. Other reports have indicated that American pork farmers were increasingly nervous about their overseas business with nations like China due to the fact that Beijing was threatening to hit American agriculture with retaliatory tariffs. In Iowa, it was reported that Chinese retaliation for the tariffs could cost soybean farmers $624 million this year alone, with the prospect of larger losses if the retaliation continues beyond this year. This has led many leaders in Iowa and elsewhere, including Senator Chuck Grassley to express concern about the impact of the trade war on Republican fortunes in the fall. This is especially true given the fact that the tariffs seem to be expressly targeted toward Trump voters and middle-class Americans. In the time since then, we have also seen that the tariffs have had a negative impact on other American businesses, and has even led an iconic American brand like Harley-Davidson to announce that they are moving some production overseas in response to the retaliatory tariffs imposed by the European Union. Most recently last month Trump announced a new round of tariffs on Chinese goods and the Chinese responded immediately with another round of retaliatory tariffs.   impossible to completely shield Chinese companies and consumers from the full impact of a trade war.
This latest round of tariffs and retaliation isn't officially in effect, but it looks for all the world as if they will be by the end of this month if not sooner. The negotiations between Washington and Beijing designed to deal with the trade issues that President Trump has been complaining about have not been proceeding well, and to some extent have been complicated by devaluations in China's currency that the President apparently believes to be an act deliberately designed to sabotage the trade negotiations. Whether this is true or not is entirely unclear, but given the impact, it appears to be having on the negotiations makes intent somewhat irrelevant. In any case, we can expect more of this tit-for-tat in the future, and that's only going to hurt the American economy and American consumers.
President Trump will no doubt blame China if the trade war leads to bad news for the economy. In the end, though, it ought to be clear where the responsibility for the trade war lies. It isn't in China, it's right here in the United States in the form of President Trump. Even conceding the point that some of the complaints that the Presidents has voiced regarding our trade relations with China are accurate, and they mostly aren't the proper way to respond to them isn't to engage in an ill-advised trade war. Instead, the proper way to respond is to take these disputes to the World Trade Organization for adjudication as that treaty contemplates, or to negotiate directly with the country alleged to be acting improperly. That's apparently not good enough for Trump. Instead he's surrounded himself with people such as Gary Cohn and Peter Navarro who agree with him that "trade wars are good and easy to win," and he has convinced himself that this is the proper way to proceed. If he stays this course, then we're all going to find out just how wrong they are.