Get Rid Of Televised Debates?
Should we stop televising political debates?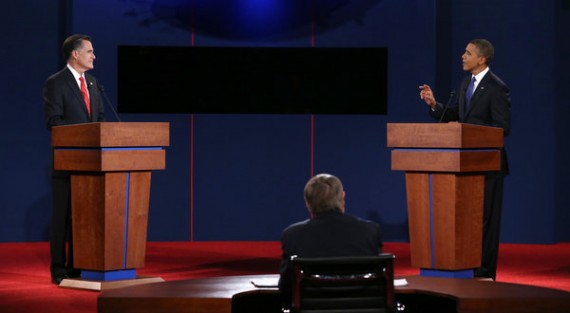 Conor Friedersdorf suggests that televised debates are a bad idea:
Why do we assume that presidential debates should be broadcast on and organized around television, the most vacuous medium in American life? In informal experiments, TV has been shown to decrease brain function so drastically that viewers routinely sit through Real Housewives marathons. TV increases suggestibility so much that Axe Body Spray ad campaigns are cost effective. TV is the place where physical attractiveness, affected theatrics, and body language matter, and where journalists are successful partly based on their ability to have good hair.

Yet it isn't just where we decide to hold our presidential debates. It is the only medium that is considered! It's no wonder that everything we remember about past debates is embarrassingly superficial. Ronald Reagan got angry and insisted he paid for a microphone. Another time he had a clever one-liner, deflecting concerns about his age by joking about "the youth and inexperience" of his opponent. Dan Quayle got told he was no Jack Kennedy. Michael Dukakis seemed unperturbedwhen asked a hypothetical about his wife being raped and killed. Al Gore sighed and physically approached George W. Bush. These are among the most memorable debate exchanges in recent history, and every last one ought to have been totally irrelevant to assessing the given candidates.

On Twitter last night, Julian Sanchez wrote, "I basically feel about the debates the way Clarence Thomas feels about oral argument. Everything substantive is in the briefs; I don't care who's quicker on their feet in a verbal sparring match." In the GOP primary this year, the televised debates permitted Americans to get to know a bunch of candidates in a relatively efficient manner, and helped eliminate several who couldn't think on their feet well enough to be president.
Conor raises some good points here, of course. Ever since the advent of televised debates in 1960, the emphasis during political debates of all kinds has been as much on the way someone said something, or how they reacted to a question, or whether they got off a number of good "zingers" as on the substance of what they actually said, if not more so. This is especially true in the multi-candidate primary debates that we see every four years from at least one of the two major political parties. Those contests allow so little time for actual substantive answers to questions that they are of very little value to voters, and it doesn't help when the debate moderators lower themselves to asking stupid questions like what kind of toppings they like on their pizza.
At the same time, though, the fact of the matter is that television is the most far reaching medium we have, and if you want to hold an event like a Presidential debate and have it reach large numbers of Americans, there really isn't anything better. Conor suggests something along the lines of a text-based Internet debate, but I simply don't see that working at all. For one thing, such an event is unlikely to draw the type of audience that a Presidential Debate broadcast on all the major networks and cable news networks would. For another, it would be very easy to see how candidate responses could end up being even more canned than the stuff we get from debates now. What kind of value is there in a "debate" where all you're doing is reading typed, pre-written responses that have been through the hands of all the candidates handlers? I simply don't see it.
Television isn't a perfect medium for something like a Presidential debate, and there are certainly things we could do to change the format of these things so that they force the candidates to engage each other directly rather than providing rehearsed responses to questions from moderators and reporters. Last week's first Romney-Ryan debate was a good effort by Jim Lehrer and the Commission on Presidential Debates to try to accomplish that. It was good to see more interchange between the candidates and less questions, it's just too bad that only one of the candidates decided to show up that day. Future debates along the lines of what we saw last week, with some improvements no doubt, would be a good thing. But televised debates are here to stay, at least as long as television, in whatever form, is still a thing.