Getting The State Out of the Wedding Business
Why is the marriage ceremony the government's concern?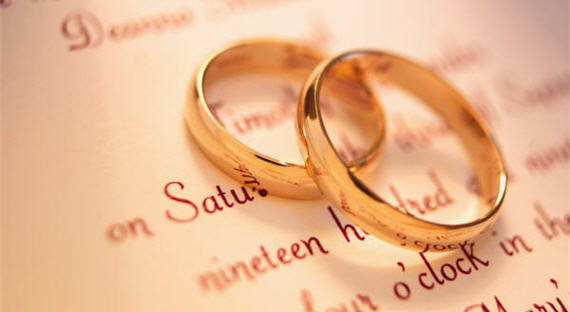 When I saw the headline "Getting the Government Out of Your Wedding" via memeorandum, I naturally presumed it was about same-sex marriage. But Paul Waldman isn't arguing that the government should get out of the marriage business; rather, it's weddings that shouldn't be the business of state.
Monday, a federal appeals court struck down an Indiana law restricting who may officiate at weddings.
The three-judge panel ruled that Indiana's marriage statute discriminated arbitrarily among religious and ethical beliefs, favoring certain religions over others and disfavoring members of humanist societies who wanted their marriages sanctified by someone holding the same beliefs.

The decision marks a significant victory for nonreligious Americans. The appeals court declared that the First Amendment mandates a neutrality principle under which states may not favor or disfavor religion when compared with similar secular belief systems.

During argument before the court, Indiana officials said humanists could circumvent the state's marriage restrictions by simply calling itself a religion and having a member apply to the Universal Life Church or similar organization to obtain "clergy" credentials.

Judge Frank Easterbrook of the Chicago-based Seventh US Circuit Court of Appeals said that the humanists rejected such proposals.

"They are unwilling to pretend to be something they are not, or pretend to believe in something they do not," he wrote. "They are shut out as long as they are sincere in following an ethical system that does not worship any god, adopt any theology, or accept a religious label."

Indiana officials had also suggested the humanists could conduct a public wedding ceremony officiated by a humanist celebrant and later have a court clerk solemnize the marriage in accord with state law.

"That's true enough – but it just restates the discrimination," Judge Easterbrook said. "Lutherans can solemnize their marriage in public ceremonies conducted by people who share their fundamental beliefs; humanists can't."
The plaintiffs sought to have the state recognize any ceremony performed by a notary public. While the court did not mandate that outcome, Easterbrook pronounced it "hardly seems an excessive request." Waldman would go further:
What we really ought to do is eliminate the regulation of weddings entirely. Since marriage is a legal status that changes your relationship to the state, there is and ought to be certain things you have to do to make that change happen. If the state wants to make it more than just the filling out of a form—perhaps with a brief civil ceremony the couple has to perform—that's fine. And then once they've done that, people should be able to have any kind of wedding they want. The wedding, in other words, should be a ritual with no content prescribed by the state, no "By the power vested in me by the state of Indiana" at all. If Baptists decide that henceforth all their weddings must feature the couple singing a duet of "You Don't Bring Me Flowers" as a sobering reminder of the dangers of growing apart in order to be considered a true marriage in the eyes of the church, then that's up to them. If a group of people decides that they'll only be married by trained Dungeon Masters, then they should have at it. If you want to have your dog officiate at your wedding, that ought to be your choice. The state doesn't tell you how to celebrate Christmas or Ramadan, and it shouldn't tell you how to get married.

In other words, religions should determine what they consider sacred, and the state should determine what it considers legal, and the two need not have anything to do with each other.
That seems right to me. Coincidentally, it happens to be precisely the opposite of what some opponents of same-sex marriage propose when they say they want to "get the government out of the marriage business." Because marriage is a sacrament to many Americans, they argue, it's wrong for the state to confer that title to unions that those people consider abhorrent. So, they want to put churches in the business of deciding who may be married and the state in the business of deciding who gets the legal rights that currently come with marriage but under a different name, such as civil union.
While that solution struck me as a reasonable compromise a decade ago, it's clearly wrong. It's of a piece with municipalities closing their public pools—and in some cases, even their public schools—in the wake of court-ordered racial desegregation. Twenty years ago, the notion that the government shouldn't recognize marriages would have been a fringe notion; the only reason it's an issue now is because the courts—and in some cases, the people themselves—have decided that gays should be allowed to marry, too.
No, Waldman is right here. Marriage is a legal status conferred by the state. Weddings are, depending on the couple, a sacred religious experience or a really expensive party celebrating their marriage with friends and family. The couple should be free to have anyone they choose—or no one at all—preside over it.