Gingrich And Romney Now Tied In Three National Polls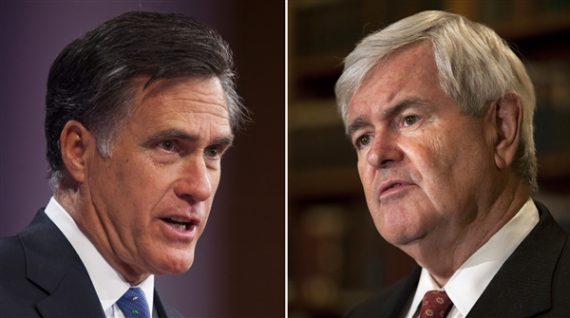 Steven Taylor noted yesterday that Mitt Romney and Newt Gingrich were tied in the latest CNN/ORC poll, and I noted in an update to James Joyner's post this morning that there's also a tie in the latest ABC News/Washington Post poll. Now, we've got a third national poll showing the two people at the top of the GOP race tied:
Mitt Romney and Newt Gingrich are tied at the top of the Republican pack to win their party's presidential nomination, each with 20 percent of GOP primary voters' support, according to the latest CBS News Poll.

Ron Paul takes the third spot with 10 percent, while the remaining candidates enter the holiday period languishing in the single digits.

Of those surveyed, an overwhelming 79 percent said it was still to early to declare their minds made up on whom to support.

Others Republican primary voters – 17 percent according to the poll – remain completely undecided as to which candidate they will support, and another 19 percent said they'd like to have more options.

The poll shows that Gingrich and Romney receive their support from different factions of the Republican primary electorate.

Gingrich leads among self-identified conservatives and Republican primary voters who support the Tea Party movement, while Romney has the advantage with non-Tea Party supporters and moderates – but less than a third of Republican primary voters call themselves moderates.
At the very least this means that the negative campaigning is likely to continue right through the end of the year, because by all measures it's been working. Of course, it's worth noting that national polling doesn't mean as much as state polling at this point, but it does give us an idea of where the momentum is, and right now Newt Gingrich has downward momentum while Mitt Romey is moving up: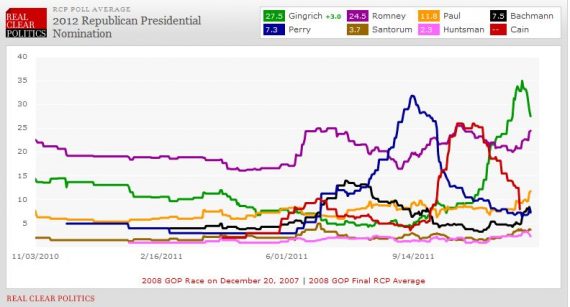 Right now, things are not moving in a direction favorable to Gingrich to say the least.