Gingrich and the Constitutional Order
Gingrich has some pretty radical ideas about separation of powers.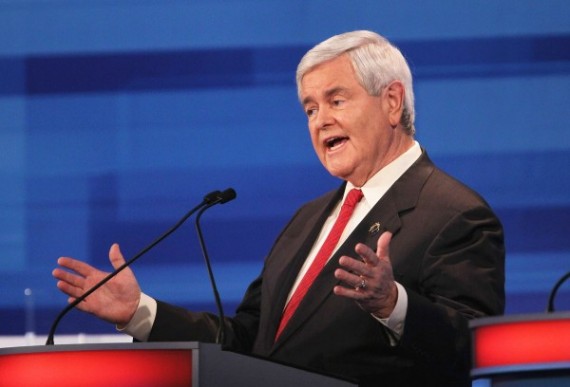 Doug Mataconis (also here) and James Joyner have both noted some of Newt Gingrich's attack on the federal judiciary, and while I do understand that campaigning against "activist judges" and "legislating from the bench" (not to mention attacking the Ninth Circuit) are all standard GOP campaign themes, Gingrich takes these attack several step too far.
First, the normal line of attack is "elect me, and I will appoint the right kind of judges"—which strikes me as a legitimate campaign promise (given that a key presidential power is judicial appointment).  However, as Doug has noted, Gingrich is suggesting that he would ignore court decisions with which he disagreed.
It is worth pointing out that one of the hallmarks of underdeveloped democracy worldwide is a weak court system that is either wholly controlled, or simply ignored, by the executive branch.  This has been a problem in Latin America, for example, for decades.  As counterintuitive as it may seem, a strong and independent court system is essential to a functioning democracy because democracy requires mechanism to protect the rights of minorities and individuals.  This is a key function of courts, especially the Supreme Court, given its ability to interpret and enforce the Constitution, including the Bill of Rights.
The easiest example of this is, of course, school segregation and the Brown decision in 1954.  Clearly, the majority of the population preferred segregation, and yet it was a clear violation of the fundamental rights of a significant portion of the population.  Of course, the rulings that people like Gingrich dislike, such as prohibitions against institutionalized prayer in schools, are also protections of minorities from majority will but since they are often cases where some people would like their will to dominant others, these are considered "legislating from the bench."
Second, and in some ways more disturbing, is a new (at least I have never heard him utter it before) formulation:  the notion that two out of three of the branches should win the day on a given topic.
The Hill reports on a conference call with Gingrich which contained this notion:
When pressed as to whether a president could ignore any court decision he didn't like, such as if President Obama ignored a ruling overturning his healthcare law, Gingrich said the standard should be "the rule of two of three," in which the outcome would be determined by whichever side two of the three branches of government were on.
There is no constitutional basis for such a formulation nor is there a constitutional mechanism for determining how to count which two of the three voted in which way.  Moreover, what Gingrich is actually looking for here is a veto power over the Supreme Court.  If that's what he wants he needs to advocate for an amendment to the constitution.
Further, the fact of the matter is that the courts are already less powerful than the other two branches.  For example:  while it is true that all laws passed by Congress are theoretically subject to court review.  So, let's do the math:  hundreds of laws are passed each year by the legislature, while only a handful of those will ever be reviewed by the federal courts, let alone the Supreme Court.  As such:  advantage legislative branch.  And while the courts can rule on actions of the executive, they rarely do so (and all reviews are ex post anyway).  So, advantage:  executive.
Third, and perhaps worst of all, he seems to think that we should forget the whole separation of powers thing all together and make members of the judicial branch subordinate to the legislative.
Here's a bit from Face the Nation (video here):
SCHIEFFER: One of the things you say is that if you don't like what a court has done, that Congress should subpoena the judge and bring him before Congress and hold a congressional hearing … how would you enforce that? Would you send the Capitol Police down to arrest him?

GINGRICH: Sure. If you had to. Or you'd instruct the Justice Department to send a U.S. Marshal.
Now, granted (as Gingrich notes in the clip), members of the federal bench can be impeached, but the part he leaves out is that the constitutional standard for impeachment and removal is malfeasance, not disagreement over a ruling.
So, to be clear:  Gingrich's proposals are those of man who, if he is to be taken at his word, would attempt to subvert the basic constitutional order if he were elected president.  As such, I am not sure how anyone who claims that what they want is fealty to the US Constitution could support his candidacy.  The Tea Party, for example, should be running away from Gingrich en masse.
It is, of course, possible, that all of this is the famous (or is it infamous?) Gingrich penchant to say odd, if not bizarre, things off the cuff for which he will have to backtrack later.  Still, as far as traits for a president are concerned, an utter lack of mental discipline is not exactly desirable.   At a minimum these suggestions point to an "historian" who, despite his alleged professorial mien really doesn't understand what he is talking about–at least from an intellectual point of view.  Granted, if we interpret this as pure political rhetoric, that's another issue.  But again:  if this is pure political rhetoric then it indicts the so-called "constitutionalists" in the GOP if they continue to support Newt.
h/t for the FTN and Hill pieces:  Steve Benen.