Gingrich Leads Romney In Two South Carolina Polls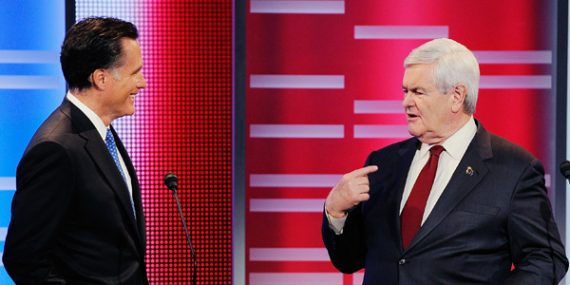 Since I wrote my post this morning about the tightening race in South Carolina, we've gotten two new polls from the Palmetto State which show Newt Gingrich assuming the lead over Mitt Romney. First up,  there's a new Rasmussen Reports poll:
Former House Speaker Newt Gingrich has now surged ahead of Mitt Romney in the final Rasmussen Reports survey of the South Carolina Republican Primary race with the vote just two days away.

The latest telephone survey of Likely GOP Primary Voters in the state finds Gingrich with 33% support to Romney's 31%. Two days ago, before the last debate, it was Romney by 14 percentage points.

Texas Congressman Ron Paul now runs third with 15% of the vote, followed by former U.S. Senator Rick Santorum at 11%. Paul's support is steady while Santorum's support has dropped five points since Monday.  At the beginning of the month, just after Santorum's strong showing in the Iowa caucuses, he ran second to Romney with 24% of the vote.

Texas Governor Rick Perry continues to run last with two percent (2%) support. He has dropped out of the race today and endorsed Gingrich. One percent (1%) of likely primary voters like some other candidate in the contest, and six percent (6%) remain undecided.
Yes, I know, it's Rasmussen, but the same Gingrich lead also shows up in a new poll from Public Policy Polling:
Newt Gingrich led Mitt Romney 34-28 in PPP's South Carolina polling last night, the first of what will be three nights of tracking.  Ron Paul at 15%, Rick Santorum at 14%, Rick Perry at 5%, and Buddy Roemer at 3% round out the field.

This is not a case of Romney imploding.  His support has been pretty steady in the 28-30% range in our South Carolina polling so far. But Gingrich has risen from 23% to 34% over the last two weeks, benefiting from declining support for Santorum and also from undecided voters moving into his camp.

It's clear that the debate Monday night did a lot to help Gingrich's prospects in the state. 56% of voters say they watched it, and with those folks Gingrich's lead over Romney is 43-27. Romney still has a 29-22 advantage on Gingrich with those who didn't tune in.

Gingrich is starting to consolidate his support with some of the more conservative parts of the South Carolina electorate. He has a 50-18 advantage on Romney with Tea Party voters.  He's up 39-23 with those describing themselves as 'very conservative.' And he even has a 37-
Here's where all this puts the poll averages now: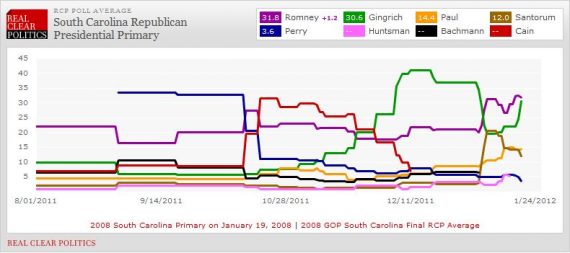 Between the debate tonight and the interview with Marianne Gingrich shortly thereafter, this is going to be a very interesting 24-36 hours.