Gingrich May Lose His Sugar Daddy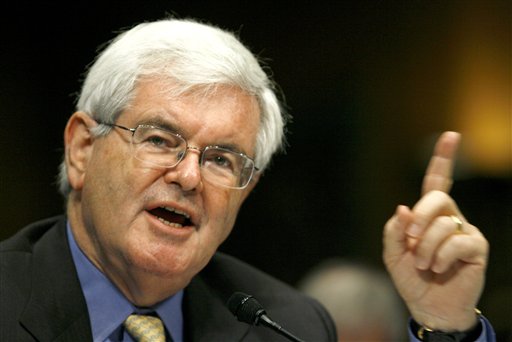 Today's New York Times is reporting that Sheldon Adelson, who's given millions of dollars to the pro-Gingrich SuperPAC Winning Our Future, isn't necessarily wedded to backing the former Speaker forever:
LAS VEGAS — Sheldon Adelson, the billionaire casino executive keeping Newt Gingrich's presidential hopes alive, has relayed assurances to Mitt Romney that he will provide even more generous support to his candidacy if he becomes the Republican nominee, several associates said in interviews here.

The signals from Mr. Adelson, whose politics are shaped in large part by his support for Israel, reflect what the associates said was his deep investment in defeating President Obama and his willingness to play a more prominent role in the Republican Party and conservative causes.

The assurances have been conveyed in response to a highly delicate campaign by Mr. Romney and his top Jewish financial supporters to dissuade Mr. Adelson from adding to the $10 million that he and his wife have given to a pro-Gingrich "super PAC," Winning Our Future, that has been tearing into Mr. Romney through television advertising.

Several people who have spoken with Mr. Adelson over the past two weeks said he would most likely continue to help the group as long as Mr. Gingrich remained in the race. But, they said, he is concerned that additional deep-pocketed donors have not joined him. And, they said, his affection for and loyalty to Mr. Gingrich, who met with him here on Friday, have not blinded him to the reality that the nominating contest is tilting in Mr. Romney's favor.

"Sheldon is committed to keeping him in the race as long as he wants to stay in," said Fred Zeidman, a top fund-raiser for Mr. Romney and a longtime friend of Mr. Adelson. "But any time that Newt decides to get out of the race, he would devote his energy and money to the overriding issue, which is beating Barack Obama."

(…)

There are significant links between the Romney campaign and Mr. Adelson, particularly through several top-level donors who raise money for Mr. Romney and sit with Mr. Adelson on the board of the Republican Jewish Coalition, created in 1985 as a way to foster closer ties between the American Jewish community and Republican leaders.

The Romney donors have sought to convey a carefully balanced message to Mr. Adelson, people aware of the discussions said. They warned that continued support for Mr. Gingrich could help Mr. Obama by leaving Republicans wounded and divided but made it clear that Mr. Romney would welcome Mr. Adelson's backing. They also avoided angering Mr. Adelson in a way that might lead him to give more money to Mr. Gingrich out of pique. He is cantankerous, his friends say, and inclined to make his own decisions without relying on conventional wisdom or guidance from political advisers.

Those who are said to have reached out are also described by fellow Republican financiers as being as loyal to Mr. Adelson as they are to Mr. Romney (if not in some cases even more so).

People involved in some of the discussions said Mr. Adelson generally expressed his affection for Mr. Gingrich in explaining his support. But it has been in some of those interactions that Mr. Adelson has made it clear that he will be generous to the broad presidential effort in the fall if Mr. Romney is the nominee. Associates say the message has been conveyed that for a man of Mr. Adelson's wealth, $10 million is a relative pittance and that he is willing to budget much more.

Four years ago, Mr. Adelson supported Rudolph W. Giuliani's presidential bid, but he and Mr. Romney have been friendly for years. Mr. Romney showed up here at Mr. Adelson's side in one of his first 2011 campaign appearances, during a gathering of the Republican Jewish Coalition.

A friend of Mr. Romney's, speaking on the condition of anonymity, said Mr. Romney did not begrudge Mr. Adelson's initial $5 million donation to the pro-Gingrich group, given Mr. Adelson's known loyalty. But Mr. Romney was said to have been deeply stung by a second $5 million donation, from Mr. Adelson's wife, Miriam. And the group's harsh attacks against Mr. Romney were said to have upset Mr. Romney's wife, Ann, though his aides said she was inured to them.
All of this has led some Gingrich supporters to accuse Romney of trying to "cut off" funding for the Gingrich campaign and its SuperPAC, as if there's something wrong with that. Sorry, my friends, this is politics. If Romney and his surrogates convince Adelson that it's time to stop funding the insane clown circus that is the Newt Gingrich for President Campaign and unite behind the inevitable nominee, that's all part of the game. As one former President was quoted as saying, if you can't stand the heat, get out of the kitchen.
Meanwhile, it appears that Gingrich has other financial problems mounting in his campaign:
Newt Gingrich's campaign remains roughly $600,000 in debt, two months after it reported deep debts and a long list of creditors, newly released campaign spending records show.

Fundraising by the former House speaker's campaign has stepped up markedly since then and Gingrich just last month cut by half the $1.2 million owed in October 2010. Still, several outstanding creditors remain.

At the end of last year, he owed a total of $1.19 million — nearly a half-million dollars of that to InfoCision, an Ohio-based telemarketing firm that specializes in fundraising for conservative political, Christian and nonprofit groups. Two months earlier, Gingrich owed roughly the same amount to another key vendor, Moby Dick Airlines , which provides charter flights for the candidate and his top aides to travel across the country for campaign stops.

Gingrich's campaign has made a big dent in that debt: InfoCision officials said late last month that the campaign paid off its $471,000 bill in full.

Gingrich also reported paying a sizable amount to himself and his companies, which his spokesman said amounted to reimbursements for campaign expenses.

The campaign paid $67,000 to Gingrich Productions, led by his wife, Callista Gingrich, for "web hosting" and "e-mail hosting." The Gingrich campaign paid the candidate $47,000 for a political donor list, and $206,000 in reimbursement for assorted travel and food expenses that Gingrich covered for himself and his staff.

Gingrich campaign adviser R.C. Hammond said the campaign repaid Gingrich for what he spent on campaign-related food, lodging and travel for himself and staff.

"Gingrich Productions was reimbursed for Web site and e-mail hosting — no profit was made," Hammond said.
Perhaps the money problems are the reason Newt was so grumpy last night.