Gingrich Narrowly Leads New Fox News Poll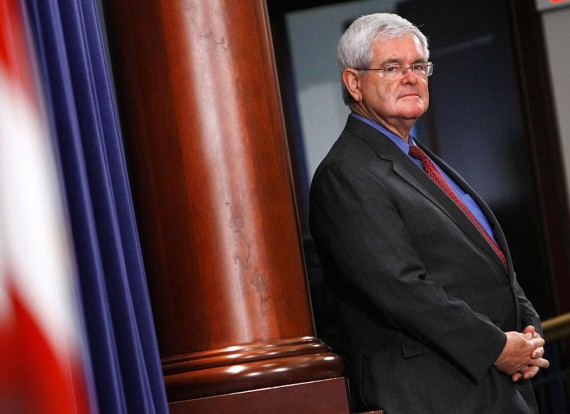 The Gingrich boomlet rolls along:
A Fox News poll released Wednesday shows Gingrich's support doubling in the last three weeks. He stood at 12 percent in late October — before the Cain harassment allegations and Rick Perry's "oops" debate. Now the former House speaker is at 23 percent, essentially tied for the lead with Romney, with 22 percent.

Romney has been either the frontrunner or in second place in every Fox poll since July. He's received the backing of between 20-26 percent of GOP primary voters for the last five months.

Cain garners 15 percent. That's down from 24 percent last month, and slightly below his late-September standing of 17 percent.

Ron Paul receives the backing of 8 percent, edging out Perry at 7 percent. This is the first time Perry has been in single digits in Fox polling.

Among GOP primary voters who are part of the Tea Party movement, Gingrich is the top pick (35 percent), followed by Cain (20 percent). Romney (15 percent) comes in third — receiving less than half Gingrich's support among this group.
Via David Weigel, the most amusing response in the poll has to be this one: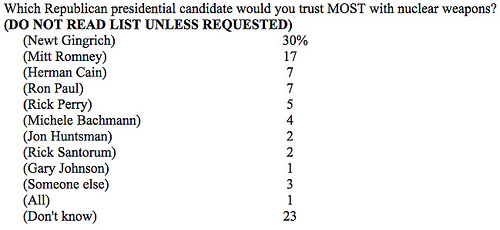 Well, umm okay…..
In any event, this leaves the GOP race as one big, muddled mess with Gingrich, Romeny, and Cain currently tied in the RCP poll average:
Cain is likely to continue to fall as the twin weight of the sexual harassment charges and his foreign policy gaffes take their toll. But what of Gingrich?