Gingrich Says He's Considering Run For President
It's time for the Gingrich For President speculation to begin again.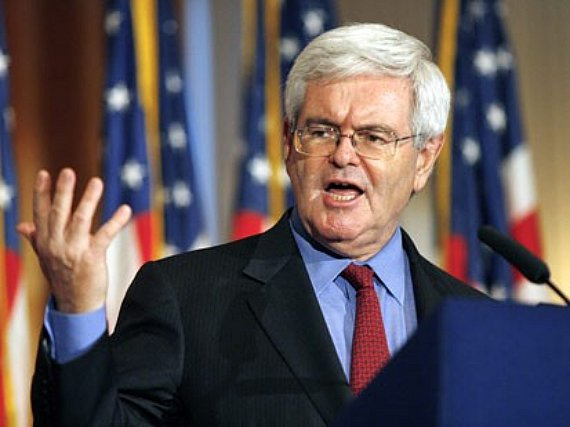 Once again, former House Speaker Newt Gingrich says he's considering a run for the White House:
DES MOINES, Iowa — Former U.S. House Speaker Newt Gingrich said Monday he's seriously considering seeking the Republican presidential nomination and will announce his decision early next year.

Gingrich, 67, told The Associated Press that he would focus on helping Republican candidates through the midterm elections in November, then decide in February or March whether to seek the GOP nomination.

"I've never been this serious," Gingrich said.

"It's fair to say that by February the groundwork will have been laid to consider seriously whether or not to run," he said.

Gingrich, in Des Moines for a fundraiser and workshop for local Republican candidates, predicted President Barack Obama would be a one-term president. Obama's poll numbers have dropped below 50 percent, and Gingrich predicted they would continue to fall, making him vulnerable in 2012.

Unlike President Bill Clinton, who rebounded from first-term problems by pushing for welfare reform and budget balancing changes that pleased moderate voters, Gingrich argued that Obama shows no inclination to move toward the center.

"He's not like Bill Clinton," Gingrich said. "Bill Clinton was an Arkansas, Southern Baptist, sort of understood middle American. While he had some Yale overtones being liberal, the truth is Bill Clinton was quite happy to move to the right."

Gingrich has been mentioned as a possible 2012 presidential candidate along with other Republicans, including former vice presidential nominee Sarah Palin, Minnesota Gov. Tim Pawlenty and former Massachusetts Gov. Mitt Romney.
This isn't entirely new, of course. Four years ago, there was speculation that Gingrich would be a candidate in 2008. Gingrich cultivated this speculation with his frequent appearances on television, as well as comments that he would have considered running in 2008 if a frontrunner did not emerge. As late as July 2007, he was calling the Republican field a "pathetic bunch of pygmies," provoking yet more speculation that he would indeed through his hat in the ring. Finally, just as the race was heating up in September 2007, Gingrich announced that he would not be running.
Now, here we sit four years after that round of speculation started and the speculation begins anew. Is this a real test of the Presidential waters, or simply Gingrich's way of keeping his name out there ?
Since I don't really think that Gingrich has a realistic chance at winning the GOP nomination, I've got to believe that this is an effort on Gingrich's part to keep himself relevant in the GOP. While he may be the most intellectually engaged of the potential GOP candidates, the simple fact of the matter is that Gingrich comes with far too much personal and political baggage to realistically be the party's standard bearer.
I could see Gingrich being a Cabinet Secretary in a future Republican Administration. Perhaps even a Biden/Cheney-esque "elder statesman" Vice-Presidential running mate. But the top of the ticket ? No chance, no chance at all.