Giuliani Sought Contracts With Ukrainian Government
The vultures keep circling above the head of "America's Mayor."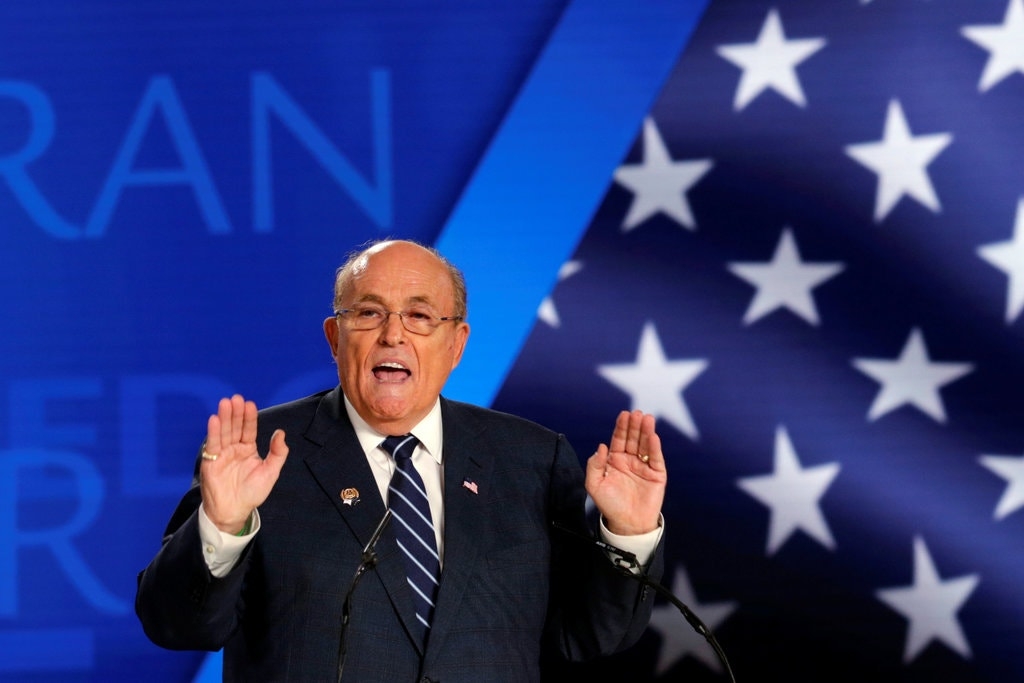 New reports about former New York City Mayor Rudy Giuliani's activities in Ukraine seem to establish that he was seeking to enrich himself at the same time he was purporting to represent the President:
President Trump's personal attorney, Rudolph W. Giuliani, negotiated this year to represent Ukraine's top prosecutor for at least $200,000 during the same months that Giuliani was working with the prosecutor to dig up dirt on former vice president Joe Biden, according to people familiar with the discussions.

The people said that Giuliani began negotiations with Ukraine's top prosecutor, Yuri Lutsenko, about a possible agreement in February. In the agreement, Giuliani's company would receive payment to represent Lutsenko as the Ukrainian sought to recover assets he believed had been stolen from the government in Kyiv, those familiar with the discussions said.

The talks occurred as Giuliani met with Lutsenko in New York in January and then in Warsaw in February while he was also gathering information from Lutsenko on two topics Giuliani believed could prove useful to Trump: the involvement of Biden and his son Hunter Biden in Ukraine, and allegations that Ukraine, not Russia, had interfered in the 2016 election.

Trump ultimately pressed Ukrainian President Volodymyr Zelensky to open investigations into the two issues during a July 25 phone call between the two leaders, a call that sparked a whistleblower complaint and the congressional impeachment inquiry.

A person familiar with the negotiations described contracts drafted this year in which Giuliani would have worked for Lutsenko or separately, the Ukrainian Ministry of Justice.

For Lutsenko, the agreement would have provided a pipeline to Trump's lawyer and, through him, potentially to other top U.S. officials. For Giuliani, the agreements would have been a way to accrue financial benefit from a person who was also providing him politically damaging information that could help another client, the president of the United States.

Giuliani has said he doesn't charge Trump for legal services. Trump directed U.S. diplomats to work with Giuliani on Ukraine issues.

The agreements were never executed, and there is no indication that Giuliani was ultimately paid by Lutsenko or other Ukrainian officials. But the negotiations proceeded far enough that legal agreements were drafted under which Giuliani's company would have received more than $200,000 to work for the Ukrainians, people familiar with the agreements said.

Some versions of the agreements envisioned Washington husband-and-wife lawyers Victoria Toensing and Joe diGenova also playing a role and receiving payment, people familiar with the matter said.

(…)

Federal prosecutors in New York have been investigating Giuliani and two associates he tapped to help him conduct investigations in Ukraine for a wide range of possible crimes, including wire fraud and failure to register as a foreign agent, people familiar with the matter have said. The two associates, Lev Parnas and Igor Fruman, were charged this year in a campaign finance case.

Prosecutors alleged Parnas and Fruman used foreign money to buy political influence in the United States, directing large donations to American politicians as they "sought to advance their personal and financial interests and the political interests of at least one Ukrainian government official with whom they were working."

In particular, the indictment alleged the pair tried to force the ouster of then-U.S. ambassador to Ukraine Marie Yovanovitch "at the request of one or more Ukrainian government officials." Though no Ukrainian government official is named in the indictment, people familiar with the matter say the references refer to Lutsenko.

The indictment made no mention of Giuliani. But Toensing and diGenova have said they hired Parnas to act as a translator when they began work in July as lawyers for Ukrainian oil tycoon Dmytro Firtash, who was indicted in Chicago in a bribery conspiracy and has been fighting extradition to the United States.

Witnesses in the House impeachment inquiry have testified in recent weeks that the president's personal lawyer seemed to be driving a campaign to remove Yovanovitch from her post. Witnesses also identified Lutsenko as the Ukrainian official who appeared to be advocating for Yovanovitch's removal.
All of this comes on top of all the recent news about Giuliani, both respect to his own business dealings and his representation of the President. Although it appears that the former Mayor made no effort to delineate when he was acting on his own behalf and when he was acting on behalf of the President.
t's certainly understandable why Giuliani would feel the need to retain representation at this point. It was just a month ago, after all, that two of his close associates were arrested on their way out of the country in connection with an unstated ongoing criminal investigation. Several days after that, it was reported that Giuliani himself was under investigation by the U.S. Attorney's Office for the Southern District of New York. In addition to this, Giuliani has been at the center of much of the ongoing testimony that has been released in the House Intelligence Committee's ongoing investigation into the Ukraine matter. For example, the former American Ambassador to Ukraine testified that it was pressure from Giuliani that led to her being forced out of her position and others have essentially stated that the President was letting Giuliani run a shadow foreign policy vis a vis Ukraine, bypassing the State Department and normal procedure. It was Giuliani, of course, who was the primary person pressuring Ukraine to open investigations of Hunter and Joe Biden, one of the demands the President had before he would release the hold on military aid that had already been authorized by Congress.
In addition to this, Giuliani's defense of Trump in the media has raised questions of its own. Thanks to what can only be called a bizarre legal and media strategy, there are dozens of instances of Giuliani appeared on television, principally Fox News and CNN, advancing the President's interests with regard to the Russia investigation, the accusations against Joe and Hunter Biden, and the bizarre conspiracy theory that attempts to blame Ukraine rather than Russia for 2016 election interference. Whether the matters involving Giuliani end the same way that those involving Michael Cohen have remains to be seen, but at the very least it's clear that this President has really bad instincts when it comes to picking attorneys.
Added into all of this is this new information about Giuliani attempting to pursue his own business interests with the same prosecutor that he was seeking to influence regarding the Biden and 2016 conspiracy theories. In addition to being a potential conflict of interest in violation of the ethical rules that attorneys are required to follow, this revelation raises even more questions about the reasoning behind the influence that President was allowing the former Mayor of New York to exert over policy toward Ukraine, influence that apparently included leaning on the White House to get the Maria Yovanovich, the former U.S, Ambassador to Kyiv. The fact that Rudy was pursuing two different agendas in his Ukrainian dealings makes one wonder just exactly what was going on, and just how much legal trouble the former U.S. Attorney and Mayor might be in.