Giving Credit Where Credit is Due on Iran
Trump and Iran.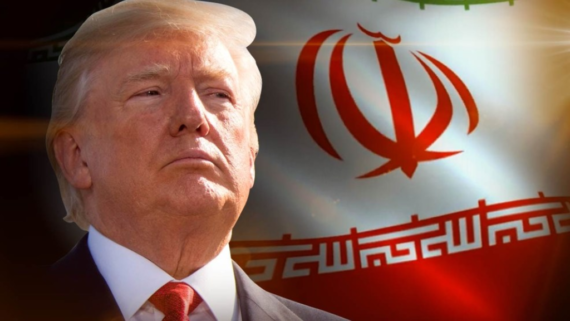 Let me start off by doing something that I do not often do: state that Trump did the right thing this week by calling off a retaliatory strike against Iran. Escalation in what has become a highly tense situation would only have made things worse.
Further, I have been pleased that Trump has downplayed the mine attacks on two oil tankers, calling them "very minor" and likewise his rhetoric on the drone attack, while a bit all over the place at times, has not been as inflammatory as it could have been.
Now, do I believe that he called off the attack because he learned, mere minutes before launch, that 150 people would be killed.? No, I do not. If anything, it is inconceivable that he was not given a damage assessment during the planning stages to include casualty estimates.* I suppose it believable he wasn't paying attention during the briefing and learned the information later, but the whole scenario as tweeted was a bit too movie-of-the-week to be believable.
Sadly, however, it is wholly believable that a cable news talking head talked him out of the attack:
He heard from his generals and his diplomats. Lawmakers weighed in and so did his advisers. But among the voices that rang powerfully for President Trump was that of one of his favorite Fox News hosts: Tucker Carlson.

While national security advisers were urging a military strike against Iran, Mr. Carlson in recent days had told Mr. Trump that responding to Tehran's provocations with force was crazy. The hawks did not have the president's best interests at heart, he said. And if Mr. Trump got into a war with Iran, he could kiss his chances of re-election goodbye.

Source: NYT: Urged to Launch an Attack, Trump Listened to the Skeptics Who Said It Would Be a Costly Mistake
So, calling off an attack that would have unnecessarily escalated tensions in the Persian Gulf with no clear objectives beyond more escalation? Good. Having a president who seeks advise for such decisions from entertainers? Bad.
I guess in a perverse way I can also say "yay for democracy!" insofar as Trump made the right decision because he was worried about re-election.
However, if the goal here is to give credit, let's give credit.
First, and foremost, we would not be in the situation if Trump had not unilaterally withdrawn from the Joint Comprehensive Plan of Action (JCPOA), aka "the Iran nuclear deal."
Second, the increased sanctions on Iran are making Iran more prone to striking out. We can't forget that the US is currently engaged in economic warfare against Iran.**
Third, to add to an already volatile mix, very publicly increasing US military presence in the region has also ramped up tensions considerably.
Fourth, Trump appointed John Bolton as National Security Adviser and Mike Pompeo as Secretary of State. Both, especially Bolton, are known hawks vis-à-vis Iran. Add to that mix the lack of permanent Secretary of Defense since the start of the year (and, up and until this week, an acting SecDef whose primary experience was the defense industry, not military policy).
In other words, the administration has largely been putting tinder around an already dried-out wooden building. That Trump forestalled placing a match to it this week has clearly avoided starting a fire, but let's not forget who placed the fuel in the first place.
Indeed, let's face facts: in perhaps one of the most complicated parts of the world Trump has no clear understanding or vision and being pulled in various directions by his own persona, a problematic staff, and his reliance on, of all things, television personalities.
His persona is one of a deal-maker. This is, empically, a joke. It only works in controlled environments (e.g., in books he has hired people to write on his behalf or on over-produced reality TV shows as both as designed to sell Trump as deal-maker extraordinaire to an audience already primed to accept him as such).
In reality, as opposed to reality TV, where are the deals? The North Korea "deal" is nothing more than a vague joint statement. New NAFTA is not all that new, and it hasn't been approved legislatively yet. The agreement with Mexico over immigration is thin. There is no deal over tariffs and trade with China. The list goes on.
Indeed, Trump learned the wrong lessons from North Korea. NK was, in many ways, perfect for Trump's reality show approach to governance. As dangerous as NK is, the reality is that they have limited options for real action and therefore prefer spectacle and rhetoric.
Consider: while North Korea can develop and test weapons, and even engage in occasional provocative actions towards the South, the reality is that their choices are war and not war.
Any serious attack on South Korea (or on Japan or on Guam, etc.) would mean massive retaliation by the United States. Such a scenario would lead to the death of the Kim regime. And regime survival is the paramount goal of Kim Jong Un. Further, Kim is constrained by China (which wants neither a war nor the humanitarian crisis such a war would create on its border).
Kim is not looking to be a regional hegemon like Iran is. NK can't be a regional hegemon in a region that includes China, Japan, South Korea as well as a number of US military bases.
Again: Kim wants to survive. That requires enough military ability to keep the US from wanting to risk a direct military confrontation as well as enough internal control to ward off coups or popular uprisings. It should be noted that being treated like an equal by the President of the United States was a huge boon domestically.
Iran wants to survive, yes, but it also wants to dominate its region. It is, unlike, North Korea, a regional power. While NK may have nuclear weapons, it lacks an ability to influence its region broadly. Iran, however, has regional significance. It can act in ways the North Koreans can only dream of.
Plus: as devastating as a war with North Korea would be, it would likely be short (with the aftermath being a horror). War with Iran would be long, costly, and would potentially not have a clean ending (e.g., a war that did not dislodge the regime is a real possibility).
I should note, too, a war with Iran would have global economic consequences given what it would do to the price of oil. Also: can the US really afford yet another debt-financed war? What would that self-inflicted wound do to the global economy?
Iran doesn't want press events. They are not interested in empty joint statements. Trump is playing with fire with Iran, and let's not forget to give credit in that way as well.
---
*Indeed, WaPo reported "administration officials said Trump was told earlier Thursday how many casualties could occur if a strike on Iran were carried out and that he had given the green light that morning to prepare the operation." Also, in regards to the 150 figure, the NYT reports: ¨But an administration official informed about the discussions privately disputed that account. The 150-dead casualty estimate came not from a general but from a lawyer, according to the official. The estimate was developed by Pentagon lawyers drafting worst-case scenarios that, the official said, did not account for whether the strike was carried out during daytime, when more people might be present at the targets, or in the dark hours before sunrise, as the military planned.¨
**Side note: it is always amazing to see members of the US government, and its supporters, pretend like other countries should just sit back and take provocations from the US that the US would never stand for.