Glenn Beck: Gay Marriage No Threat To Me, Or America
There's not as much conservative unity on the gay marriage issue as there used to be.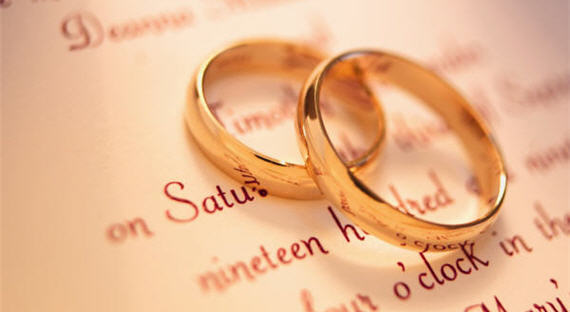 The political debate over same-sex marriage gets more interesting by the day as old ideological lines get blurred over what, only six years ago, was a hot button social issue that primarily benefited the Republican Party. As James noted this morning, conservative lawyer Ted Olson has raised many eyebrows by joining David Boies in the lawsuit to overturn Proposition 8. And, last night, even Glenn Beck made clear that same-sex marriage just isn't something that bothers him:
O'REILLY: But let's take the gay marriage deal. Big ruling in California. You really didn't cover that much, right?

BECK: Nope.

O'REILLY: Why?

BECK: Because honestly I think we have bigger fish to fry. You can argue about abortion or gay marriage or whatever —

(…)

O'REILLY: Do you believe — do you believe that gay marriage is a threat to the country in any way?

BECK: A threat to the country?

O'REILLY: Yeah, it going to harm the country?

BECK: No, I don't. Will the gays come and get us?

O'REILLY: OK. Is it going to harm the country in any way?

BECK: I believe — I believe what Thomas Jefferson said. If it neither breaks my leg nor picks my pocket, what difference is it to me?

O'REILLY: OK, so you don't. That's interesting. Because I don't think a lot of people understand that about you.

BECK: As long as we — as long as we are not going down the road of Canada, where it now is a problem for churches to have free speech. If they can still say, hey, we —

O'REILLY: Oppose it —

BECK: — we oppose it —

O'REILLY: Right.

BECK: — but we're not trying to kill anybody or trying to —

O'REILLY: In Sweden they have that too. OK, so gay marriage to you, not a big a threat to the nation.
I never thought I'd actually say that I agree with Glenn Beck, but I agree with Glenn Beck. It may be the only time, and it's not going to cause me to start watching his show but, it's somewhat refreshing to see that conservatives like him aren't jumping on this issue like they did back in 2004.
On a related note, Nate Silver notes this morning that public opinion on same-sex marriage seems to be changing far faster than anyone anticipated, and in support provides this chart showing polling trends on the same-sex marriage question going back to 1988: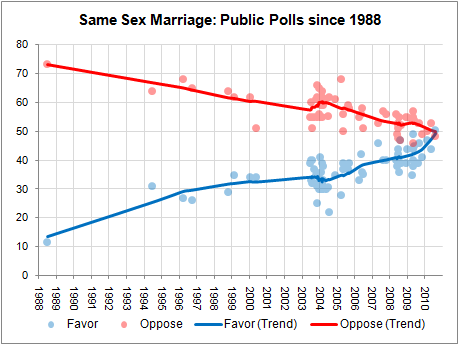 The change over the past twenty-two years is rather dramatic and, if it's true, it seems to indicate that we've reached a point where opposition to same-sex marriage will, before long, become the minority opinion. The lack of a sustained public reaction against Judge Walker's opinion in the Prop 8 case seems to indicate that we're almost there.