Good News On The Jobs Front?
Some initial data released today points to the possibility of a very position jobs report tomorrow, but don't hold your breath.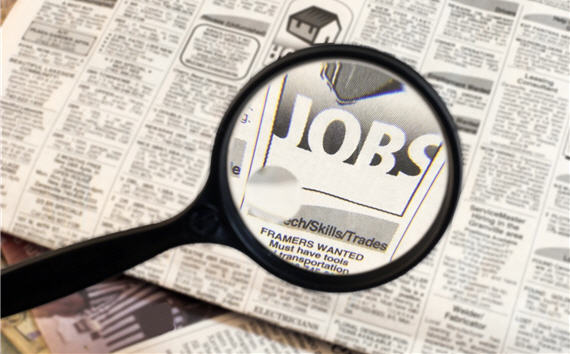 Two pieces of data are out today in advance of tomorrow's December jobs report that raise the tantalizing prospect that we might have turned a corner on hiring. In some respects, it won't be surprising at all to see an uptick in hiring for December. Even with seasonal adjustments, the numbers are likely to show the impact of holiday hiring in the retail sector. Nonetheless, the numbers out today offer the thought, or at least the hope, that something more permanent is going on. We've been here before, of course, only to see things peter out in the end, but good news is good news.
First up, there's the monthly hiring report from payroll processing giant ADP:
NEW YORK (CNNMoney) — Private-sector companies significantly ramped up their hiring in December, according to a report issued Thursday.

The private sector added a seasonally adjusted 325,000 jobs during the month, up from 204,000 in November, payroll-processing firm ADP said.

It marked the biggest monthly gain since December 2010, and was stronger than expected. Economists surveyed by Briefing.com were forecasting a gain of 180,000 jobs for the month.

"It's not a bad way to wrap up the year," said Paul Ballew, chief economist for Nationwide. "And it's certainly better than we had feared back in the summer."
I made note of that December 2010 ADP report exactly one year ago today, when they reported 297,000 new hires in December 2010. When the official report came two days from the Bureau of Labor Statistics, though, the numbers were a little different. The unemployment rate dropped to 9.4%, but the BLS reported only 103,000 jobs created, a number that was later revised slightly upward to 152,000 by the time March rolled around. The ADP report has also ended up being fairly close to the BLS numbers, though. Such as in March of last year when ADP reported 217,00 new hires while the BLS reported 197,000 net jobs created. In reality, though, there doesn't seem to be any consistency to the correlation between the ADP numbers and the official numbers reported by the government, so this statistic may be nothing after all.
Even the head of ADP cautioned reporters today that the number they released may not be entirely reliable because of accounting and bookkeeping practices among the companies from which they draw data:
The December ADP number may have reflected the so-called purge effect. Workers, regardless of when they are dismissed or quit, sometimes remain on company records until December, when businesses update, or purge, their figures with ADP.

The paycheck processor estimates this change when adjusting its data for seasonal variations and, because there were fewer firings at the end of 2011 than in previous years, ADP may find it more difficult to formulate a projection.

"There's some possibility that today's number has been pushed up by that idiosyncratic feature of ADP data," Joel Prakken, senior managing director at Macroeconomic Advisers LLC in St. Louis, said in a press conference after the report. "In an improving labor market it can lead to an upward bias to seasonal job gains." Macroeconomic Advisers produces the figures in conjunction with ADP.
In other news, the Labor Department reported a slight drop in weekly jobless claims as the overrall number once again stayed below the 400,000 level:
Jan. 5 (Bloomberg) — Fewer Americans filed claims for unemployment insurance payments last week, showing the labor market is starting 2012 on better footing than a year earlier.

Applications for jobless benefits decreased 15,000 in the week ended Dec. 31 to 372,000, Labor Department figures showed today. The median estimate of 38 economists in a Bloomberg News survey forecast 375,000 claims. The average over the past four weeks declined to the lowest level in more than three years.

The decrease in firings indicates employers may be getting more comfortable with their headcounts and their economic outlooks as the year begins. Economists forecast a Labor Department report tomorrow will show hiring picked up and joblessness held below 9 percent in December.

"Claims are moving in the right direction," said Aneta Markowska, a senior U.S. economist at Societe Generale in New York. "The labor market is pretty much treading water, buts it's definitely not as far behind as last year.'
Reuters considers all of  this very good news:
The news is all good for the jobs market so far in 2012: Separate reports Thursday showed a surge in private-sector job creation, a sharp drop in weekly unemployment claims and planned layoffs at their lowest level in six months.

(…)

"This continues an acceleration in employment that began back in late summer, so it propagates an ongoing trend," Joel Prakken, chairman of Macroeconomic Advisors, told CNBC. "It also seems to be consistent with other elements that suggest improvements in the labor market."

Prakken conceded that seasonal distortions tend to elevate the December numbers, but there are solid signs that the jobs market is thawing.

"There is a sense here that these data are strengthening," he said.
We'll see. It's not all roses and unicorns out there, and it's going to be a long road back even if job growth does start picking up. This morning on Morning Joe, for example, Steven Rattner pointed this out quite starkly:
Visit msnbc.com for breaking news, world news, and news about the economy
Hopefully we'll see a report tomorrow where job growth comes close to the 250,000 net jobs created number we really need on a regular basis to start turning the corner here. Most analysts, though, are estimating we'll see between 150,000 and 170,000 net jobs created, with the unemployment rate creeping up to 8.7%. That makes the prospect of recovery in the near future pretty darn bleak. Tune in tomorrow.