Google Seeks To Bar Apple From Importing iPhones, iPads, & iPods Into The U.S.
A new lawsuit from Google's Motorola Mobility subsidiary seeks to bar Apple from importing it's most popular products into the United States.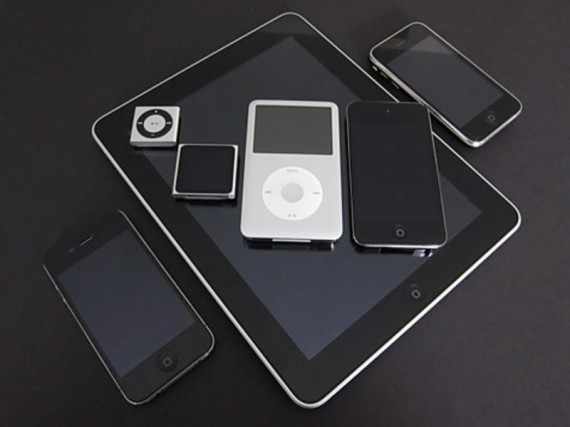 Google's Motorola Mobility subsidiary has filed a new lawsuit against Apple alleging that they have infringed on several of Motorla patents, and seeking as a remedy an order that would bar Apple from shipping it's most popular products into the United States:
Google Inc's Motorola Mobility unit said it filed a new patent-infringement case againstApple Inc. claiming that features on some Apple devices, including the Siri voice-recognition program, infringe its patents.

The complaint at the U.S. International Trade Commission claims infringement of seven Motorola Mobility patents on features including location reminders, e-mail notification and phone/video players, Motorola Mobility said yesterday. The case seeks a ban on U.S. imports of devices including the iPhone, iPad and Mac computers. Apple's products are made in Asia.

"We would like to settle these patent matters, but Apple's unwillingness to work out a license leaves us little choice but to defend ourselves and our engineers' innovations," Motorola Mobility said in an e-mailed statement.

Motorola Mobility and Apple have been fighting since at least 2010 after licensing talks failed. Apple has said Motorola Mobility is making unreasonable demands, and argues that phones made by Motorola Mobility and other handset manufacturers that run on Google's Android operating system are copying key patented features of the iPhone.

The complaint is the second that Libertyville, Illinois- based Motorola Mobility has filed at the agency against Apple. A copy of the new complaint wasn't immediately available. The commission is scheduled to announce a final decision Aug. 24 in the earlier case, and could impose an import ban on the iPhone.
Without seeing a copy of the Complaint, it's hard to say if the allegations that Google/Motorola is making here rise to a level that would be considered sufficient to justify an import ban, or if the case would even get past the motion to dismiss case. As the article mentions, there is another complaint pending against Apple with the ITC asking for the same relief in which a decision is due by the end of next week. However, at least one commentator doesn't think that the first complaint will lead to a full import ban:
The ruling for that case is expected to come down next week. This was a standard-essential patent, though, making an import ban based on the upcoming ruling in this previous case unlikely. Mueller also notes that if Motorola won a ban in this case, this wouldn't affect the iPhone 4S and new iPad 4G, as these use a Qualcomm chipset that falls outside of Motorola's patent claims.
As I said, until we see the complaint in the new suit, it's hard to judge how strong a case Motorola Mobility has here, but it's worth noting that this is just the latest round in an ongoing series of lawsuits among smartphone manufacturers alleging patent infringement. In addition to the Motorola claims against Apple, Apple has also asserted claims against Motorola alleging that the Android operating system infringes on key elements of the iPhone. As we speak, Apple and Samsung are involved in a trial that began July 31st that is the cap on a years-long dispute over allegations by Apple that Samsung copied key features of the iPhone in making its smartphones, while Samsung is making similar allegations against Apple. At this point, the trial has gone on so long, and the disputes have gotten so petty, that the presiding judge recently asked counsel for each side if they were "smoking crack." Of course, that's a question that could be asked about the entire American Patent law system at this point in time.
On some level, I have to think that the odds of a Judge actually issuing an order barring Apple from importing the most popular consumer electronics products out there seems to be slim to me. Indeed, depending on the nature of Motorola's claims, such an order may not even have an impact on the upcoming iPhone 5, which is reportedly being based on an entirely new chipset. More importantly, one has to wonder whether it's really proper to grant patents for things like the ability to swipe across the bottom of a phone to unlock it or answer a call. And in a rational universe, these disputes would be easily resolved via licensing agreements. The world we live in now, though, if far from rational and many companies earn as much revenue enforcing patents, some of which they've never even taken advantage of, than they do from actually making products. I'm pretty sure that's now what the Founders intended when they granted Congress the power to issue patents.