Google Wants Your Bank and Credit Card Information
Google is taking PayPal and Bitcoin on head on. They're likely to win.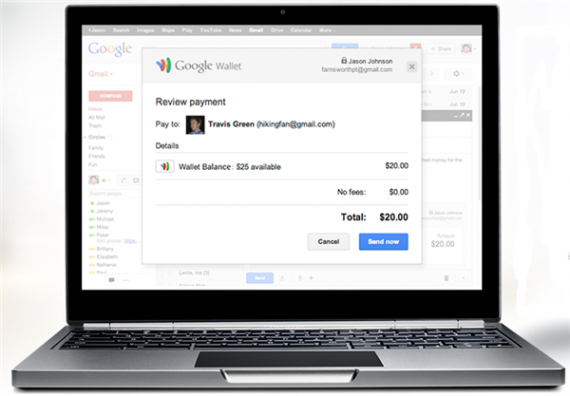 Google is taking PayPal and Bitcoin on head on. They're likely to win.
Ubergizmo ("Google Wallet Now Lets You Send Money Over Gmail"):
Google has integrated two of its products in to one another, presenting end users with an entirely different way of sending money online. Google Wallet has now been integrated with Gmail. Users will now be able to send money over email, all they have to do is literally "attach" money with the email they're sending. The recipient doesn't necessarily needs to have a Gmail account in order to receive the money. Sending money is free if the user's account is linked to Google Wallet, and there are nominal fees for sending money through linked debit or credit cards.

Hovering over the attachment paperclip in Gmail email compose window reveals the attachment options. There, the "$" symbol can be clicked on in order to send money. Simply click on it , enter the amount and press send. This service is only available when Gmail is accessed through desktop and it will be rolled out in the near future in the U.S. to users over the age of 18. Another easier and faster way to get the service is to receive money from someone who already has the service available on their Gmail.
My initial thought was: Cool! It's a minor pain to log into PayPal to send money electronically and, frankly, some of their business practices scare me. (They have a nasty tendency to put a hold on people's accounts and not let them have their money. I make sure to transfer my balance to my bank account regularly.)
My second thought is reflected in the headline of this post: Now Google is going to have our bank account and credit card information to go with everything else they already know about us. Which is to say, pretty much everything.
Yes, it's true, Google Wallet already exists. But I don't use it; I doubt many do. The ability to use one's smart phone to make payments isn't really all that attractive, since I carry JamesWallet around with me everywhere the phone goes. But the ability to send money from the email interface where I already spend several hours a day will likely prove irresistible.
Damn you, Google!