GOP Begins 2016 General Election Race With A Big Electoral College Disadvantage
A first look at the Electoral College paints a very grim picture for Donald Trump and the GOP.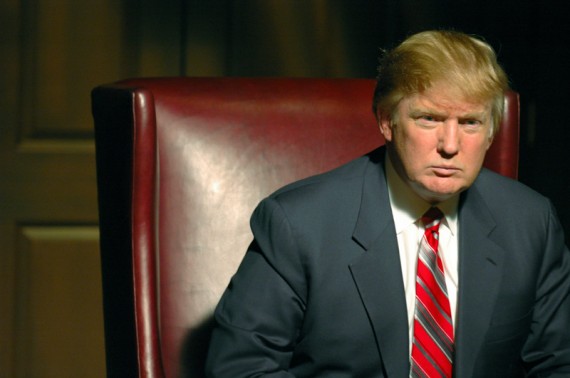 Chris Cillizza points to a fact that I have made several times in recent years myself, namely that the Republican Party faces a decided disadvantage in the Electoral College that transcends the problems that nominating Donald Trump bring to the race for the White House:
Republicans have a major electoral-map problem in November. Major.

Donald Trump's victory last week in Indiana's primary not only effectively sealed the GOP nomination for the real estate billionaire but also brought into sharp relief how difficult it will be for any Republican to get to 270 electoral votes and beat Hillary Clinton to become the 45th president this fall.

Start here: Eighteen states plus the District of Columbia have voted for the Democratic presidential nominee in every election between 1992 and 2012. Add them up, and you get 242 electoral votes.

By contrast, 13 states have voted for the Republican presidential nominee in each of the past six elections. Total them up and you get 102 electoral votes.

There are two important takeaways from these facts: The generic Democratic nominee starts with an electoral vote lead of 140, and the Democratic nominee needs to find only 28 votes beyond that reliable base to win the presidency.

What that means in practical terms is that if Clinton wins the 19 states that every Democratic nominee dating to her husband has won and she wins Florida (29 electoral votes), she wins the White House. It's that simple.

Or if she wins the 19 reliable Democratic states and Virginia (13 electoral votes) and Ohio (18). Or the 19 states plus Nevada (6), Colorado (9) and North Carolina (15).

You get the idea. There are lots and lots and lots of ways for Clinton — or any Democratic nominee — to get to 270 electoral votes. There are very few ways for Trump — or any Republican nominee — to get there.
Or, to put it another way, in order to win the Presidency in November Trump and the Republicans must win every state that Mitt Romney won in 2012. This includes North Carolina, which Barack Obama won in 2008 by just about 20,000 votes and which R0mney took back four years later by just under a 100,000 vote margin, and Indiana, which Obama won by just under 30,000 votes and which Romney won by just under 270,000 votes in 2012. It also assumes that Trump doesn't lose other states where his own vulnerabilities with certain ethnic groups make holding on to those states more difficult. One example of this can be found in Georgia where a recent poll found Trump and Clinton in a statistical tie in a state that John McCain won by more than 200,000 votes in 2008 and Romney won by more than 300,000 votes in 2012. Assuming he can do that, Trump has would then need to win Florida, Virginia, and Ohio, all three of which have gone to the Democratic candidate in the last two elections, as well as at least one other state, such as Nevada, Colorado, New Mexico, or New Hampshire, all of which are swing states that have decided ended up in the Democratic column in recent years. Given Trump's historically high negative approval numbers among a wide swath of voting demographics — including Latinos, African-Americans, women, and younger voters — this is going to be a difficult task to say the least.
The Trump campaign and its supporters have suggested that the primary campaign,and Trump's apparent ability to attract blue collar voters, including white Democrats who apparently crossed party lines in open primary states to vote for him, mean that he has alternative routes to 270 electoral votes. The most common strategy that has been mentioned has Trump winning across the Industrial Midwest and thereby bypassing the disadvantages he would face in states such as Virginia and Florida. It is indeed true that if Trump were to win in Wisconsin, Michigan, Ohio, and Pennsylvania, and hold on to the Romney 2012 states then he would get right to 270 Electoral Votes and win the election. However, it's worth noting that Republicans have not won Wisconsin's Electoral Votes since the 1984 Reagan landslide, and have not won in Michigan and Pennsylvania since George H.W. Bush defeated Michael Dukakis in 1988. Since then, the demographics in the Midwest have arguably become even less favorable to the GOP than it ever has been. It's also worth nothing that in all of these states except Ohio, the victor of the Democratic Primary received more votes than the victor in the Republican primary, a fact which suggests that the Democrats continue to have a natural advantage in these Midwestern states that will be difficult to overcome. Finally, Trump himself has suggested that he could open the map even more and that he would win states like New York, which Republicans have not won since 1984, and New Jersey, which the GOP hasn't won since 1988. The most recent polling, though, has Trump losing the Empire State to Clinton by 21.6 points and losing the Garden State to her by 14 points.
As Cillizza notes, these Republican problems aren't necessarily related to Donald Trump, but he doesn't help the situation:
The current Republican disadvantage in the electoral map is less about any individual candidate than it is about demographics. As the country, and the voting public, has become less white and as Republicans have proved incapable of winning over nonwhite voters, a number of states have moved toward Democrats over the past decade

Perhaps the best example of this movement and how it has hurt Republicans is New Mexico, whose population is almost half Hispanic. In 2004, George W. Bush won the Land of Enchantment in his bid for a second term. (His margin over John F. Kerry was 588 votes.) Eight years later, Obama won the state by 10 percentage points over Mitt Romney; neither side targeted it in any meaningful way. In 2016, it's not even on the long list of potentially competitive states.

What has become increasingly clear is that any state with a large or growing nonwhite population has become more difficult for Republicans to win. Virginia and North Carolina, long Republican strongholds, have moved closer and closer to Democrats of late. (Obama won both states in 2008 and carried Virginia in 2012.)

At the same time, as these states have grown friendlier to Democrats, there are very few states that are growing increasingly Republican. Wisconsin and Minnesota are two, but neither is moving rapidly in Republicans' favor just yet.

Trump isn't to blame for any of that. But his remarkably high disapproval numbers among Hispanics and his hard-line stance on illegal immigration — we are going to build a wall and make Mexico pay for it! — could make what is already a huge demographic or electoral-map problem for Republicans even worse.
All of this adds up to a fairly grim picture of the Electoral College if you're a Republican: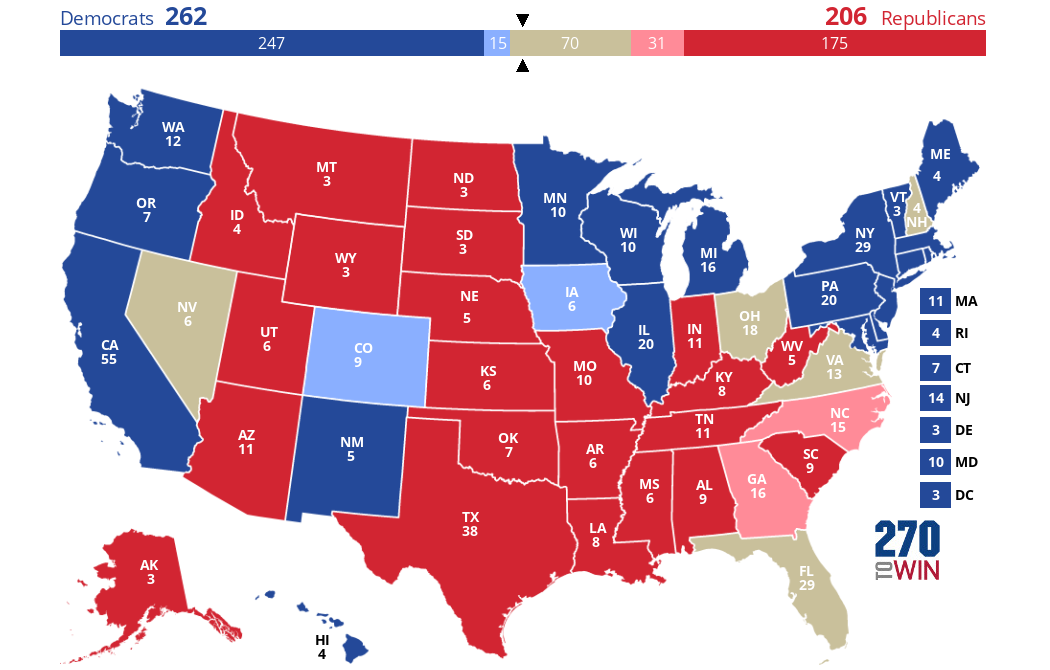 Click the map to create your own at
270toWin.com
This is a very preliminary projection based on history,demographics, and some early polling, but it strikes me as a fairly accurate picture of where things stand right now. As the race goes on, we'll see how things change as voters start to pay attention to the race. As things stand, though, it's not looking good for Trump or the GOP.