GOP Candidates Losing To Obama Among Latino Voters
Republicans are learning that their hard line on immigration comes with a political price.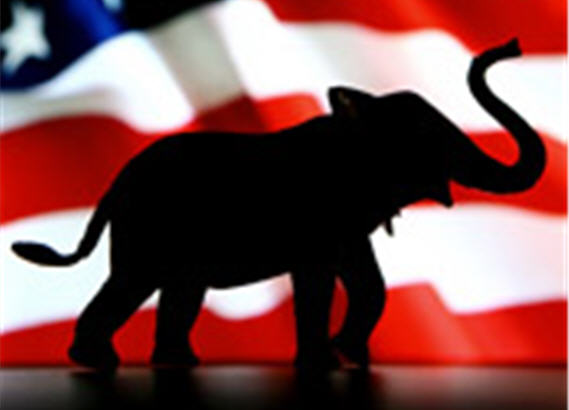 A new Pew Research survey shows all of the Republican candidates for President trailing President Obama significantly among voters from the nation's fastest growing ethnic group:
President Obama holds a wide lead among Hispanic voters when matched against potential Republican challengers, even as widespread opposition to his administration's stepped-up deportation policies act as a drag on his approval ratings among that group, according to a new poll.

The survey, conducted by the Pew Hispanic Center, revealed a general-election weakness for Republicans among an increasingly influential voting bloc — with former Massachusetts governor Mitt Romney and Texas Gov. Rick Perry each winning less than one-fourth of the Hispanic vote in hypothetical matchups against Obama.

Obama leads Romney by 68 percent to 23 percent and Perry by 69 percent to 23 percent among Hispanic voters, with a margin of error of plus or minus 5.2 percentage points for the sample.

The president's strong position with Latino voters comes even as Hispanic adults overall express disapproval with the way his administration is handling deportations of illegal immigrants, by 59 percent to 27 percent. (The margin of error among adults is plus or minus 3.6 percentage points.)

The United States has deported more than 1 million illegal immigrants under Obama, removing an average of nearly 400,000 per year — a record rate that has drawn criticism from immigrant advocates who charge that the policy is tearing apart families and punishing harmless workers. Administration officials have said they are targeting criminals for deportation.

Obama's job approval rating has dropped among Hispanic voters by nine percentage points since last year, the survey found, dipping to 54 percent — in part because of a 15-point drop among Hispanic Democrats. His job approval among voters overall stood at 49 percent in a Washington Post-ABC News poll this month, meaning the president remains more popular among Hispanics than with the broader electorate.

"Many Latinos are aware that deportations are up, and among them the president's approval rating is lower," said Mark H. Lopez, associate director of the Pew Hispanic Center. "However, even among them, the president wins in head-to-heads against Romney and Perry."

The findings suggest major challenges ahead for Republican strategists, many of whom believe the party cannot win the White House unless it slices into Obama's support among Hispanics.
The results in the head-to-head matchups with Romney and Perry (no other Republican candidates were tested, apparently) are nearly identical to the breakdown of the Hispanic vote in 2008, which went for President Obama 67% to 31% for John McCain. More importantly, for the GOP, though, even when Latinos disapprove of the President's policies, that still isn't sending them into the arms of the Republican Party:
Even among those who disapprove of the way Obama is handling the issue of deportations, a majority support his reelection over either of these two potential Republican challengers. Obama would carry this group by 57% to 34% against Romney and 61% to 31% against Perry.

The survey also shows that identification with the Democratic Party among Hispanic registered voters remains strong. Two-thirds (67%) of Hispanic registered voters say they identify with or lean toward the Democratic Party, while 20% say the same about the Republican Party.

And when asked which party has more concern for Hispanics, 45% say it's the Democratic Party, while 12% say it's the Republican Party. The share that identifies the Republican Party as the better party for Hispanics is up six percentage points since 2010.
None of this is really surprising, of course. The Republican candidates for President have basically been stepping all over each other to prove which one of them is more anti-immigration. Even Rick Perry, who arguably has the most reasonable immigration position of any of the Republicans when it comes to issues like treatment of illegal immigrants and border control, has jumped onto the bandwagon by soliciting and touting the support of Maricopa County Arizona Sheriff Joe Arpaio. Outside the Presidential race, we've seen state legislatures in Arizona, Georgia, Alabama,  and South Carolina pass restrictive immigration laws that have caused legal immigrants and migrant farm workers to flee the state out of fear.  There has been talk on the state and national level about challenging those provisions of the 14th Amendment that bestow citizenship on anyone born within the territory of the United States, even if their parents are here illegally. Given all of that, it's no surprise that Latino voters are running away from the GOP. In fact, earlier this year we saw a poll that suggested that Latinos aren't so much Pro-Democrat as they are Anti-Republican. With only a few exceptions, the GOP is not acting in a way that would make Latino voters feel welcome.
When I've discussed this issue before with conservatives, the usual response is something along the lines of just sticking their heads in the sand. Typically, I'm told that "people don't vote in groups," so analysis like this doesn't really mean anything. The problem is that there have long been real, demonstrated correlations between demography and voting behavior. We've seen it with race, gender, age, religion, and ethnic group. Denying that it occurs is not the answer, it seems to me. Instead, Republicans ought to be asking themselves why it is that an ethnic group that is only going to become more important in the United States in the coming decades is rejecting their party out of hand. It isn't all about bad messaging, or media bias, or the existence of welfare. It's because the Republican Party is perceived as anti-Hispanic because of the policy positions it has become identified with. Until that changes, the GOP is going to continue to see poll numbers like this and, as Latinos become a more important voting group in years to come, it's only going to hurt the GOP more. You adapt, or you die.