GOP Convention Remains Under Threat From Isaac
As Isaac bears down on the Gulf Coast, will the Republican Convention be even further impacted?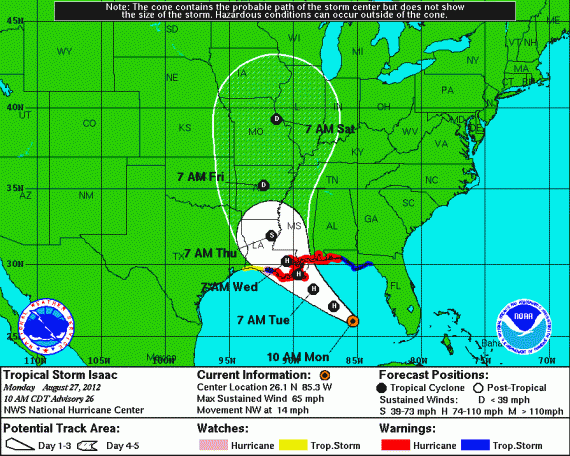 The Tropical Storm Warning that had been in place for parts of Central Florida, including Tampa itself, has been cancelled, but the GOP is still dealing with the possibility that their convention, which has already been shortened by one day due to the threat of Isaac, could be further truncated:
Republican officials are holding to their "wait-and-see" approach to their convention schedule as Tropical Storm Isaac approaches the Gulf Coast region, Mitt Romney adviser Russ Schriefer said Monday.

Convention organizers, who already canceled much of Monday's program because of the storm, said they still plan to hold convention events on Tuesday, Wednesday and Thursday — a revised schedule that they released on Sunday. But Schriefer emphasized the campaign continues to monitor the storm closely.

"You're always concerned about people in path of the storm," he said. "As I said that's going to be our first priority. We'll take it from there."

The adviser added that as of now, there are still no plans to extend the convention into Friday.
National Journal's Ron Fournier, meanwhile, says that Republican officials are considering a number of worst-case scenario, including shortening the convention to as short as one day and consisting of very little beyond the formal nomination and Mitt Romney's acceptance speech. The Boston Globe, meanwhile, is floating an event worse case scenario, the possibility that the convention could be canceled altogether:
TAMPA – There is a distinct possibility that the 2012 Republican National Convention will be cancelled.

The decision may come not so much because the Tampa-St. Petersburg area will suffer a direct hit from Isaac, which built from a tropical storm toward a hurricane as Sunday turned to Monday.

Rather, it may happen because of the damage the high winds and rain would inevitably wreak elsewhere on the Gulf Coast just before the delegates are slated to reconvene Tuesday in the Tampa Bay convention hall.

Conversations with a series of top advisers to presumptive GOP presidential nominee Mitt Romney made clear that his staff is proceeding afoot with plans to conduct their party's quadrennial nominating convention.

A conference call at 5:45 p.m. Sunday spelled out the adjusted schedule for Tuesday, Wednesday, and Thursday after organizers earlier decided to cancel Monday's opening convention session.

But the series of conversations – occurring just hours later – made clear that the Romney staff also realizes that Isaac's potentially horrid wrath could eclipse any bunting-draped imagery they generate inside the Tampa Bay Times Forum.

That would render the whole convention exercise a net loss for their candidate, rather than a positive force propelling him into the fall campaign.
Now, I tend to think that cancellation is a rather remote possibility under the circumstances unless Isaac ends up being a Katrina-like disaster, which doesn't seem to be in the cards at the moment. Indeed, the storm hasn't even officially been designated a Hurricane yet, although that is expected to happen sometime later today once meteorologists are able to confirm that the storm has reached the 75mph wind speeds that make a Hurricane, well, a Hurricane.  Nonetheless, there's no doubt that circumstances beyond the GOP's control could end up having an impact in Tampa, even as the weather in Tampa itself begins to clear up. A convention that is one day shorter than planned isn't really that big a deal since there's plenty of dead time in the schedule that can be used to fill-in Speakers schedules for Monday and, of course, some speeches can be shortened or eliminated entirely (suggestion GOP: we don't need to hear from Mike Huckabee or Donald Trump.) However, if the GOP is forced to shorten the convention even more that could be a serious problem because it limits their ability to get their message out as had been planned. Cancellation, of course, would be a disaster.
Of course, as the storm heads for what looks like a direct hit on New Orleans, at which point it is likely to be a strong Cat. 1 or weak Cat 2 Hurricane, the GOP will be faced with a dilemma. Do they go forward with their convention and risk looking callous, or do they shorten the convention even further and risk losing out on important messaging opportunities? It's not an easy choice, because it would need to be made far in advance. Indeed, given the fact that the weather in Tampa today as been relatively mild, one might even argue that canceling today's activities was an error. However, as Reince Priebus said this morning on Morning Joe, he didn't have the benefit of hindsight when the decision had to be made yesterday, and he had state, local, and national officials telling him that going forward with today's events could endanger convention attendees and stretch law enforcement and emergency resources. He really had no other choice. The next choice will be a different one, and far harder to make. Stay tuned.
Perhaps this is why the political parties should reconsider scheduling these things in late August.