GOP Disappointed In Schwarzenegger
The Governator will not be missed, apparently.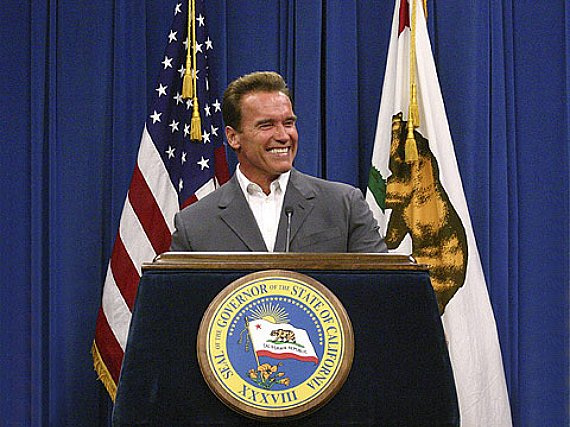 Republicans, both in California and nationwide, aren't associating themselves with the guy that some thought would resurrect the Republican Party in California:
ANAHEIM, CALIF. — When Meg Whitman and Carly Fiorina, the Dream Team of the California GOP, joined hands at a rally celebrating their primary victories this month, there was one broad-shouldered Republican conspicuously missing from the scene: Gov. Arnold Schwarzenegger.

Organizers said the actor-turned-politician declined an invitation to the event. The truth is, he would not have been welcome. After nearly six years in office, Schwarzenegger has few friends left in either party. The state budget deficit hovers around $20 billion; his approval rating has sunk below 25 percent.

"We thought he was going to be a great governor, but he has been a great disappointment," said Geneviève M. Clavreul, a Republican activist.

As candidates in races across the country try to position themselves as the politician with the least political experience, Schwarzenegger's troubles in California illustrate some of the possible downsides of outsiderdom. Like Whitman, the GOP's candidate for governor, and Fiorina, the party's Senate nominee, Schwarzenegger came to office as a non-politician who would solve problems with unconventional ideas.

He had some successes, but the movie star stumbled as he tried to navigate the state's political establishment, with its touchy egos and endless compromises. He floundered as he tried to tame the state's runaway budget and push through ambitious reforms such as universal health care.

Part of Schwarzenegger's initial appeal — he spoke bluntly and his politics were sometimes hard to pin down — made it difficult for him to build a deep base of support. He lost the trust of the conservative wing of the GOP by supporting gay rights and stronger environmental laws. He alienated just about everybody by supporting a tax increase last year.

"I'm a Democrat, and I have been a huge Arnold Schwarzenegger fan," said Robert Hertzberg, a former speaker of the California assembly. "He represented a fusion of ideas, but when it came to the day-to-day governing, he struggled."
Honestly, I'm not sure why anyone in Sacramento, or anywhere else, should be surprised. Prior to being elected Schwarzenegger proved himself to be a popular spokesman for the GOP, but that was mostly because of his celebrity status and the fact that he was married to a member of the Kennedy family. Unlike, say, the Ronald Reagan of "A Time For Choosing," he showed no real interest in, or grasp of, big ideas, and there wasn't much evidence that he would be a competent Governor. In fact, but for the fact of the recall election that ousted Gray Davis, it's unlikely that Schwarzenegger would have ever become Governor.
The Schwarzenegger experience brings into question the whole idea of whether electing the "outsider" is really such a good idea after all. Despite his Republican credentials, Schwarzenegger had absolutely no allies when he arrived in Sacramento and that, along with his inexperience in navigating state politics, meant that his ability to accomplish anything is extremely limited.
It also brings into question the whole idea of whether California itself has become ungovernable in some sense and why someone like Meg Whittman would want to step into that morass in Sacramento