GOP Losing Cuban-American Vote Too
A new poll suggests that Republicans could be losing a constituency that is very key for them in the nation's third most populous state.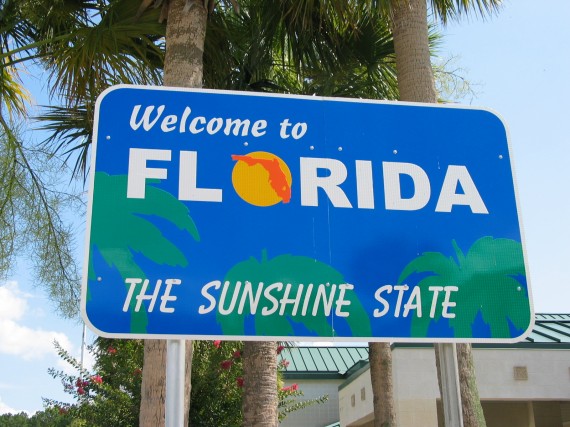 While Republicans have seen their standing among most Latino voters collapse over the past decade, the one group where support for the GOP has been relatively solid is among Cuban Americans, especially Cuban Americans located in Florida. To a large degree, of course, this support is rooted in anti-Castro sentiments and the belief among the Cuban community that conservatives have been more outspoken against the repression of the Castro regime over the years. Whatever the reason, however, that Cuban support has allowed Republicans to push back on the claim that they are out of touch with Latinos and, most importantly, to remain competitive on the statewide level in Florida.
If a new Pew Research Survey is correct, though, then the GOP could have some serious problems among Cuban American voters and, by extension, serious problems in Sunshine State:
The Republican party is losing support among U.S. Cubans as a growing number are shifting their support toward Democrats, according to a Pew Research Center analysis released on Tuesday.

Less than half (47 percent) of Cuban registered voters nationwide identified or were leaning toward the Republican Party, compared to 64 percent ten years ago. Meanwhile, the share of U.S. Cubans leaning or identifying with Democrats climbed doubled from 22 percent to 44 percent.

According to Pew Hispanic Research's Jens Manuel Krogstad, there is a generational shift in these numbers.

"The impact of younger Cubans is reflected in those figures. Over half (56%) of Cubans ages 18 to 49 identified with or leaned toward the Democratic Party compared with 39% of those 50 years and older,"said Krogstad.
More details from the poll itself:
The shift is partly explained by the coming of age of U.S.-born Cubans, who have somewhat different political affiliations than their elders. Today, 44% of Cubans in the U.S. are native-born. Some 48% of Cubans ages 18 to 49 were born in the U.S., compared with 11% of Cubans who are 50 years and older.

The shift is also partly explained by the different waves of Cuban immigrants who have arrived in the U.S.—more than half of Cuban immigrants arrived after 1990. Between 2000 and 2010, the annual average growth of the Cuban immigrant population was 17,300, according to a Pew Research Center analysis of Census Bureau data.

Looking at all Cubans, including those not registered to vote, only a third say they identify with or lean toward the Republican Party, according to the 2013 survey of Hispanics. On the other side of the aisle, some 48% of Cubans today say they identify with or lean toward the Democratic Party.

The impact of younger Cubans is reflected in those figures. Over half (56%) of Cubans ages 18 to 49 identified with or leaned toward the Democratic Party compared with 39% of those 50 years and older. Conversely, older Cubans tend to identify with or lean toward the Republican Party more than younger Cubans, by 44% to 23%. Even so, the share of older Cubans who are Republican has declined over time. In 2002, among all Cubans, some 68% who were 50 and older said they identified with or leaned toward the Republican Party.
In other words, what's happening among Cuban voters is to a large degree a reflection of what has happened among other Latino groups, among immigrant groups in general, and among the American electorate as a whole. For what may be different reasons, younger generations are tending to identify more with the Democratic Party than the Republican Party. This is a problem the GOP has been dealing with for years now, of course, and it can largely be attributed to the party's stand on social issues as well as the general impression that the GOP as a whole doesn't care about the economic issues that impact people's daily lives. Whether these perceptions are accurate or not, they are motivating voter choices and they are doing so among a voting cohort that is likely to stick with its "first choice" party for some time to come absent some major shift in the political culture. In the case of young Cuban Americans, one suspects that a lot of what is going on here is the fact that second and third generation Americans are finding themselves feeling more American and less Cuban, and placing far less importance on what a politician thinks about Fidel and Raul Castro than their elders have in the past. They, of course, are the future of the Cuban American vote in Florida and around the nation.
The electoral implications of this are potentially huge. For some time now, Republican success in statewide in elections in Florida, and in the Sunshine State in Presidential Election years, has been the party's strength with the Cuban American community, which helped to off set Democratic advantages among other minority groups and combined with GOP support among whites to produce a fairly good track record of victory. If Cuban Americans in Florida start shifting Democratic, then the GOP will have real problems winning statewide, and even bigger problems winning the White House. Right now, Democrats seem to have an Electoral College lock on five states at the top of the list in Electoral Votes — California (55 Electoral Votes), New York (which ties with Florida at 29 Electoral Votes), Pennsylvania, (20 Electoral Votes), Illinois (20 Electoral Votes, and Michigan (16 Electoral Votes)  — for a total of 140 Electoral Votes. Additionally President Obama has won Florida (29 Electoral Votes) and (18 Electoral Votes) in each of the last two elections. If Florida now becomes a Democratic "lock" in most Presidential years, that gives a Democratic Presidential candidate 169 Electoral Votes without breaking a sweat, and they'd need just another 101 Electoral Votes to win the election. Without Florida, meanwhile, the GOP would find itself in very big trouble in the Electoral College.