GOP Swings And Misses At Clinton Benghazi Hearings
Despite some tough questions, Congressional Republicans didn't land a glove on Secretary of State Clinton.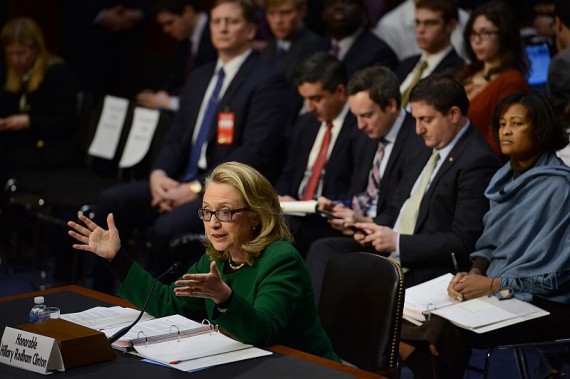 Yesterday, after having delayed her appearance due to medical problems in early December that persisted until shortly after Christmas, Secretary of State Hillary Clinton appeared before two Congressional Committees to testify regarding the September 11, 2012 attack on the U.S. Consulate in Benghazi that resulted in the deaths of four Americans. Ever since that attack happened, many on the right have attempted to use it to attack the Obama Administration, or in some cases Clinton herself in what some might interpret as a pre-emptive 2016 move. Most of their focus has been upon the rather odd messaging that came from the Administration in the first days after the attack, when spokespersons such as U.N. Ambassador Susan Rice blamed the attacks on protests that had erupted over an anti-Muslim YouTube video. We quickly learned, however, that intelligence within hours of the attack seemed to confirm that this had been a coordinated pre-arranged attack and, indeed, that there had not even been any protests in Benghazi on the day of the attack. Since then, an independent review conducted for the State Department has confirmed that there were serious lapses by the people responsible for embassy security, and that warnings about the dangerous situation in Benghazi by Ambassador Chris Stevens were largely ignored.
In the end, though, the political significance of the Benghazi incident appears to be rather minimal. The Romney campaign attempted to make an issue out of it during the Presidential campaign, only to see that meme blow up in their case. And, yesterday, Secretary Clinton effectively blunted the Republican Senators and Congressman who went after her:
WASHINGTON — In one of her final appearances as secretary of state, Hillary Rodham Clinton on Wednesday vigorously defended her handling of last September's attack on the United States diplomatic compound in Benghazi, Libya, which killed four Americans and prompted a scathing review of State Department procedures.

"As I have said many times, I take responsibility, and nobody is more committed to getting this right," she said, reading a statement during a day of testimony before Senate and House committees. "I am determined to leave the State Department and our country safer, stronger and more secure."

But Mrs. Clinton, whose appearance before Congress had been postponed since December because of illness, quickly departed from the script. She jousted with Republican lawmakers over who deserved blame for the security problems at the compound, and choked up as she described being at Joint Base Andrews outside Washington when the bodies of the Americans killed in the assault arrived from Libya.

"I stood next to President Obama as the Marines carried those flag-draped caskets off the plane at Andrews," she said. "I put my arms around the mothers and fathers, sisters and brothers, sons and daughters."

The continuing controversy over the attack, which resulted in the deaths of Ambassador J. Christopher Stevens and three other Americans, has cast a cloud over Mrs. Clinton's final months at the State Department. It also has enormous political implications for Mrs. Clinton, the former New York senator who is already regarded as the front-runner for the 2016 Democratic presidential nomination if she chooses to run. It was the first time she had faced extensive questioning about her role in the episode.

In essence, Mrs. Clinton's approach was to accept the responsibility for security lapses in Benghazi but not the blame.

"I feel responsible for the nearly 70,000 people who work for the State Department," Mrs. Clinton told the Senate Foreign Relations Committee in the morning. "But the specific security requests pertaining to Benghazi, you know, were handled by the security professionals in the department. I didn't see those requests. They didn't come to me. I didn't approve them. I didn't deny them."

When the question of her role was taken up again in the afternoon hearing by Representative Ed Royce, the California Republican who is chairman of the House Foreign Affairs Committee, Mrs. Clinton acknowledged that she had been briefed on a series of events that indicated that security in Benghazi was deteriorating in the months before the attack. They included the placement of a bomb at the outer wall of the compound in June and an ambush that month on the British ambassador.

But she said she had gone along with a recommendation from subordinates that the Benghazi post be kept open and assumed that they would take the necessary steps to protect it.

(…)

One of the sharpest exchanges of the day came when Mrs. Clinton responded to questions from Senator Ron Johnson, a Wisconsin Republican, by saying there was too much focus on how the Benghazi attack had been characterized in its early hours and not enough on how to prevent a recurrence. Republicans have repeatedly charged that Obama administration officials deliberately played down the attack, focusing much of their criticism on Susan E. Rice, the ambassador to the United Nations and once Mr. Obama's choice to succeed Mrs. Clinton.

"Was it because of a protest, or was it because of guys out for a walk one night who decided they'd go kill some Americans? What difference, at this point, does it make?" Mrs. Clinton said, her voice rising. "It is our job to figure out what happened and do everything we can to prevent it from ever happening again, Senator."

Senator John McCain, Republican of Arizona, began his questions by saying, "It's wonderful to see you in good health and as combative as ever," and then proceeded to complain that she had failed to answer lingering questions.

Mr. McCain asserted that the Obama administration's aversion to nation-building had precluded it from providing the kind of training and assistance that would have helped the fledgling Libyan government in Tripoli confront growing security threats from militants.

"We did not give them the kind of assistance that would have been necessary to help dismantle these militias that still, to this day, remain a challenge to democracy in Libya," he said.

Mrs. Clinton responded that Congress had delayed aid to Libya and said she would provide a list of steps that had been taken to train and equip Libyan forces.

A persistent line of questioning by Republican lawmakers concerned the initial comments from Ms. Rice that the attack might have resulted from a protest, over an anti-Islamic video, that spun out of control.

Mrs. Clinton defended Ms. Rice even as she appeared to distance herself from Ms. Rice's comments. "I told the American people that heavily armed militants assaulted our compound, and I vowed to bring them to justice," Mrs. Clinton said.
David Weigel contends that the GOP largely failed in its efforts "get" Clinton:
All congressional hearings are invitations for preening, showboating, and not-a-question-but-a-comment speeches. The grilling of Hillary Clinton was worse: a repetitive series of losing rematches, of Republicans asking questions that had been asked and answered and asked and answered. They coaxed one new piece of information from her, but they didn't seem to notice, as their press offices once again tried to shame her for ever suggesting that the Benghazi attack grew out of protests against an anti-Islam video.
What was the one good question? Rep. Tom Cotton, one of the most-hyped members of the GOP's freshman class, reminded Clinton that a Benghazi suspect had been let go by Tunisia. The United States provided intelligence that helped lead to Ali Harzi; the new regime in Tunisia let him go. Cotton asked Clinton whether that concerned her; she said it didn't. He'd touched on something primal about the Obama administration's approach to foreign policy in the post-Arab Spring Middle East.

Vanishingly few Republicans decided to pick up that thread. In the Senate and the House, most Republicans asked Clinton to explain—one more time, please—why the administration didn't respond quickly to the attacks, why it hadn't fired the State officials who screwed up, and why Susan Rice had gone on five Sunday shows and "blamed a video" for the attacks.

If you were a cynic, you wondered whether the inquisitors were basing this on the internal investigation or on the juiciest media reports from last year. Rice "went on TV talking about a demonstration that never happened," according to Texas Rep. Michael McCaul. "Susan Rice said," according to Alabama Rep. Mo Brooks, "and I quote, 'What happened in Benghazi was in fact initially a spontaneous reaction to what had just transpired hours before in Cairo, almost a copycat of the demonstrations against our facility in Cairo, which were prompted, of course, by the video.' " But that wasn't the full quote. Brooks excised Rice's caveat that this was the "best information that we have available to us today," and her conclusion that "what we think then transpired in Benghazi is that opportunistic extremist elements came to the consulate as this was unfolding."

Every time Clinton got the question, she could repeat herself: There was an ongoing investigation, the attack occurred while protests were building outside other embassies, and she was not a fan of Sunday shows. Idaho Sen. Jim Risch complimented her, oddly, for saying that the attack was the work of "armed militants"—hadn't Republicans been complaining that this wasn't enough and that she needed to call them terrorists? Only 

Wisconsin Sen. Ron Johnson got anywhere

 with the but-seriously-what-about-Susan-Rice query, and this was because Clinton found him so irritating.
"With all due respect, the fact is we had four dead Americans," she said. "Was it because of a protest, or was it because of guys out for a walk one night who decided that they'd go kill some Americans? What difference at this point does it make?"
Johnson's exchange, along with another one between Clinton and Senator Rand Paul where Paul said that, had he been President he would have fired her, got much attention yesterday. However, other than some nice partisan sound bites for the respective Senators, it seems unlikely that they're going to go anywhere. Not only is Clinton leaving office in a matter of days at this point, but it seems fairly clear that the information that came out, while it does reveal serious problems with the issues of outpost security in dangerous nations like Libya, does not point to any serious wrongdoing by the State Department. Several Senators, for example, criticized Clinton for not having specific knowledge about certain cables sent to Foggy Bottom from Libya in the months prior to the attack. As Clinton pointed out, however, the State Department receives well over a million such cables every year and, while they are all addressed to the Secretary of State, they typically end up being sent to Deputy or Assistant Secretaries and other career Foreign Service employees for whom the subject matter of the cable is their area of expertise. It's their responsibility to take that information to people higher up the chain of command. The fact that this apparently didn't occur is s a serious problem, of course, and there are four State Department employees currently on leave and in danger of losing their jobs because of that. However, trying to pin responsibility for this on the Secretary of State was always a stretch to being with.
There are still plenty of serious issues surrounding the Benghazi attack that need to be deal with. Primarily ,of course, that includes finding the people responsible for this attack and bringing them to justice. It's been more than four months since the attack and the only known suspect has been released by a Tunisan Court due to lack of evidence. Additionally, there's the question of diplomatic security and protecting Americans from attacks like this in the future. Finally, there's the entire issue about the post-Gaddafi condition of Libya and the political instability that appears to be pouring over its borders and into nations such as Algeria and Mali. Vast swaths of this nation appear to be turning into a roaming ground for terrorists and others. If that's allowed to continue, then we're likely to be spending a lot more time paying attention to North Africa than we used to. What Benghazi isn't, though, is the type of political scandal that the GOP still apparently thinks that it is. It's time for them to move on.