GOP's Big Donors Seek To Narrow The 2016 Field, But They Have Less Control Than They Think
The GOP donor class would like the 2016 race to be short and sweet, but that's unlikely to happen.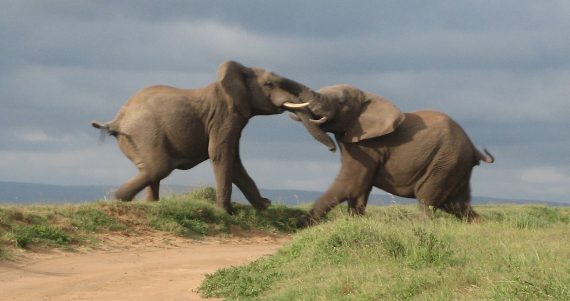 At some point in the coming months, various people will begin the process of running for President in 2016. On the Democratic side, there is likely to be some hesitation from candidates as people wait to see what Hillary Clinton might end up doing. If she runs, which seems to be likely, than many potentially strong candidates are likely to sit out a race that they have little chance of winning with her in the race while other candidates seeking to either establish a name for themselves or push the debate in their party in one direction or the other prepare to enter the race and take on a person who is, without question, the strongest non-incumbent candidate for President that we've seen in a long, long time. If for some reason Clinton decides not to run, then there will be likely be a crush of candidates rushing to fill the vacuum that will be created.
Since that second possibility seems quite unlikely given all the signals we've gotten from the Clinton camp, much of the attention now is being focused on the Republican side of the ledger, where it appears we are likely to have one of the most open races for the GOP nomination in quite some time. Notwithstanding the fact that potential candidates such as Rick Santorum may point to the results from 2012 to claim the title of "next in line" for the nomination, the truth is that there is no real heir apparent in the GOP in 2016 in the way that we've seen in the past. This is one reason why the list of potential candidates continues to be so long, and that remains true even after you weed out the obvious novelty candidates such as Ben Carson or Michele Bachmann. Instead, the list of potential candidates includes a large number of current and former Republican Governors with strong and extensive records in office, as well as a host of mostly Senators who can claim strong appeal to one portion or other of the GOP coalition and who have spent a good deal of time in recent years building the blocks of what is obviously a national campaign for office such as Texas Senator Ted Cruz and Kentucky Senator Rand Paul. The Washington Post's Chris Cilizza, for example, lists as many as ten potential Republican candidates, all of whom have arguable strengths heading into 2016 that could lead them to frontrunner status. All of this, of course, creates a potentially chaotic GOP race in which anything could happen, including the selection of a candidate that maybe pleasing to the GOP base that has no realistic chance of winning the November 2016 election which is why, as The New York Times' Nicholas Confessore, some of the biggest donors in the GOP are already looking for a way to narrow the field of candidates down to candidates that they believe would have a good chance of winning the General Election:
Dozens of the Republican Party's leading presidential donors and fund-raisers have begun privately discussing how to clear the field for a single establishment candidate to carry the party's banner in 2016, fearing that a prolonged primary would bolster Hillary Rodham Clinton, the likely Democratic candidate.

The conversations, described in interviews with a variety of the Republican Party's most sought-after donors, are centered on the three potential candidates who have the largest existing base of major contributors and overlapping ties to the top tier of those who are uncommitted: Gov. Chris Christie of New Jersey, former Gov. Jeb Bush of Florida and Mitt Romney.

All three are believed to be capable of raising the roughly $80 million in candidate and "super PAC" money that many Republican strategists and donors now believe will be required to win their party's nomination.

But the reality of all three candidates vying for support has dismayed the party's top donors and "bundlers," the volunteers who solicit checks from networks of friends and business associates. They fear being split into competing camps and raising hundreds of millions of dollars for a bloody primary that would injure the party's eventual nominee — or pave the way for a second-tier candidate without enough mainstream appeal to win the general election.

"If you are philosophically a center-right donor, I think you have an interest in clearing the field," said Bobbie Kilberg, a top Republican fund-raiser in Virginia with ties to Mr. Romney, the party's 2012 nominee, and the Bush family. "I think that's important because there is clearly going to be a competition of philosophies for who is going to be the presidential nominee. And I firmly believe that person has to be from the center right."

(…)

Many leading donors, like Woody Johnson, the billionaire owner of the New York Jets, who helped lead Mr. Romney's Northeast fund-raising efforts in 2012, have relationships with both Mr. Bush and Mr. Christie, but would prefer to wait until Mr. Romney made a decision, according to people who have discussed the matter with Mr. Johnson. Mr. Johnson hosted both Mr. Christie and Mr. Romney at a Jets game last week.

The fear of a bloody primary extends even to the ranks of the ultra-wealthy donors whose seven-figure largess to super PACs helped prolong the Republican nomination battle in 2012, forcing Mr. Romney into pitched battles for late-voting states like Michigan.

Foster Friess, who donated $2.1 million to a super PAC backing Rick Santorum in 2012, said he was committed to helping Mr. Santorum again. But he has discussed with other donors the need to encourage candidates to avoid overly personal attacks.

"I think this time the candidates are not going to be quite as divisive in the primary season," Mr. Friess said.

Sheldon G. Adelson, the casino mogul whose family provided $20 million to a super PAC backing Newt Gingrich in 2012, is increasingly wary of writing checks to consultant-run outside groups, according to his political advisers.

"We are evaluating all options, and we may fundamentally change how we engage in the process while staying true to our principles," said Andy Abboud, one of Mr. Adelson's lieutenants.

Mr. Adelson, who is based in Las Vegas, is engaged in discussions with his small circle about how to take his political spending in-house and is considering setting up his own super PAC to intervene in congressional and presidential races.

And Mr. Adelson, a major donor to pro-Israel groups and someone with moderate views on social issues, is inclined to be more cautious when engaging in the Republican primary.

"He's very focused on picking someone who can win," said a Republican strategist involved in the discussions, who spoke on the condition of anonymity because Mr. Adelson was not yet ready to announce his plans. "He wants to ensure whatever candidate he gets behind reflects that philosophy and can win the general election."

Many donors said they believed that Mr. Romney was likely to wait until late summer to decide whether to enter the race, while Mr. Christie could make a decision much sooner. That could leave elite bundlers — already jockeying for status and rank within the campaigns' likely finance operations — in an awkward position if Mr. Romney does not run.

"When you get that call" to commit to Mr. Bush or Mr. Christie, said one prominent Republican fund-raiser, "the answer to that question is yes."
Right off the bat, it seems fairly clear that the groups that these donors represent find themselves presented with a number of dilemmas that are likely to make anointing a candidate in 2016 far more difficult for them than has been in previous years. For one thing, unlike in the past, these donors don't seem to be united themselves on the question of which candidate would be the best. Leaving Mitt Romney to the side for the moment, there is a clear division between Jeb Bush, whom many of these (mostly) men have been urging to run for President for at least the last two election cycles now, on the one hand and New Jersey Governor Chris Christie on the other. Both men have strengths and weaknesses that they would bring to the race, obviously, but the bigger issue is that if both of them ended up entering the race then it would likely divide the donor class, and the business wing of the party that they represent, sufficiently that their ability to influence the direction of the election will be significantly weakened. If Romney were to enter the race for some reason, although that seems unlikely unless there were a collapse on the part of both Bush and Christie that made such a move necessary in the eyes of this group of supporters, that influence would be even more undercut. The same is true, of course, of many of the candidates back back the more ideological wings of the Republican Party, but in those cases the candidates in question, and most especially Paul and Cruz, will be able to rely upon a committed and enthusiastic group of supporters that are unlikely to stray no matter how much adversity the campaign faces in the beginning. The second factor that jumps out in reading this report is that it doesn't seem to occur to these donors the extent to which all three of these potential candidates are disliked by the party's base. Yes, it's true that these groups will be divided themselves, probably to a greater extent than they were in 2012, but they'll be united in opposition to candidates like Bush, Christie, and, if he really did enter the race, Romney, and that may be just enough to deny either one of them the momentum they need to get to the big primaries where middle of the road and independent voters will have a much bin bigger say than they will in early primaries in states like Iowa, New Hampshire, and South Carolina.
Paul Waldman expands on this, and points out that these big donors have far less control over the nomination process going forward than they might think:
The 2016 race will be as chaotic and complex as any we've seen in recent history, and the central conflict, as it has been within the GOP for the past six years, will be between the establishment and the more conservative base.

The candidate who wins will be the one who can satisfy both of those groups. Romney managed it in 2012 through relentless pandering to the right, to the point at which the base grudgingly accepted him. There will be some candidates in this race who won't manage to build a bridge between the two — for instance, Sen. Ted Cruz (R-Tex.) is never going to convince the establishment that his nomination wouldn't be a disaster. Other candidates have a chance to build that bridge — Wisconsin Governor Scott Walker (R) is one who already has enthusiastic fans in both groups.

The Republican donors are right about one thing, though. All else being equal, a more moderate candidate of the kind most of them favor would have a much better shot at winning the general election than one who feeds the desires of the tea party base. But that highlights the bargain the GOP donor class has had to make. To get the low taxes and light regulation that it is after, it has to bring a boatload of crazy along for the ride, crazy that is often inimical to its business interests. The GOP donor class looks on government shutdowns and threatened debt-ceiling defaults with dismay, hopes that the kamikazes in the party can be restrained and tries to forget that President Obama's tenure has been spectacular for the nation's plutocrats by any measure you can devise.

If the donors had the power to pick the Republican presidential nominee, they could just select someone comfortable like Jeb Bush and be done with it. But much as they might believe they have that power, the primaries are out of their control.
Waldman is largely correct, of course, and that's what's likely to make the next two years inside the Republican Party quite interesting to watch unfold.