Governing is Not Win-Lose
Compromise is simply necessary for the country to function.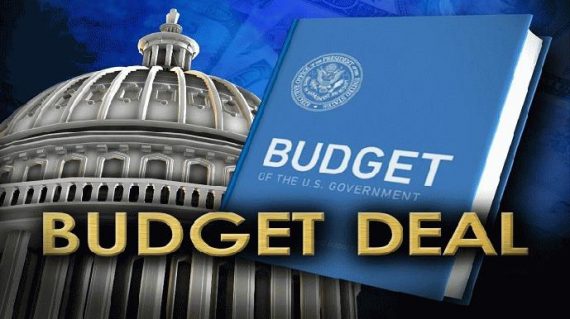 The New York Times treats the recent budget compromise as a political game. It uses the headline "Obama Wins on Budget Deal as John Boehner Cleans Out the Barn" for search optimization while using the tamer "No Grand Bargain, but Deal Is Still a Victory for Obama" on the page itself.
The budget agreement struck late Monday between the White House and Congress hands President Obama a clear victory, vindicating his hard line this year against spending limits that he argued were a drag on the economy and buying him freedom for the final 14 months of his term from the fiscal dysfunction that has plagued his presidency.

The deal is the policy equivalent of keeping the lights on — hardly the stuff of a bold fiscal legacy. But it achieves the main objective of his 2016 budget: to break free of the spending shackles he agreed to when he signed the Budget Control Act of 2011, an outcome, the president allowed Tuesday, that he could be "pretty happy" about.
Washington Examiner columnist Phillip Klein goes further, proclaiming, "This budget deal is what GOP surrender looks like."
During the era of House Speaker John Boehner, R-Ohio, it's become popular in conservative circles to blast Republican leadership for surrendering.

These charges, in my view, were often not fair. I argued that the debt ceiling had to be raised, government had to be funded, and that it would have been impossible to extend all of the Bush tax cuts following President Obama's re-election. As much as I've opposed Obamacare, I disagreed tactically with Obamacare opponents who believed it would be possible to stop the program without control of the White House through a "defunding" push. In other words, I'm not one to use the term "surrender" loosely.

But now that I've had a chance to dig through the details of the budget deal Boehner announced Tuesday morning, I'm comfortable saying: This is what Republican surrender looks like.
Klein is a rational conservative who routinely pushes back at the nonsense of the Tea Party and the Trump-Carson wing of the GOP. What about the deal strikes him as a "surrender"?
Republican leaders have agreed to unravel progress they made in hard fought budget battles to pump more money into government in the short-term in exchange for modest reforms, many of which can and likely will be easily undone by future Congresses. After spending much of their time in the minority in 2009 and 2010 poking holes in Obama's budget gimmickry, they have dug deep into a Mary Poppins-like bag of gimmicks and thrown them all into this deal.

The deal, in addition to suspending the debt limit until March 2017, will increase spending in a number of ways. It will undo the limits on discretionary spending put in place by the 2011 budget deal, representing an increase in $80 billion over the next two fiscal years, split between defense and non-defense spending.

To help pay for this, they're theoretically extending the time that sequestration will be in place for two additional years, from 2023 to 2025. On paper, the idea is that spending cuts in 2024 and 2025 will help make up for the increased spending in the next two years. But this is a fantasy.

It's worth keeping in mind that they used this trick before. In the 2013 Ryan-Murray budget deal, Republicans and Democrats agreed to breach the caps and make up some of the shortfall by extending the sequestration period from 2021 to 2023. In other words, if this deal goes through, Congress will have twice avoided enforcing a deal that many of the same key players negotiated and voted for in 2011. And yet, we're supposed to believe that a decade from now, a new president and a drastically different Congress that had nothing to do with current negotiations will feel bound by the limits being placed on them by this current deal. It's pure fantasy.
The fantasy is the notion that the out party can get everything it wants. Congress can't bind itself through mere legislation, so it's a true fact that any long-term deals are meaningless. But recall that the Budget Control Act was intentionally designed as a game of chicken, with sequestration being a poison pill that would be so unpleasant to both sides as to force compromise. Instead, Congressional Republicans–and in particular the so-called Freedom Caucus—decided that they could live with draconian and stupidly applied cuts to the Defense budget in exchange for draconian and stupidly applied cuts to domestic programs.
The Republican-controlled Congress got around that this year by skirting the Defense cuts through the use of overseas contingency operations ("OCO") funding for routine programmatic costs. President Obama had threatened to veto any attempt to do this and followed through. Republicans don't have anywhere near the votes to override the veto.
To complicate matters further, we're about to hit the absurd "debt ceiling," wherein Congress has made it against the law to borrow money to pay for spending it has already authorized unless it separately allows itself to borrow more money. So, there were actually two major impasses to solve.
The budget deal solves them both, by issuing a longish-term increase to the borrowing limit while agreeing to skirt the sequestration limit for two years. That keeps the country running and kicks the can down the road for the next president and next Congress to deal with. It's the sort of compromise that simply has to happen for the country to function under our system of separation of powers.
Beyond that, while the insane goals of the far right of the party weren't achieved, the GOP got most of what it wanted here. Most notably, it got the defense spending and reforms that it had passed, but through the front door of raised authorizations vice the back door of OCO.  Additionally, it got some very sensible reforms to Medicare and Social Security that were needed to keep those programs solvent but politically painful for Democrats. Here, too, both parties got some of what they wanted and had to accept some of what they didn't. But, again, that's governing.