Government in the Private Interest
A current defense of Trump raises an ancient political question.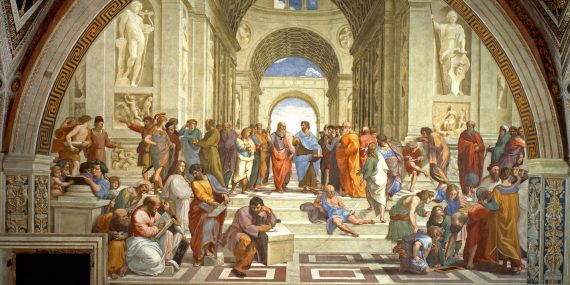 On October 17, 2018, acting Chief of Staff Mick Mulvaney provided what is emerging as new defense of Trump's dealings with Ukraine. Specifically, the argument that what was done, withholding aid in exchange for certain actions from the Ukrainians is just standard operating procedure.
Q    But to be clear, what you just described is a quid pro quo.  It is: Funding will not flow unless the investigation into the Democratic server happens as well.

MR. MULVANEY:  We do that all the time with foreign policy.  We were holding money at the same time for — what was it?  The Northern Triangle countries.  We were holding up aid at the Northern Triangle countries so that they would change their policies on immigration.

Source: "Press Briefing by Acting Chief of Staff Mick Mulvaney" The White House.
This defense also emerged in a Hugh Hewitt column in WaPo this week:
quid pro quos have always been a feature of U.S. foreign policy — from the long-ago Louisiana Purchase to more recently President Barack Obama's sending the Iranian regime $1.7 billion in cash, which was central to the controversial U.S.-Iran nuclear "deal." Quid pro quos are sometimes excellent and obvious, sometimes controversial, sometimes illegal.

Source: "If Republicans don't stand by Trump, they risk losing their base forever." The Washington Post.
(To Hewitt's credit, he allows for the fact that some quid pro quos are legitimate, and others are not).
Another example, Rand Paul's Breitbart column:
We give you this aid — on the expectation that you will not steal any of it for personal use, that you will spend it as we instruct, and on the understanding that if you don't spend the money as we command, you won't get any more next year.

Democrats want people to be alarmed by a Latin phrase, but, really, making foreign aid contingent on behavior is actually the defining reason that countries supposedly give aid — to influence the behavior of the receiving country.

Source: "Rand Paul: Is Quid Pro Quo the Status Quo?" Brietbart.
The basic problem with this line of defense is that there is a profound difference between withholding government support, or providing it, in the pursuance of a public policy goal of the United States' government versus doing so for the private benefit of the president.
To conflate the two, as Mulvaney, Hewitt, and Paul are doing is to excuse a profound abuse of power.
Trump did not seek to leverage US military aid to Ukraine to further public policy goals of the US government. He did so for personal political gain. He wanted 1) help confirming a conspiracy theory about the origins of what would become the investigation into Russian election interference, and 2) and investigation of Hunter and Joe Biden.
The first request is about undercutting the clear evidence that Russian intelligence interfered in the 2016 election and that that interference helped him win. He wants those facts to be a hoax so that his win was not tainted and to prove that the Mueller probe had no validity. That is for his personal gain.
The second request is to find dirt on a major political opponent, one who is perceived to be a potential threat to his reelection. Again this is for his personal political gain, not for a public policy goal.
I keep thinking back, as I hear these claims, to Plato's Republic and Aristotle's Politics. Both of these ancient philosophical texts made a similar claim on this subject: good governance is when government is conducted in the interest of the public and bad governance occurs when governing is conducted in behalf of the private interest of the ruler.
Indeed, the Latin term "res publica" from whence we derive the word "republic" means "public affairs" and can also be translated "commonwealth." The whole point of The Republic is that good governance only exists when those who govern do so in the public interest. Whenever government is focused on the private interest of the ruler, that government is unjust. Hence, oligarchy is government by the rich wherein the rich simply seek to further enrich themselves.
For Plato, government driven by the appetites of those is power are unjust.
Likewise, Artistotle's Politics details good regime types and perverted regime types. The regime types wherein those in government where able to govern in the common interest are good regimes. Those focused on the needs of the government are perverse regimes.
This is pretty fundamental stuff. Trump should not be allowed to use the power of his office to further his own personal needs. And that is exactly what he was trying to do with the entire Ukraine affair.
It is also why the Framers created the emoluments clauses–the president should not be using his office for personal gain.