Government Spending < Tax Cuts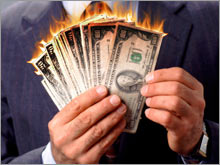 Another blow to the zombified dead horse that is Keynesianism:
A study of 91 fiscal stimulus programs in 21 developed economies between 1970 and 2007 by Harvard's Alberto Alesina found tax cuts were more stimulative than government spending….

Economists who say Mr. Obama should have relied more on tax cuts cite research of an unlikely source: Ms. Romer, his adviser. In a study she and her husband, David Romer, conducted before she joined the administration, Ms. Romer found large multipliers from tax cuts, which she concluded "have very large and persistent positive output effects." Tax increases, she also found, hurt growth.