Governor Thinks Governors Make The Best Presidential Candidates
Scott Walker argues that Governors tend to make the best Presidents. He's largely correct, but he's not the only Republican who fits that bill.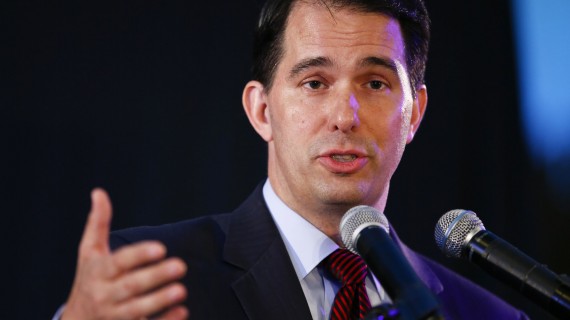 Governor Scott Walker, fresh off his third statewide election victory in four years, isn't saying that he's running for President quite yet but he is saying that an idea Presidential candidate would be, well, someone like him:
After pledging during the campaign to remain in office for a full four years, Wisconsin's governor has left the door open to a possible White House run. Appearing on NBC's "Meet the Press" Sunday morning, Gov. Scott Walker also detailed his state's efforts to jump start its slow economy.

"I've got a plan to keep going for the next four years," Walker told NBC's Chuck Todd. "But, you know, certainly I care deeply about not only my state but my country. We'll see what the future holds."

Walker expressed admiration for fellow Wisconsinite and potential 2016 candidate Rep. Paul Ryan. "I love Paul Ryan, I've said many times I'd be the President of the Paul Ryan fan club." However, when pressed further, Walker inferred that executive experience was an better trait for presidential candidates. "Paul Ryan may be the only exception to that rule," said Walker. "But overall, I believe governors make much better presidents than members of Congress."
Here's the video:
I think that Walker is largely correct here.
While there are few jobs that can exactly prepare someone for being President of the United States, it seems fairly clear from recent experience that previous political experience is certainly a major factor in determining how prepared an individual is going to be for what can fairly be called one of the most difficult jobs in the world, and that being the Chief Executive of a state, while not a perfect analogy to being President, is probably the job that comes closest to the one that a prospective occupant of the Oval Office will be asked to do. The best example of this, I think, comes in contrasting the Presidencies of the two most recent Democratic Presidents. On the one side, we have Barack Obama whose political experience prior to becoming President consisted largely of being a back bench member of the Illinois Legislature for seven years followed by three years in the United States Senate, two of which he spent running for President. On the other hand, we have Bill Clinton, who served thirteen years as Governor of Arkansas, during which time he was often forced to deal with a state legislature that was opposed to his initiatives. Without going into significant detail in recapping the Presidencies of these two men, I don't think it's too far of a stretch to say that Clinton entered office with a far better set of political and administrative skills that were relevant to what he'd need to do as President than President Obama did, and that, notwithstanding the stumbles that both men had in the initial years of the Presidencies, which seem to be common to recent Presidents to some degree or another, President Clinton had a far more successful Presidency than President Obama has had. This is true notwithstanding the fact that both men faced virulent opposition from the right while in office, and that both men were forced to deal with a Congress controlled, in whole or in part, by the opposition for the vast majority of their time in office. While there are obvious differences between the Republicans of the mid-to-late 90s and the Republicans who have been in office since 2010, the fact that Bill Clinton was able to make deals with his opponents far more easily than Barack Obama notwithstanding an opposition that went so far as to undertake the first impeachment of a President in 120 years. However the next two years of President Obama's time in office turn out, they are unlikely to be anywhere near as successful as Clinton was, and while there are many reasons for that I'd suggest that a significant one is the fact that the man behind the Resolute Desk in each case played a large role in the process. Bill Clinton came into office knowing what it took to be a Chief Executive, at least the best that one can, Barack Obama did not and it seems clear that he's never really learned how to do it very well either.
That's not to say that every Governor would make a great President, or that every President that has purely legislative experience before taking office would make an ineffective President. Lyndon Johnson certainly provides a good counterexample in that last regard no matter what one thinks of the policies that he advanced. Additionally, history has given us plenty of examples of people who weren't Governors who went on to become great Presidents — Lincoln and Eisenhower come to mind specifically, although Eisenhower's military experience arguably provided executive experience similar enough to that of a Governor to aid him well in navigating the Presidency during his eight years in office. Additionally, several Vice-Presidents, such as Truman and George H.W. Bush, have proven to be quite capable at the job, As a general rule, though, I'd suggest that history has shown us that having some form of executive or administrative experience has served Presidents far better than, say, being a Senator prior to taking office has.
So, I agree with Governor Walker that Governors probably do make better Presidents generally, and I would take that further to argue that the past eight years suggest that whomever we elect to the Oval Office in 2016 should be someone who has at least some understanding of the job ahead of them rather than someone who has spent the last four or five years making speeches on the floor of the House or the Senate, or appearing on cable "news" shows pontificating, without having to worry about the actual consequences of what they say or the intricacies of what it takes to actually get a policy initiative turned into law, passed by the legislature, and enacted into law and applied. That certainly seems to describe Walker regardless of what one thinks about the merits of the policies he's enacted as Governor, most of which the average Republican who will vote in the 2016 primaries tends to support. Additionally, the fact that Walker has won three solid victories in a state that has been generally Democratic in Presidential years in 2010, in a recall election in 2012, and then again in 2014, would be a strong argument in favor of a Walker Presidential campaign. But Walker isn't the only such potential candidate on the Republican bench. Jeb Bush and Chris Christie both fall into this camp, as does Ohio Governor John Kaisch, who won a massive re-election victory on Tuesday after winning a close election in 2010. Indiana's Mike Pence is another potential Governor who could run for President, as is his predecessor Mitch Daniels, although Daniels has seemingly left politics behind for the calmer world of academia at Purdue. These candidates have the same qualifications Walker does, and they don't suffer from what some have called Walker's apparent "Pawlenty problem," meaning that he seems like a great candidate on paper but fizzles on the stump.  All of them, indeed any one of them, would arguably have very credible arguments regarding their preparation for office compared to Senators such as Ted Cruz and Rand Paul, or gadfly candidates like Ben Carson. One problem, of course, is that the GOP base seems intent on picking candidates based on ideological purity rather than experience, and in that regard a Cruz or a Paul is better able to fit the bill because, as Senators, they don't have to worry about compromises and deals that require them to deviate from ideology at times, which may harm them in  the GOP primaries. If Republicans actually want to win, however, and put into office someone who actually has a chance of knowing what they're doing when they get there, then they'd do a lot better in picking a Governor than a Senator. They've got a lot of good candidates that fit that bill to choose from in that regard, but the question is whether they'll care more so much about purity that competence flies out the window.