Green Lantern is Gay (and Afraid of Wood)
Green Lantern is gay. The original Green Lantern. No, the other original Green Lantern.
DC Comics announced last week that one of its major characters would be relaunched as homosexual. They've chosen Green Lantern. The original Green Lantern. No, the other original Green Lantern.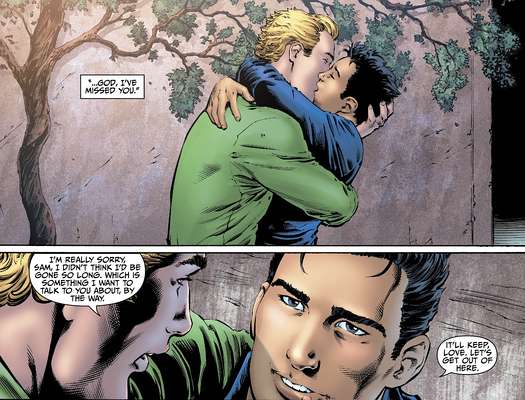 NY Post ("DC Comics Green Lantern relaunched as gay superhero")
One of DC Comics oldest heroes is super-coming out.

The original Green Lantern – a DC Comics mainstay for the past 70 years – will be revealed to be a gay man in next week's issue of "Earth 2."

Alan Scott – formerly a married father of two who first appeared in 1940 – tips readers off to his sexuality early on in the comic when he gives his boyfriend a welcome home kiss.

"He's very much the character he was. He's still the pinnacle of bravery and idealism. He's also gay," "Earth 2" writer James Robinson told The Post.

The Emerald Guardian's sexuality was rebooted along with the rest of his fictional universe as part of DC's "New 52" initiative aimed at rejuvenating their characters.

Robinson said he decided to make the change because making the character young again meant erasing Scott's gay superhero son out of existence. "The only downside of his being young was we lose his son, Obsidian, who's gay. So I thought, 'Why not make Alan Scott gay?'" Robinson recalled. "That was the seed that started it."

He ran his idea by the bosses at DC, "who signed off on it without hesitation."
The constant rebooting of the DC and Marvel universes is annoying, in that it destroys the "continuity" that those of us of a certain age are accustomed to. It was a novel thing when DC had its Crisis on Infinite Earths way back in 1985–and arguably necessary, with the company's flagship heroes having a half century of accumulated baggage. At this point, though, reboots are getting to be old hat.
The Green Lantern character is an interesting choice, in that there have been so many. Like Flash, which kicked off the era, Green Lantern was completely reworked in the Silver Age, with not only a new costume and origin but a different secret identity as well. Additionally, since the modern Green Lantern gets his power from a ring, multiple characters have assumed the identity over the years.
The twist here is that DC is rebooting "Earth 2" (which supposedly went away during the Crisis but came back somewhere along the way)–the alternate reality containing the Golden Age characters. So, it's Alan Scott, not Hal Jordan or one of the other Green Lantern Corps characters, who's being rebooted as gay. At least in the Golden Age telling, that character's vulnerability was to wood rather than the color yellow.